There are few artists capable of stealing your attention, let alone holding it long enough to be understood as a colorful, modern statement on migration, but Arab-American artist Helen Zughaib does just that.
Blending accessible and whimsical chic to create images of Syrian migration with a twist, Zughaib doesn't simply depict the refugee crisis and their journey, but manages to cast them in a new light.
Zughaib's Syrian Migration Series shows colorful figures traveling across a brown desert landscape, fleeing by sea and crowded before passages to Turkey, France and Germany. The United Nations reported that, in 2016, Turkey had the largest refugee population in the world, with 3.1 million refugees and asylum seekers.
The following year, Germany ranked third as having the largest number of migrants in the world with about 12 million. Although France didn't rank as high, it has seen its share of controversy over immigration policies and growing social tensions, with almost 400,000 immigrants concentrated in one Paris suburb in 2018.
"It's the largest displacement of people that's ever been recorded," Helen Zughaib told Vox, "and many times the unwillingness or inability of different countries to host them, take care of them, assimilate them, to deal with the myriad of problems that come with a huge influx of people — it's a day-to-day situation that hasn't been resolved."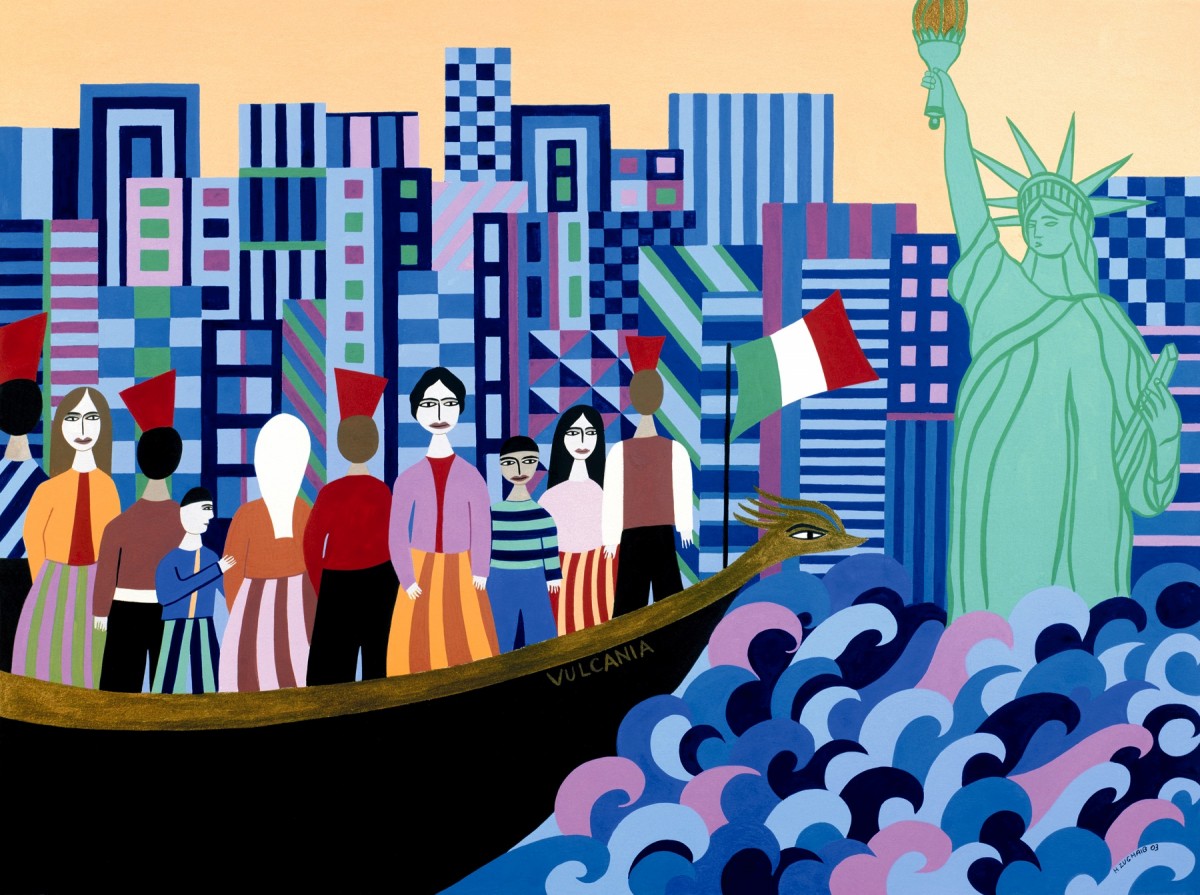 Zughaib shows this grisly side of the controversy through the image of two angry men holding up signs reading "No refugees," and "Why put us in danger?" while wearing the exact same clothes as the refugees. In gouache and ink-on-board, the men, women and children wear strikingly bold and colorful geometric thobes and abayas — robe-like garments for men and women respectively — which gives her pieces a whimsical charm and all the figures across her paintings a shared identity.
However, in many of her paintings, she strategically shows the refugees from behind, as if they are fleeing from the audience. There's no panic in their demeanor, but a graceful stroll as the women's colorful scarves sway behind them as they walk.
In one painting of a migrant boat at sea, despite the whirling shades of the ocean almost swallowing their boat, a few of the refugees have their arms raised, as if in liberation. In simple, yet striking ways, Zughaib manages to show two sides of immigration — the struggle, the controversy and, most importantly, the dignity.
These pieces aren't pulled from thin air, but rather heavily influenced by one of America's most renowned artists, Jacob Lawrence, and his very own Migration Series, which he painted between 1940 and 1941. The African-American artist depicted the harrowing journey of over a million Southern African Americans migrating to the industrial North, where more economic opportunities awaited them during World War I. Many of Zughaib paintings mirror Lawrence's.
"I looked at one of his pieces in the beginning of The Migration Series," Zughaib said, "where people are going to St. Louis and Chicago and New York. I thought, 'The Syrians are going to Germany and Turkey and Greece.' It felt like a natural progression to me, to link them up."
This link goes far deeper than just a painting, there are many shared struggles between these two vastly different migrations, including the fact that many children in both circumstances could no longer attend school, but had to work to help their families instead. Although drawing inspiration from Lawrence, who depicted African Americans lugging belongings under blue skies fluttering with birds, Zughaib depicts Syrian refugees traveling under a fleet of fighter jets.
Zughaib's art also comes from a personal relationship with immigration, having fled her homeland of Lebanon to escape the civil war that erupted in the 1970s. Zughaib lived across the Middle East and Europe before settling down in the United States as U.S. citizen, along with her parents. She wouldn't see her homeland of Lebanon again until 35 years later. Though she's not an immigrant and doesn't consider herself a refugee, her experience has helped her relate to the Syrian refugee crisis.
Her paintings have seen the halls of several embassies, consulates and museums across the world, as well as the White House, World Bank and Library of Congress. They've even been gifted to foreign heads of state by President Obama and former Secretary of State Hillary Clinton.
Her humanitarian initiatives with Palestinian women artists to celebrate and share their stories in honor of Women's History Month as well as talks with students across France and Saudi women artists have marked Helen Zughaib as one of the most renowned and influential artists of our time.