"Duck roulade wrapped in duck prosciutto, honey-lacquered thigh riblet and foie gras served with a duck morel sauce, celeriac puree, rhubarb chutney, vegetable medley and potato gratin." That's what it took to win the American Culinary Foundation's Student Competition this past July.
The creator of that tongue-twisting dish, Madeline Black, is a student at Utah Valley University (UVU) who, at the time of her victory, had just completed her first year in the culinary arts program. Although this summer also marked the first time Black competed with the American Culinary Foundation (ACF), America's largest professional organization of for chefs, Black prevailed over the best of her peers from culinary arts programs around the country.
Constant Inspiration
Black has enjoyed helping her mother cook for many years, but she didn't decide to major in culinary arts until her senior year of high school. "My love for food really expanded when I started to take culinary classes in high school," Black says, referring to her participation in the ProStart program, which exposes students to the food service industry. "I loved being able to work with chefs and learn from them, and that pushed me to go to culinary school." The variety and creativity in culinary arts especially appealed to Black. "The culinary industry is amazing because every day there is something more to learn and some new opportunity for growth and new insights. That's what I love about studying culinary arts: I get to do different things all the time and always keep learning." Black found a good fit for her interests at UVU's culinary arts program, which has a strong focus on preparing students for competitions. "I'm very competitive," she admits.
Preparing for Competition
Black's no stranger to cooking contests. Besides competing with ProStart in high school, she's taken part in many intra-school matches at UVU. Her journey to the ACF's national competition began in fall 2016, when UVU held tryouts for students who wanted to enter. Black won the tryouts and moved on to the ACF tournament's next step, a regional competition. After Black's success at Regionals, UVU helped her prepare for Nationals by assigning a culinary arts professor to help her generate ideas for her dish and to give her tasting feedback.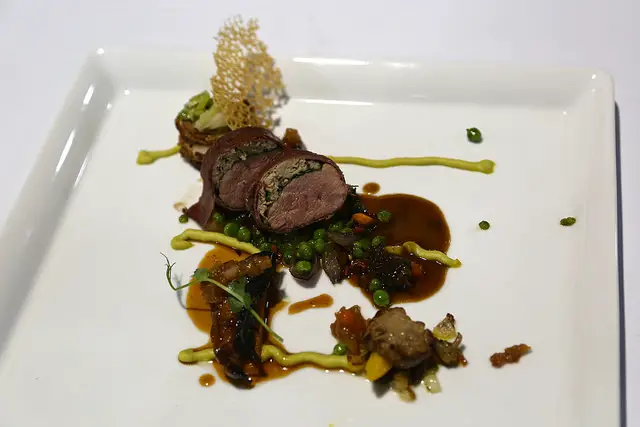 Each level of the ACF competition centers around a specific meat that each competitor must include in his or her dish. Once ACF announced that duck would be the designated meat for Nationals, Black spent hours refining ideas and testing them in the kitchen. "The judges like to see craftsmanship," Black explains. "They also want to see how well I can build up my plate." Ideally, the competitors' plates should have a good mixture of proteins, starches and condiments, all executed with technical perfection. Once she'd settled on her recipe, Black practiced cooking it over and over, making sure she knew it perfectly.
Showtime!
By the time she reached the competition site in Florida, Black was comfortable with her dish and confident in her ability to prepare it. "I'm rarely out of my comfort zone in the kitchen, because the kitchen is my comfort zone," she says. "The biggest challenge was just getting used to a new kitchen. There's always things that don't go perfectly." In this case, one of those things was an unexpected announcement the day before the competition that ACF had decided to change the type of burner that competitors were required to cook on. The students prepared for the competition with the understanding that they'd use electric ranges, but at the last minute a fire marshal objected, so ACF had to change plans. Each competitor received six portable butane burners to cook over. Instead of resenting the short notice, though, Black just shrugs it off. "Any cook has to be prepared for challenges. The burner switch allowed me to show what I'm capable of," she says matter-of-factly. In her view, handling unforeseen difficulties is "part of what makes a chef a chef."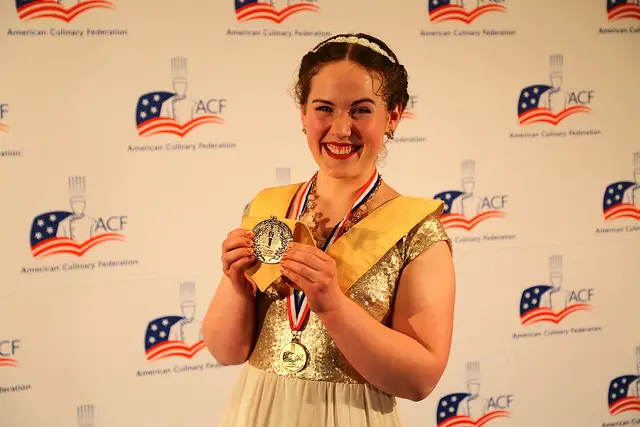 Picking Favorites
For this chef, cooking savory food (as she did in the competition) is more fun than preparing desserts or pastries. It's hard for Black to pick a favorite ingredient or food, though, because her favorites change too much. Right now, she's still excited about duck, despite working with it for months. She says, "People ask, 'Aren't you tired of duck?' and I'm like, 'Of course not! I love it!'"
Duck isn't the only ingredient from the ACF competition that Black continues to use: she still enjoys cooking with rhubarb, because of its "unique flavor and acidity." She's also been experimenting with fish recently. "I have developed my own take on fish tacos, using halibut, that I love. Really though, I just love to cook and have a great time creating anything from scratch, like homemade pasta, or throwing together food from a few random items that need to be used."
What Does a Culinary Arts Student Do?
Attending culinary school might seem more exotic than studying math or history, but the workload for undergraduates is about the same. Each semester, Black and her classmates take two hands-on classes and two lecture-based classes, which comes to a total of fifteen or sixteen credits. The academic classes include topics such as Menu Design, while the hands-on ones put students in the kitchen to learn how to execute various cooking techniques. Besides Beginning and Advanced Baking and Cooking, there are classes like Cold Foods, which covers everything from salads to sausages, or Restaurant Cooking. Each cooking class is a full six-and-a-half hours long, and almost all of it is spent in the kitchen.
At the end of their two years (UVU's program grants an Associate's degree), each culinary arts student must complete a semester-long internship in some area of the food industry. Black hasn't decided where she'll intern, but she's leaning towards an upscale location like a country club or hotel. "Both would give me another good look into the culinary industry and would be new experiences where I'd learn a lot," she explains.
What's Next
After she graduates from UVU next spring, Black plans to earn a Bachelor's degree in hospitality or business. "Everything I learn is knowledge I will take with me because I will be cooking in some way for the rest of my life," she says. Just because she wants to cook professionally doesn't mean she wants to work in a restaurant, though. Instead, she's considering a career in catering because she prefers cooking for small events, where "you can use finer ingredients and spend more time on the details." Regardless of where she winds up working, Black intends to keep honing her skills and learning new ways to prepare food. "Everyone has to eat, so I might as well learn how to make it the most enjoyable experience possible."