In 2016, Miranda Kim took reduce, reuse and recycle to the next level when she and her sister decided to start a company that turned post-consumer plastic into clothing. Inspired by the large amounts of litter on her native Californian beaches, she co-founded SoulFace Apparel with her sister Rebecca Kim and friend Joseph Darcey-Alden.
The company, which is dedicated to "combatting rapidly growing plastic pollution and its deadly effects," makes its clothing in the United States using only recycled plastics and fibers and none of the toxic chemicals found in most clothes made overseas. In addition to t-shirts, they sell also stainless steel water bottles to reduce the use of single use plastic bottles. In starting SoulFace, Kim made it her mission to educate both herself and others on the lesser-known impacts of plastic waste. A first year Business Economics major, she spoke about the business and its mission to improve sustainability.
Bethany Knickerbocker: Can you describe SoulFace Apparel and its mission?
Miranda Kim: SoulFace Apparel is a start-up inspired by the need to reduce our plastic waste and provide a sustainable method of reusing recycled material. Plastic makes up about 90 percent of the trash in the ocean, and its effects are devastating to both marine life and humans. Toxic particles end up in the fish we eat, the water we drink and even our table salt. Our mission is to raise awareness of this global issue by supplying custom printed tees made of post-consumer plastic.
BK: You've always been interested in the environment, but what in particular inspired you to start SoulFace?
MK: My sister and co-founder, Rebecca Kim, and I are both passionate about the environment. We did some volunteer work at a local beach and noticed the amount of trash that had accumulated on the shores. Our curiosity led us to participating in beach cleanups and finding dead sea birds and marine life on one of the "cleanest beaches" in Southern California. Upon online investigation, we soon learned about the Great Pacific Garbage Patch and the enormous (and growing) amount of plastic waste in our oceans. We knew that something had to change, so we resolved to find a way to combat this issue. One of our friends, Joseph Darcey-Alden, values the idea of empowering individuals to make a difference. He loved our concept, so we formed a team and SoulFace was created!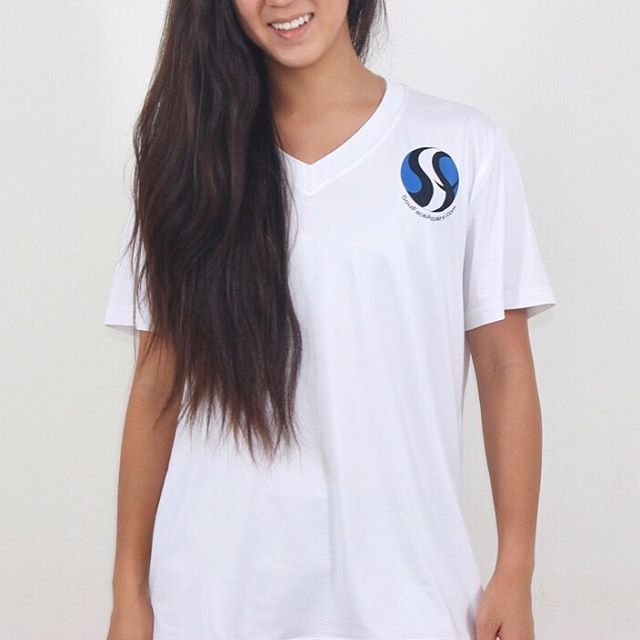 BK: Can you describe your role within the company?
MK: I am the creative director, meaning that I manage the marketing aspect of SoulFace and am helping to develop new prints for standard tees (in addition to the custom orders) for our website. As a co-founder of this start-up, I've held the role of working with my co-founders on developing ideas and plans for future partnerships, while deciding on details for every step of the process.
BK: How did your team come up with the name SoulFace? Is there any significance?
MK: Our team at SoulFace believes in the importance of wearing our soul on our sleeve to inspire others to make a change. Giving back to the earth by minimizing waste and improving consumer products is our way of sharing our soul at face value. We also used a play on words to imply the need to protect the face of our planet. In other words, we believe in putting our passions into action. The name SoulFace originated from this philosophy.
BK: Where does the plastic that you use come from?
MK: The plastic used in our apparel is post-consumer plastic. This includes plastic water/soda bottles that are thrown into recycling bins.
BK: What have you learned in starting this business?
MK: I've learned a lot about the apparel industry and how every step of the process requires many technicalities that I was not aware of as a consumer. Some challenges we encountered included building a website and calculating our costs for this sustainable process. Since our apparel is made in the U.S., it is a high-quality product that does not contain any toxic chemicals that could seep into our water systems or harm consumers' health. We could not settle for cheaper goods without sacrificing the quality or purpose of our brand.
BK: How has SoulFace impacted your college experience?
MK: SoulFace has given me the opportunity to connect with other students on campus whom I've never met before. Many people have reached out to me, asking to meet to bounce ideas off each other or just talk about our passions and entrepreneurship. It has really allowed me to step outside my comfort zone by giving me the confidence to ask others for advice or mentorship. It's also an awesome way to get feedback and encouragement, since so many people are passionate about the environment and have been supportive of SoulFace's cause.
BK: Any future plans for SoulFace Apparel?
MK: Some of our goals include establishing partnerships with organizations that share our mission for reducing waste and protecting our environment. We also hope to launch new prints, styles, colors etc. to expand consumers' options besides the custom printing. Hoping to fulfill some large orders in the near future!
SoulFace can be found on Facebook @soulfaceapparel, on Instagram @soulfaceapparel, on YouTube and on their website.