For most college students, figuring out what to do for the rest of their lives is one of the most intimidating challenges that they face. Sherron Stevens does not have this problem. At just twenty-one years of age, Stevens is already a published author, the founder of multiple businesses and a full-time student at Franklin University.
One of the entrepreneurial ventures that Stevens is currently embarking on is called Bondfire Grill, which is a mobile, bonfire inspired food truck. I had a chance to speak with Sherron and learn more about his knack for business, and why he thinks Bondfire Grill could be a real game-changer in the food truck industry.
Patrick Murtha: What was the first legitimate business venture that you were involved in?
Sherron Stevens: The first business that I ever started was called Undercover Customer. This was a secret shopper service and consulting firm. The goal was to provide customer service and personal development to corporate/small business owners with a viewpoint from a frontline employee. I had a total of two clients for this business. Age was a major hindrance for me because the consulting world wants 'experience.' Simply stated, they truly wondered what an eighteen-year-old (at the time) knew about the world of business.
PM: Do you feel people underestimate you because of your age?
SS: At first, I really do think they underestimate me, then I like to invite them to coffee or a phone call. After I share my story and business experience, they don't believe that I am twenty-one years old anymore. I win them over, because age is only a number. My advice to young people wanting to start a business is to just do it, and if you hit a road block, have coffee with someone who can help lift it.
PM: Where do you think your knack for business came from?
SS: I had a mentor take me under his wing at age twelve. Growing up without a father, he took a similar role. He provided me with numerous business and life lessons. His name is Dante Lee, and he's a very successful entrepreneur. To this day, he still serves as my mentor and I talk to him at least once a week.
PM: Tell me about how you founded Columbus Auto Detailers. How did you come up with the idea for a mobile car-detailing service? 
SS: Columbus Auto Detailers was a complete accident. I am a clean freak, so I washed, waxed and detailed my car literally every week. One day, I decided to post a picture of my work to my personal Facebook page. At that time, I was charging $25 per car for inside and outside. I started this company on May 25, 2016, exactly. The response was insane a lot of my family and friends scheduled car details right away.
I smelled the opportunity in this and in that same week, I made a company Facebook page and even created a logo. I knew that my name needed to be simple. From a logical standpoint, I knew that when people searched for auto detailing in Columbus, Ohio, they would more than likely search 'Columbus Auto Detailing'; and for SEO [Search Engine Optimization], the name was golden.
PM: So what makes your detailing business different from others on top of the fact that you bring the business to their home?
SS: Well, I started doing research to see what this industry was charging. To my surprise, the prices were outrageous. So, I decided to add two more value points to my company. After cleaning a few cars, I found that on average, each car takes about two hours. I then asked myself, "How much do I want to make an hour…?" I then decided to go with the $95 price for inside and outside. My competitors charge at least $140.
I realized that I opened a new market because of my prices and mobility. Your typical detailing customer would be a "once a year" person or a "car enthusiast." Due to pricing, most of my clients usually have their cars done every other month and the mobility allows them to continue doing their day-to-day activities at home without having to go and drop off their car.
PM: I have to ask about what inspired you to write a book. How did the idea come to you in the first place? 
SS: I never had an urge to write a book. My mentor asked me, 'What are you good at and how can you start building a name for yourself?' I told him that I was consistently recognized for my customer service at my job—I even had the proof. He said, 'Well then, there you go! Write about customer service.'
I was on summer vacation, but I started writing and it naturally flowed and I then realized how passionate I am about customer service. Three weeks later, I finished the book and named it "Undercover Customer: 100 Ways to Fix Your Broken Customer Service."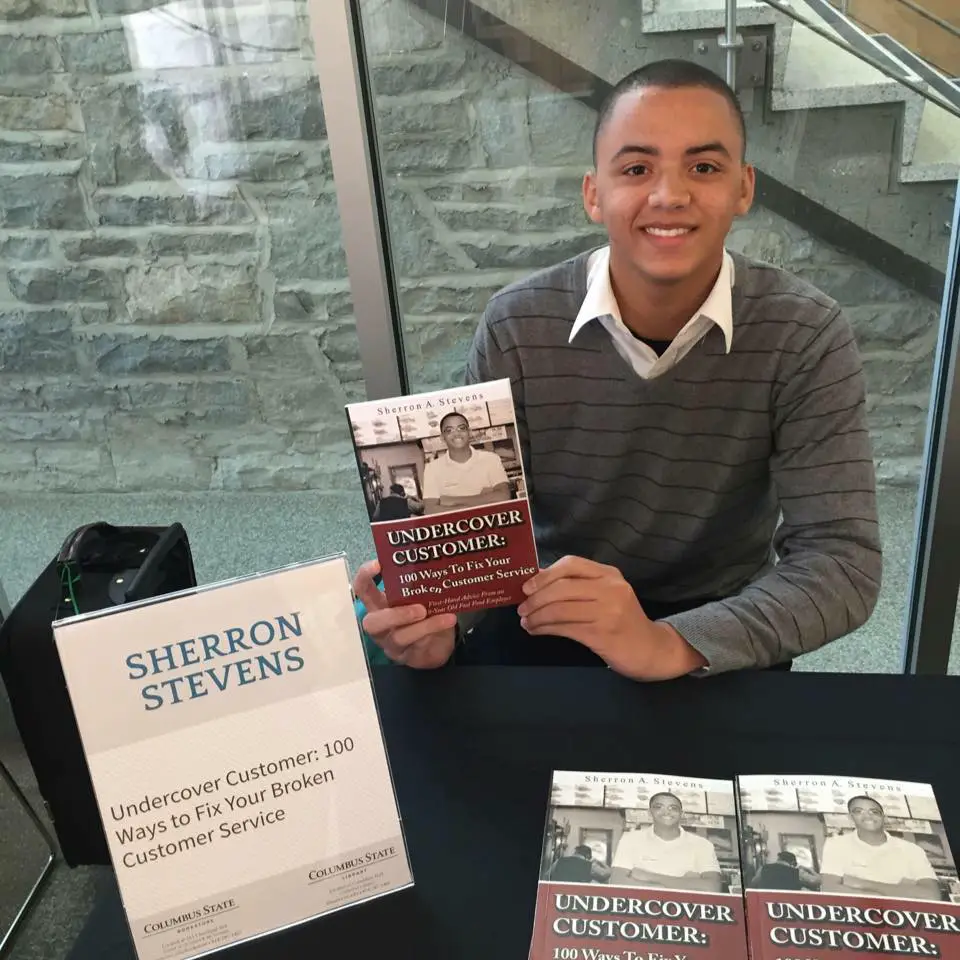 PM: I'm assuming that finishing the first book made it much easier to write the second one. What did you decide to write about next, and is this something you plan to continue doing throughout your career?
SS: My second book is titled "57 Tips For Single Moms to Help Coach Their Kids in Getting a Job." This is derived from my belief that single moms sometimes have to push their kids harder; I know my mom did. I do plan to write more in the future, once I feel that I have successfully built a big business brand.
PM: Being a college student myself, I could not imagine running a business on top of attending college full-time. Does balancing schoolwork and business ever feel overwhelming?
SS: It is very tough balancing both. In fact, I did not want to finish because I feel that college is only one way to be successful. The work isn't the difficult part, it's more of my entrepreneurial mindset/ventures preventing me from focusing 100 percent on school. 
PM: The business that you started, which I am personally most interested in, is Bondfire Grill; what inspired you to create something like this?
SS: I was thinking of a time when people actually connected and enjoyed the association of others. Hundreds of years ago up to today, it was around a bonfire. Around the bonfire, there was music, comfort food, stories, activities and dance. People in the community were/still are truly bonding around this bonfire experience.
PM: Obviously, the center of the food truck business is the food. What is the signature Bondfire Grill meal?
SS: Our menu consists of slow cooked BBQ pulled chicken and BBQ pork sandwiches, sweet meatballs, mac-n-cheese, baked bacon potato casserole, coleslaw and baked beans; each plate is served with a piece of warm honey cinnamon butter cornbread.
PM: Do you feel as though the service that Bondfire Grill provides is revolutionary for a mobile food truck?
SS: Absolutely! No other food truck/brick and mortar restaurant is providing food with well-crafted "bonding" experiences for the community.
The ultimate end goal is to become a brick and mortar, where we serve comfort food, while providing a bonfire experience to the community, whether that be a night of storytelling or a community scavenger hunt. The cool thing is that we can be in a food truck and still provide this bonfire experience, by finding an event venue to host our events. The mobile food truck essentially is just a kitchen, but we will also attend events to make money as well.
Our mission is to bond people in the community together with experiences built by and for the community. We don't have a target audience, as we want to bond everyone together, one plate at a time.