Little, everyday experiences end up being the defining moments in life that make you the person you're meant to be. For Boise State University junior Mallori Bjerke, her study abroad experiences, support for equality and determination for success are the small encounters that characterize her. At a school with about 22,000 students, Bjerke made a name for herself as a volunteer, employee, organization president and an advocate for BSU's students.
Over three years ago, similar to most high school seniors, Bjerke wanted to leave her small town of Peetz, Colorado and find a fresh start and conquer the world. After a long search, she found a home at Boise State University in Idaho.
"I came for a campus visit and the rest is history. I fell in love with Boise and Boise State," says Bjerke.
She began her studies at BSU majoring in General Business with a minor in French, and now hopes to one-day work for an international nonprofit, the international education field or The Peace Corps after graduation, using all the skills and experiences she's acquired throughout her college career.
Volunteering and Advocating Around Campus
Coming from a small town, Bjerke learned to get involved in everything, because it was the only thing to do to stay busy and create passions about your interests and beliefs.
"I don't do very well when I have a slower-paced schedule. Boise State offered organizations that I was passionate about and could relate to. I actually wanted to be in these organizations versus being in them just to have a time killer. Boise State is very encouraging of being involved on campus, so getting involved was easy; it's about picking what you want to be involved in that's the hard part sometimes," she says.
Encouraging the concept of standing up for your beliefs, Bjerke volunteers for her campus' Gender Equity Center, Planned Parenthood and advocates the studying abroad experience through the Global Leadership Program, which is ran through Academic Programs International.
"I think it's important to stand up for and share your beliefs because a lot of your peers may be afraid to stand up for what they love, too. It's important to be an example and to show that it's okay to be passionate and proud of what you love," says Bjerke.
At the Gender Equity Center, she helps out around the school with informational tables, panels and various events thrown by the organization throughout the year. Currently, Bjerke is combining her role with the Gender Equity Center and the Global Leadership Program by creating a page on the campus study abroad department's website for LGBTQ+ students, aiding them in their studying abroad experience. Along with the webpage, she's working on a resource page that helps transgender students with the passport and visa processes necessary for studying abroad.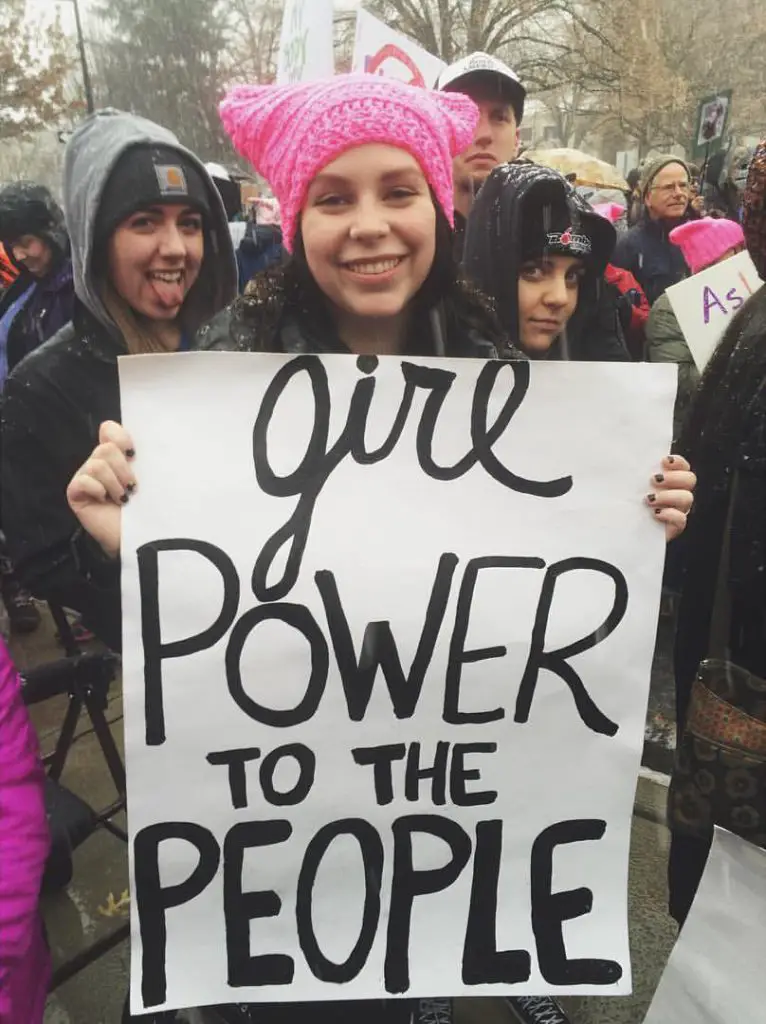 When volunteering at Planned Parenthood, Bjerke helps out in any way possible, always ready to stand up and fight for what she believes in.
"I do phone banks, canvasses, letter writing, and I attend events such as action forums and protests around my area! Basically, anything Planned Parenthood needs help with, I help," says Bjerke.
Alongside her volunteering around school, she also stands as the president of Women in the Workplace. She plans to take the organization to new heights this year and expand their knowledge and character.
"I'm really working on making the club interdisciplinary this year. Right now, we only have business students, but I would like to open up the organization to female STEM and Engineering majors and hopefully even majors beyond. I want to arm my members with the tools to be a competitive candidate in the workplace after college. This means helping with basic skills such as resume and cover letter writing, but also other important tools such as how to negotiate salary (wage gap, DUH!) and how to be a valuable candidate even against the male counterparts," says Bjerke.
Studying Abroad Influencing Her College Experience
Despite all her achievements in organizations and volunteering, Bjerke believes her biggest defining attribute throughout college was the time she spent studying abroad for three months in Grenoble France. Her experience taught her the importance of the diversity around the world and among members of society.
"Before leaving for France, I would often think in black and white. I would never consider other individuals background situations or anything but what was at hand. Studying abroad helped me learn how to look at a situation from all angles and consider aspects that may not be normally considered. Studying abroad taught me how to be alone and it really made me more independent and confident in my abilities. I love my college experience at Boise State but I also really enjoyed experiencing what college life is like in another country," says Bjerke.
Bjerke believes studying abroad to be an important adventure that almost all college students should be able to experience, which is why she dedicates time promoting programs and helping to create helpful opportunities for everyone around campus.
"It's a life changing experience. As an American, I am taught every day to fear the unknown. Studying abroad helped me combat that habit while also immersing me in cultures that I would've never ever been able to enjoy had I not taken the risk," she says.
Overall, Bjerke wouldn't change her college experience at all, besides maybe being able to spend some more time abroad. Her moments throughout school will be the ones that define her career in the future and aid her achievements to come.
"All of these experiences make up who I am as a person. What I'm involved in on campus aren't just resume builders, they're all experiences and organizations that I'm incredibly passionate about. From Planned Parenthood to Women of the Workplace and studying abroad. These are elements that make up what I love, thus making up who I am. It's not hard to be involved when these are all causes that I want to be involved in," says Bjerke.