Addie Martanovic brings a lot to the table. Literally.
Equipped with an inspiring vivacity for life's healthy indulgences, encouraging posts from the food and wellness blogger serve as a constant reminder to live a wholesome, healthy life, filled with damn good food.
Her blog, www.chickpeainthecity.org, whose name is inspired by her love of hummus and affinity for city life, has helped her gain notoriety in the wellness blogging-community, as well as on Instagram, where she boasts an impressive 40,000+ followers.
A senior at Loyola University Chicago, Martanovic has managed to balance a hectic final semester with an internship, vigorous exercise and the upkeep of her blog. How does she do it? We asked.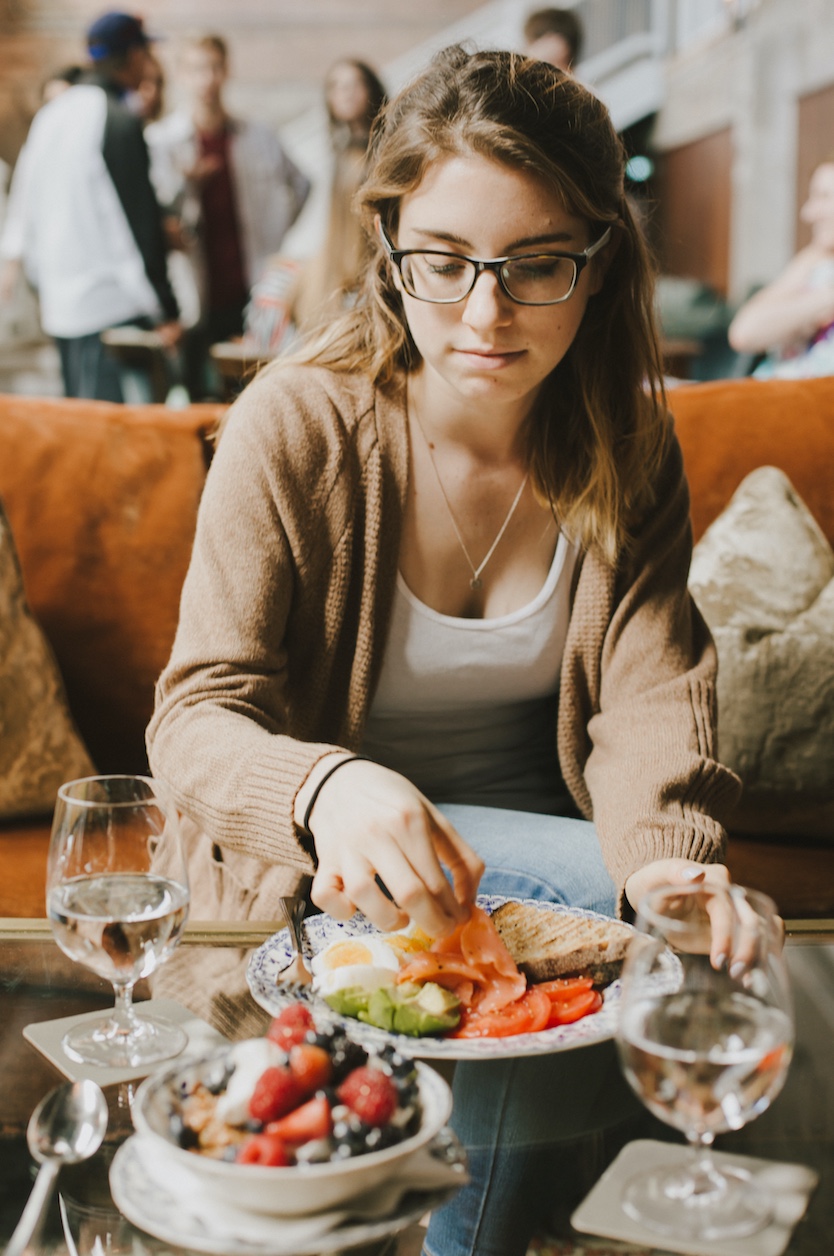 "Being and feeling healthy is not about dieting. At all. It's about changing your lifestyle and eating real foods. Forget what your body looks like or losing and gaining weight; focus on feeling your best first and foremost, by choosing what you're putting into your body. I always say ingredients over calories and real food over the processed crap."
"I was always into photography ever since my sophomore year of high school, and subsequently started eating healthier my junior year. They both managed to combine somehow, and I was always taking photos of my food and styling it to the point that my friends kept nagging me to make a blog. Once I got to college, I started writing restaurant reviews for my school's newspaper, "The Loyola Phoenix," called "Healthy City Eats," and after my freshman year, I decided I should make it my own thing, so that's when I began the blog for real."
"I am in my last semester at Loyola University Chicago right now, and have been a marketing intern at Simple Mills for the past year, so hopefully I will stick with them part-time and continue blogging part-time as well. Maybe one day take the blog full time! Fingers crossed. I will be traveling a ton this year as well: LA, Philly, D.C., Denver and more I hope."
"I always find time in my schedule to work out and eat healthy, whether it's before class and work in the morning, or after. I pack a bag of clothes and food, so I'm prepared. All you really need is an hour or two on a Sunday night to prepare your meals. If you're dedicated enough and want it badly enough, you can make time for anything."
"My two favorite workouts ever are spinning and hot yoga. I started both in college, among various other workouts, and it is by far my favorite combo. Pilates reformer-classes are ass kickers, too. It's legitimately a pilates class on a machine, and it leaves you in pain after but it's so worth it."
"I just began eating paleo and way more savory foods than ever before, which has been making me feel my best. Breakfast is usually sweet potatoes or roasted root vegetables, eggs and a meat. Lunch is usually a salad with a ton of vegetables, meat or wild fish and a healthy fat like avocado, or I roast my vegetables in coconut oil. Dinner will be a variation of lunch. I try to always do a ton of greens and vegetables sautéed or roasted with a protein and then healthy fats! It keeps me feeling full and energized."
"I definitely feel so much better inside and out after maintaining a healthy lifestyle for the past five years. I really believe that eating the right foods helps not only your physical body, but your mental state as well. In the past year alone, I've dealt with a lot of personal and family issues, but maintaining my yoga routine and eating well helps me stay balanced and keep a positive mindset."
"My favorite restaurant is a place called Café Gratitude in California. They name all of their dishes after affirmations (i.e. I Am Grateful, I Am Comforted, I Am Eccentric), and all of their plates say "What Are You Grateful For?" It's such a cool concept for a restaurant. I also have to say I love Café Clover in New York City, The Root Café in Lakewood, Ohio, and Big Star Taco in Chicago. I can't just pick one."
"I just recently started saying, 'Today is a good day to have a good day' quite frequently, and I seriously believe it to be true. In the past few months, I always think to myself any time something bad happens that something good must come out of it. And eventually it does! You can always find a little good in every day no matter how dreadful your day might seem. That's how I like to live!"
"I honestly don't know from where my confidence arises, because I am so self-conscious in reality. I have a very hard time accepting the fact that my blog has become bigger than I ever thought it would be. I always hide my face when anyone is like, 'You're the chickpea!' Or if one of my professors or classmates talks about it I'm like, 'Oh my god, no don't look at me!' But I think at the end of the day I just love doing what I'm doing and I love sharing good products, places and workouts with people, so I'm glad people enjoy it equally! I think my passion for it is where the confidence shines."