The political atmosphere over the past year has been Messy with a capital M.
From "The Wall" to Muslim bans, it's all been so exhausting, which is why, whether you're a football fan or you're just there for the dip, the Super Bowl was a must-needed distraction, that is until politics edged into the game.
Honestly, the thought of the biggest television event of the year being inclusive to all peoples is a heartwarming one, because the Super Bowl should be a great distraction for everyone. Television audiences were promised commercials addressing Trump's anti-immigration message, and when it was announced that Lady Gaga was performing the half-time show, everyone assumed that audiences were in for some major shade. That's not really what we got though.
Weeks before, audiences knew about the Budweiser commercial that would premiere on the night of the Super Bowl. The beer company promised a promo featuring the story of the Budweiser creator and his journey, emigrating to the United States during a time when Germans were not accepted. The commercial, titled "Born the Hard Way," did just that, but nothing more.
The video begins with the Budweiser creator leaving Germany, receiving a poor reception in America and enduring a hazardous journey through the U.S. before arriving in a bar where he is offered a beer. The commercial closes with the phrase, "When nothing stops your dream. This is the beer we drink."
There is no statement about how to treat immigrants, how to be accepting of all human beings or how being American is more about your spirit than it is your status. Rather, the commercial's message seems to say, "Never give up on your dreams, and for those who don't give up, they drink Budweiser."
"Born the Hard Way" was not the Trump shade America was expecting, but a cop out. The commercial was hyped under the guise of an uplifting political message, but fell flat in delivering it.
The Budweiser company still got what it wanted, though. Everyone remained in their seats during the commercial break so they could catch the ad, and probably went to buy a Budweiser, whether they were conservative or liberal, because even though the commercial promised a left-leaning message, it hit somewhere in the middle.
When the Budweiser commercial deflated expectations, there was still 84 Lumber. This promo was more up-to-date with immigration, showing a mother and daughter, who appear to be Latina, waking up and packing for their long journey across Latin America to the U.S.
The commercial even showed a border wall and was considered so controversial that the entire spot did not air on television. Audiences were directed to watch the five-and-a-half-minute video on the website, which showed the rest of the mother and daughter's journey. It also featured more Latinx people as hard working and all around full human beings, not as "aliens" or "bad hombres," as Trump would lead you to believe.
The promo wasn't exactly a political zinger either, but it was still nice to see, especially from a building supplies company that most likely employs a number of Latinx people. Even if it wasn't what audiences were expecting, there's still something to be said about representing Latinx immigrants as human beings.
The commercial was so widely loved that the website was shut down within a minute of its airing, but then 84 Lumber opened their big mouths.
In a Facebook response, the company said, "We do not condone illegal immigration. The mother and daughter symbolize grit, dedication and sacrifice, characteristics that we look for in our people at 84 Lumber. President Trump has previously said there should be a 'big, beautiful door in the wall so that people can come into this country legally.' We couldn't agree more."
In the end, the advertisement was not a political statement. It made no comment on immigration except that documented immigrants are alright. Wow, groundbreaking.
Yet again, another company that pleases the left on the surface, but ultimately takes a middle road on a topic so important to millions of lives.
Then, there's Lady Gaga, who threw herself from the roof of the stadium into a glittered-down and glowing audience. Her performance was so good that it made you want to say, "Yaaaaaasss Gaga."
From singing "This Land is Your Land" to "Born This Way," Gaga killed it, even if Beyonce wasn't there to perform for her part in "Telephone." That's not to say, though, that Gaga was especially political in her performance. Sure, singing "This Land is My Land" as a queer woman is significant, as well as singing "Born This Way," the song about LGBT+ rights.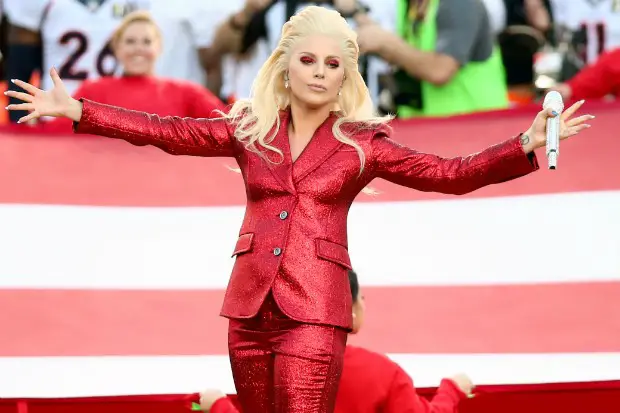 Football has been a masculine symbol of everything good about heterosexually, so much so that when gay football player Michael Sam was signed to the NFL, there was outrage.
Personally, every time I watch football, I always think, "This is good, but it'd be great if it were gayer," which is why I was waving the rainbow flag when Coldplay got the entire stadium to spell out "Believe in Love" against a rainbow background last year. Not only that, but Beyonce also made a special appearance with Bruno Mars in Black Panther-inspired gear in a statement that shouted black pride.
After this performance, I expected Gaga to come riding in on a sea of unicorns and glitter, shouting at Trump and Pence about their anti-LGBT+ agenda. Gaga certainly threw down a great performance, but nothing about what she did was revolutionary.
In fact, whatever minor message was in her performance completely went over the commentators' heads, as they described her performance as "apolitical." Needless to say, after the performance, Trump and Pence were neither shook nor even the slightest bit moved by Gaga, which is saying something for a man who tweeted eleven times about Kristen Stewart despite her never mentioning his name.
The fact is that for someone who took to the Oscars last year to protest sexual assault and attempted to write the LGBT+ anthem of the decade (despite her referring to Latinx people as "Cholos" and using the word "oriental" to describe a person, not a rug), her performance was lackluster in the politics department. Though she did make minor comments about how being gay is not a choice, her show was not revolutionary.
Nothing about Super Bowl 51 was groundbreaking, except for maybe that record-making comeback by the Pats. Although mindful audiences would love for every part of the media they consume to be ethical, advertising is just not the space for that.
If you're a scholar, just ask Karl Marx. If you're not, it's still important to understand that in advertising, the goal is not to connect to the audience on an emotional level; it's to sell a product. Budweiser and 84 Lumber will not be alienating half their market any time soon to take a stand against Trump, and even though we may have had high hopes for Lady Gaga, as long as "Joanne" sells miserably, her appearances will be in an effort to sell.
Performing "Born This Way" may have been a small spot of hope for LGBT+ people looking to break further into the mainstream, but without making the slightest change in popular discussion, it might as well just be an attempt to boost her sales.
With her performance at the Oscars last year and her conscious wardrobe, Gaga knows how to be political and make a loud statement, yet during TV's biggest night of the year, she chose not to. That's not to say she didn't have an awesome performance or that any of the Super Bowl ads weren't entertaining, but, as a society, we can't keep giving brownie points for minimal effort, especially when the leader of the free world is trying everything he can to ban an entire religion.
Let's stop with the hyperbolic speech when talking about how Gaga "slammed" Pence or how Budweiser "shaded" Trump. It's going to take active resistance to truly make a change, and it's not going to come from Budweiser any time soon.