Several Guesses as to What the Thunder Star Will Do Next
With Durant gone, Westbrook finds himself alone in Oklahoma. Here's what he's considering.
By Kevin Cordon, UC Irvine
---
One truly is the loneliest number, and though Russell Westbrook wears the number 0 on his jersey, he's got to be feeling like the loneliest player in the NBA right now.
First it was James Harden who left the young, promising Oklahoma City trio to pursue more money and a chance to be the star of a changing Houston Rockets team. A few years passed and Serge Ibaka was thrust into that third star role and began seeing a little more of the ball offensively, but the lion's share of the work fell to Westbrook and the Thunder's golden child, Kevin Durant.
Then, like a ravaging midwestern tornado, this offseason decimated the Oklahoma City Thunder, leaving behind only a fraction of the core that took the Warriors to a seven-game series just a few months ago. Serge Ibaka quickly departed to the Orlando Magic in exchange for several young players that have potential, but whose fit into the Thunder system is questionable. Then, in an unexpected disaster that left Oklahoma mourning the future of their team, Kevin Durant departed to the Golden State Warriors.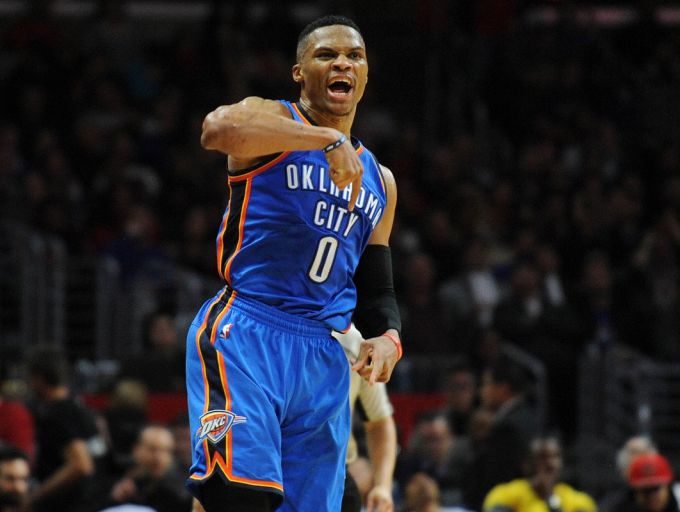 Just like that, Russell Westbrook became all that's left of a team that was a serious title contender for years and whose spirit brought pride to the state of Oklahoma. Let's be real—this was always Russell's team. He was the primary ball-handler and took it upon himself to wildly miss layups in the clutch. It was his mistakes and decision-making that cost the Thunder some games, but to be fair, his passion and downhill-style of play propelled them to win games more often than not.
With Durant gone, Westbrook is the undoubtedly leader of this team, but does he even want the role? After reportedly turning down a contract extension and with rumors flurrying of a return home to LA, all signs point to no. After this season, Westbrook will be a free agent, and the Thunder will be going through this entire free agency dilemma all over again with their last beloved star.
If Westbrook doesn't want to extend his contract for more money than any other team can offer him, it's safe to say he'll be looking to weigh his options next summer and will have plenty of suitors. The Thunder front office's mourning of Kevin Durant's departure has to be short-lived, because now they have to figure out what to do with the remains of their roster.
Their best case scenario would've been to sign Russell to a contract extension during the offseason, but with his refusal to re-sign, Oklahoma City still have a few options. They could:
A) Wait and see how this season goes, try to convince Russell that they can build a new contending team around him and hope that he decides his loyalty runs deeper than Durant's.
OR
B) They could try and trade him now or during the upcoming season to try and grab as much value as they can for their last superstar. Trading now would allow the Thunder to receive valuable pieces in return for Westbrook's departure, as opposed to him getting plucked away for nothing during free agency.
Before we completely deny option A, let's think about it. For Serge Ibaka, the Thunder received Victor Oladipo, Ersan Ilyasova and the draft rights to Domantas Sabonis. Serge Ibaka was never the third piece to the puzzle that James Harden was because of his lack of offense, and while he was a beast defensively in the paint, he couldn't be relied on to defend outside of 10 feet. Oladipo brings another explosive offensive talent to the Thunder, but his offensive game slightly resembles Westbrook's, leaving the Thunder lacking a reliable perimeter shooting option.
Ersan Ilyasova could be a decent spot-up shooter for the Thunder, if he can even make it onto the court. His career has been plagued by injuries and an unreliability that prevented him from ever finding a run of good performances. The Thunder will hope they can get the best from him, but it's a long shot at best.
From the rest of the Thunder team, there are some promising pieces that will benefit from the absences of Durant and Ibaka. Enes Kanter will be one of those guys. Without Durant and Ibaka dominating frontcourt minutes, Kanter will be the main offensive option down low, and his ability to get out and run will see him getting plenty of the ball with a backcourt of two of the most explosive guards in the league in Westbrook and Oladipo.
The Thunder will remain gritty on defense with Westbrook and Steven Adams providing the muscle and tenacity, and coach Billy Donovan proved he could hang with the best of them during his first year.
Oklahoma City still has a reason to be excited, and while clearly this team won't be the same without Durant, maybe that's a good thing?
They couldn't win one with him, despite getting close several times, and the added responsibility for Westbrook in his absence could help take Russell's game even further than the triple-double machine he was this year.
Becoming the centerpiece of the new Thunder could be intriguing for Westbrook, a new challenge worthy of his competitive spirit should he choose to accept it. At 27, he's in his prime and an MVP-type season will definitely be on the way if he stays in Oklahoma City to lead the young team.
On the other hand, there's option B. The OKC front office has to be prepared for the worst, and should be lining up potential deals to receive the best possible compensation for him in a trade. Russell Westbrook's name is sure to be on just about every team's radar, as he is one of those guys that would cause a team to trade away a chunk of their roster just to get him.
Both LA teams are sure to be frontrunners, as Los Angeles is where Westbrook grew up and both the Lakers and Clippers would be more than willing to give up the goods to bring the superstar home. Obviously, the two LA teams provide different challenges.
The Lakers have a young core of Jordan Clarkson, D'Angelo Russell, Brandon Ingram and Larry Nance Jr. that Westbrook could mold in his image, and the Lakers front office would spare no expense to make sure the newcomer's needs are met. The promise of the future will be a hit-or-miss with Westbrook, who was already a part of a "promising young team" when he was drafted to the Thunder and will be looking for a team who is ready to contend right away.
The Clippers would definitely be a title contender with Westbrook, adding him to an already talented and tough core of Chris Paul, Blake Griffin and DeAndre Jordan. With Paul running the floor, Westbrook would be able to alleviate himself of playmaking responsibilities and focus on attacking the basket in the way only he knows how. The issue with the Clippers is the same issue they've been having the last few years, they just lack consistency. Los Angeles' little brother team seems to always fall apart in the playoffs and have been plagued by injuries to their stars the past few seasons.
Regardless of what team Westbrook suits up for next season, fans are in for a show. If he stays in Oklahoma City, this will be a contract year for him, and a showcase of his talents for free agency next year. Though Russell Westbrook's future is still up for interpretation, one thing we do know is that he won't want anybody on the Warriors winning MVP next season, so there'll be an extra spring in his step when he's sprinting down the court all season long.