May the Glory Lil B, Now and Forever
Lil' B has made headlines for cursing and blessing athletes, but until a recent string of uncanny sporting evens, I never thought it was real.
By Will Strecker, University of Texas at Austin
---
The Based God, brought to light through his vessel/disciple Lil B—a talented rapper and former member of The Pack—seems to be interfering in worldly issues more frequently over the past several years, particularly in the world of professional sports.
Not a religious man myself, I put little stock into the borderline schizophrenic ramblings of a marginally successful rapper, but with news of Lil B's curses and blessings actually manifesting, it's becoming difficult for me to ignore the supernatural powers at play here. Sound like blasphemy? Let me explain.
We'll begin with Kevin Durant. Back in 2011, Durant tweeted that he didn't understand how Lil B was relevant, claiming that he tried to listen to the rapper, but his "mind wouldn't let [him] do it."
B took this straight to heart, firing back at Durant via Twitter and announcing that the Based God's curse will be active on Durant until the two play a one-on-one game of 21. This curse, still active to this day, means that Durant will never win an NBA title.
At first, the curse seemed like bullshit. However, take into account that Durant has yet to win a title and was injured all last season, there might be something to say for the Based God's hex.
It's true that one instance doesn't make a trend, but Durant's case isn't the only instance where the Based God seems to have intervened in sports world.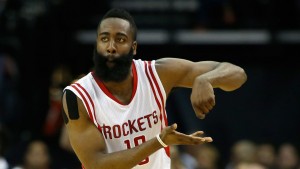 James Harden, all-star shooting guard for the Houston Rockets, is known, in part, for his cooking celebration—a celebration that Lil B claims he created. In fact, I can attest to B's claim. Cooking was a craze several years ago, myself an avid chef, well before Harden began using it as his celebration dance.
The use of the dance isn't what caught Lil B's attention, however. Instead, Harden's use of the dance without acknowledging the Based God as the creator and his blatant denial of knowing who Lil B is (when he clearly must know Lil B, or else where did he get the cooking dance from?) is seen as the utmost disrespect to the one true god.
Lil B cursed Harden midway into the NBA's 2015 Western Conference Finals, and from that moment on, Harden struggled in the series and the Rockets eventually lost to the Warriors.
A remorseful Lil B lifted the curse on Harden after the series, just to reactivate it in late October when Harden posted a picture of himself cooking on Instagram, again giving no credit to Lil B.
We have yet to see how the reactivated curse will affect Harden, but given past experience, it doesn't look good for the all-star.
In a moment of divine intervention, again during the NBA Finals this year, Marreese Speights of the Warriors missed a breakaway dunk in game 2, a game the Warriors lost to the Cavaliers. At the time, not much was made of the situation—chalk it up to bad luck. But, thanks to Sportsnation on ESPN, a tweet from Speights was uncovered from 2011 calling Lil B a "trash" rapper.
Obviously, such disrespect didn't go unnoticed by the Based God, and while Lil B himself didn't respond to Speights tweet, it seems apparent that the Based God took the tweet to heart and intervened at a critical moment in Speights' career. Once he missed the dunk, Speights saw very little action the rest of the series, and the Warriors went on to win with little help from their big man. All of this seems rather coincidental, yes? There's more.
Three more instances, all this fall, convinced me of the truth in Lil B's madness. The first one occurred the first weekend of October, when Florida's football team was set to play Ole Miss. One of the Florida players tweeted at Lil B, asking for his blessing in order to pull off the upset over Ole Miss. B responded, tweeting at the University of Florida, "Love you and Florida – Lil B." That weekend, Florida beat Ole Miss in one of the biggest upsets of the college football season.
Later that week, University of Texas defensive end Bryce Cottrell followed Florida's lead and tweeted at Lil B, asking for his blessing to beat OU. Clearly Cottrell saw the outcome of the Florida/Ole Miss game, and fed up with how horrid the Longhorn's season was looking up to that point, decided to give the Based God a chance.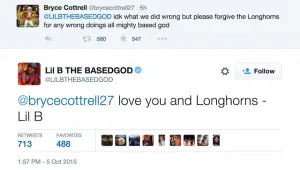 Again, B responded with "Love you and Longhorns – Lil B," and that weekend, UT beat OU in what may be viewed as the turning point in Charlie Strong's career.
And if you really looks at this UT situation, really looks at the football team, and really all Texas sports in general (at least the bigger sports), it can be argued that Texas has been in a relative slump since, oh what, 2011? And what else happened in 2011? That was the year Lil B first enacted his curse on former Longhorn Kevin Durant.
Perhaps when the Based God cursed Texas' most prominent professional athlete of the century, the ill effects spilled over to the entire Longhorn Nation? Just saying. Regardless, it seems as if the Horns have finally received the Based God's blessing, so we'll see what happens next. [Ed. Note: B's blessing may have actually only applied for the OU game.]
Then in October, in an instance of profound inexplicability, the Texas Rangers blew a 2-0 series lead against the Toronto Blue Jays in the ALDS of the 2015 MLB Playoffs. After dropping the first two games in Arlington, Toronto councilman Norm Kelly (or more likely one of his interns) tweeted Lil B asking for his blessing ahead of game three.
B gave his blessing and sent his love to Canada, and in one of the craziest series of games in recent baseball history, the Blue Jays won the series 3-2, winning three straight games.
Even stranger is that the whole series was defined in one inning in game five. After taking a 3-2 lead in the game going into the bottom of the 7th, Rangers short-stop Elvis Andrus committed three errors back-to-back-to-back on rudimentary plays, allowing the Jays to load the bases.
When Jose Bautista came up to bat, in true Hollywood movie fashion, he cranked out a grand slam to give the Blue Jays a 6-3 lead, a lead they would carry until the end of the game. Given how well the Rangers were playing up to that point, it's inconceivable that they would play so poorly in such a critical moment.
The only explanation is divine intervention, is it not?
Given the Based God's undeniable track record, maybe it's high time we turn our attention to Lil B's insistence on his (or her?) existence. Humanity has always turned to the supernatural for answers to questions we can't explain, and the idea of a God or an all-knowing creator is as old as humanity itself. Maybe we have it all wrong. Maybe God isn't a Christian, Jew, Hindu or Muslim. Maybe he's a Based God, and maybe he's real.