#Unreal
Today, April 15th, is literally #TakeAWildGuessDay. Fake Instagram holidays have gone too far.
 By Nicole Yang, Amherst College
---
Last Sunday, April 10, was National Siblings Day.
I don't have any siblings, but you know how I know? I saw upwards of 50 photos of brothers and sisters commemorating it on my Instagram feed. Pretty sure this "holiday" didn't exist back in the second grade, or I would've remembered feeling sad that day because I couldn't participate in the class activity.
I don't mean to sound like a bitter only child, nor am I trying to doubt your clearly undeniable love for your siblings, but the question has to be asked. Are you sure you're not just posting that cute pic from the 2015 family vacation because you look good? Are you sure you're not just trying to remind your followers of that unforgettable time you had in Turks & Caicos?
Disguising it as a meaningful homage to your siblings is clever, I must admit, but let's be honest here. No matter how self-righteous you all try to be, at the end of the day, most of you are narcissistic egomaniacs who crave validation in the form of social media likes.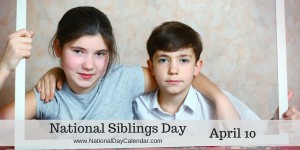 That treasured narcissism is at the crux of these so-called holidays. Fake Instagram holidays are just another outlet for that shameless self-promotion today's society is already far too familiar with.
#NationalDolphinDay? Time to post a throwback from when you went swimming with dolphins in Cancun back in 2004. #NationalHandwritingDay? Definitely time to show off your spectacular, above-average penmanship. And #NationalBeerDay is obviously an ideal opportunity to share a neat GIF of you shot-gunning a Keystone Lite.
I apologize if I sound like a jaded millennial, but come on people. Do you see what I see? These bogus days of celebration are just another excuse for people to build their own personal "brand" and drive more traffic to their social media accounts.
Posting a picture of you eating corn on the cob might seem a little random or strange on June 10, but posting it on June 11, National Corn on the Cob Day, is a total game changer. Not only will you garner twice, maybe even thrice, as many likes, but you also will appear trendy and in the know. It's a win-win.
So, how did we get here? How did we get to the point where National Corn on the Cob Day not only exists but is in fact blindly endorsed?
Well, turns out the food industry is primarily responsible for the groundwork of these "holidays." By arbitrarily proclaiming dates as National [Insert food here] Day, restaurants and chains discovered a way to commercialize ordinary days of the calendar.
Dates that once carried no significant meaning have now been transformed into ones with a purpose. March 8 simply used to be March 8, and nothing more. However, its identity received a drastic makeover in 2006, as IHOP declared March 8 to be National Pancake Day. On this ~special~ day, IHOP customers can receive a free short stack of buttermilk pancakes but are encouraged to donate to the Children's Miracle Network Hospitals. Effective marketing tactic? Initially, yes.
Many restaurants followed suit. Jimmy Buffett's Margaritaville offers various drink specials on February 22, National Margarita Day, while Quiznos dishes out free toasted cookies to everyone who walks through their doors on December 4, National Cookie Day. And pretty much any major coffee chain will give you a free cup of joe on September 29, National Coffee Day. Rarely do people complain about free food, so what seems to be the problem?
Well, the growth of National Food Days surged, but the problem is that it surged uncontrollably. Today is National Glazed Spiral Ham Day. Tomorrow is National Eggs Benedict Day.
The day after is National Cheeseball Day. National Cheddar Cheese Fries Day, National Pineapple Upside-Down Cake Day and National Lima Bean Day all fall on same date, April 20. I could go on and on about others; the list is literally never ending. The sheer total number of food "holidays" that currently exist has completely diluted their individual importance.
To make matters worse, the rest of the world decided to join in on the fun as well. Companies wanted to cash in on the lucrative opportunity, as stores' websites advertised, "National Argyle Day! All argyle socks 50% off!" Publications realized how to effectively work the fake holiday angle, producing timely content like "12 ways to put yourself out there" on National Take a Chance Day.
And finally, circle back to individual consumers, who post photos of their homemade pie creations on National Pie Day, which falls on January 23—not to be confused with the ultra-popular Pi Day (March 14) or National Blueberry Pie Day (April 28). With the frequency at which these national "holidays" occur, almost every social media post can be catered to celebrate one thing or another.
Real holidays, such as Thanksgiving and Memorial Day, have well-known and established origin stories. In school, everybody learns about the rich history behind why our country chooses to commemorate these selected days of the year. Sure, they are highly commercialized, but their cultural importance is neither lost nor diminished.
On the other hand, fake Instagram holidays are a complete joke. Take a look at the National Day Calendar database, and you'll find that the history section for nearly all "holidays" will read something to the effect of, "Our research was unable to find the creator and origin of National [insert anything here] Day, an 'official' National holiday."
Basically, it's a holiday because the Internet says it is.
What started out as a genuine, lighthearted attempt to spice up the monotony of a regular calendar has evolved into extreme oversaturation. Fake Instagram holidays are so commonplace now that people rarely question their existence, and instead they just continue to blindly feed into the already packed market. As long as their posts continue to draw attention and stay #relevant, however, individuals unfortunately won't stop with their nonsensical "holiday" celebrations.
You can preach all you want about how National Siblings Day is a meaningful date, and with the right arguments and a few glasses of wine, I probably could be convinced. I just also wouldn't be surprised, however, if your brothers and sisters get kicked to the social media curb in a few years, when the novelty of the holiday wears off, and the #NationalSiblingsDay approval rating takes a turn for the worst.
When National Best Friends Day rolls around on June 8, think before you post. Am I doing this for my best friend? Or am I doing this for me? Regardless of your answer, my advice is the same. Don't post the photo.