Sylvia Plath, one of the greatest poets of the 20th century, wrote a multitude of poems, most of which were autobiographical. She led a dark life of coping with severe depression, and later, conflicts with her husband, Ted Hughes, and her parents brought about some of her most rattling poems, including "Daddy."
Plath attempted suicide at the age of 19, was hospitalized and later published her only novel, "The Bell Jar," which was fictional but captured her personal experiences with mental illness. She published the poetry collection "The Colossus and Other Poems" in 1960, and after she committed suicide in 1963 at the age of 30, many of her other poems and writings were published by her family and friends.
The other writings included letters from Plath to her mother, Aurelia Schober Plath, that were sent during the poet's time at Smith College until her time in London, where she last lived. Her mother edited and published the letters in 1975, titling them, "Letters Home: Correspondence 1950-1963." Since then, other letters from Plath to over 120 people, including family, friends and colleagues, have been published; the first volume was released in 2017, allowing readers to dive into Plath's life between 1940 and 1956.
The second volume of "The Letters of Sylvia Plath" was published this year, and it covers her life from 1956 to her death in 1963. Just when poetry fans thought no further words from Plath were possible, they were in for another surprise with this collection of letters. Many never-before-seen missives appear in the book, including some that Plath wrote to her husband in the beginning of their marriage.
Frieda Hughes, Plath's daughter, and Warren Plath, Plath's brother, are the only relatives in Plath's family who still live today, as Plath's son, Nicholas, committed suicide and Hughes died from a heart attack. In the beginning of the second volume of Plath's letters is a foreword written by her daughter. In it, Frieda briefly details 14 letters that were written from Plath to her therapist, which were recently brought to the public's attention. Frieda knew that, although seemingly intruding on Plath's privacy, volume two of Plath's letters would not be complete without them. In the letters, readers will find insight into Plath's marriage and divorce, as well as the last letter written before her death.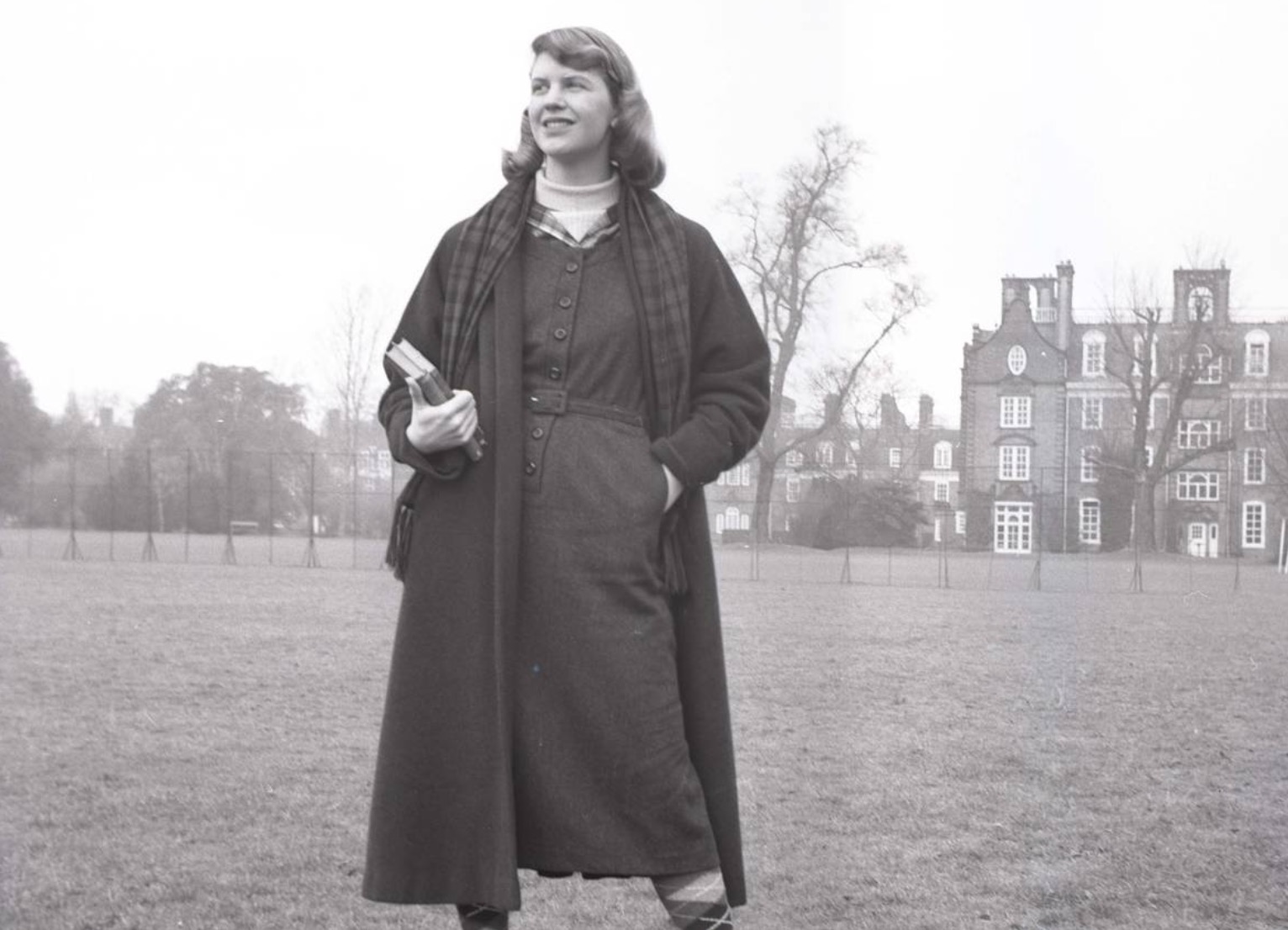 Plath's letters start in October 1956, and, judging by the passion in her voice, it would be tough to imagine that her love life with Hughes would eventually dwindle. In one letter to her mother, she wrote, "He is wonderful, and we'll face everything that comes with as much courage as we can." Plath sent this a few months after she was married, so, of course, her excitement and hope for their future was strong.
Her love for Hughes continues to be evident in other letters, including another one to her mother, in which she wrote, "It is heaven to have someone like Hughes who is so kind and honest and brilliant and always stimulating me to study, think, draw and write — he is better than any teacher, even fills somehow that huge sad hole I felt having no father — I feel everyday how wonderful he is and love him more and more. My whole life has suddenly a purpose … " Readers will feel the emotion in Plath's words through each letter.
Throughout the book, Plath shares many happenings in her life, some small, including many magazine publications, and others big, like moving into new houses. While Plath's life surely changes throughout the years, her admiration of Hughes and his work rarely does. In 1958, Plath wrote to his parents, "Ted is writing some more good poems — he has a fine one about a great black bull and a very brilliant one about the outlawing of the cat o'nine tails in the British navy."
At the end of 1959, Plath shares her news of becoming pregnant with her first child, Frieda, which she names after her aunt. The baby is born in March 1960, and Plath wrote about her to Hughes' parents, saying, "She is more adorable every hour, sleeps like an angel, yells a bit in the early hours just for exercise and looks rather like a rosebud." She goes on to mention her appreciation for him taking care of them both.
A month before her daughter was born, Plath received news that her first poetry collection, "The Colossus and Other Poems," was going to be published by the end of the year. She wrote to several people, including her mother and Hughes' sister, mentioning that the collection has been published and that they will all receive a copy.
Frieda mentioned in her foreword that Plath continued to write letters to her psychiatrist, and as her family celebrated Christmas with Hughes' family, Plath recounted the event of his sister feeling jealous of Plath's relationship with him, accusing Plath of "trying to come between Ted and me." Shocked by the outburst from her sister-in-law, Plath vented her feelings to Dr. Beuscher about how she does not want to continue having a "fake relation" with his sister.
In January 1962, Plath welcomed her second child, Nicholas, and life seemed to be great for her family. However, a letter to Dr. Beuscher in July of that year tells readers differently, with Plath spilling the details of the affair Hughes was having, and she mentions that she has told no one about it yet. She wrote, "How can I be, if he comes back? When I am full of hate, resentment, a wish to kill this bloody girl to whom my misery is just sauce. And how can I stop being miserable? I hate myself like this."
Plath's pain can be felt in this letter as well as in future ones addressed to her psychiatrist. She finally tells her mother about the affair in a letter dated September of the same year, and it's clear that Plath's marriage has fallen apart. A divorce is mentioned in another letter to Dr. Beuscher, which included Plath thanking her for the suggestion of getting a divorce due to Plath's unhappiness and her husband's affair.
The miserable life Plath had after her divorce didn't stand out in too many letters, particularly ones to her mother, but at times, it peeked through, such as in one to her friend Olive Higgins Prouty, in which, after she details her new life after Hughes, she wrote, "I think my salvation will be to plunge into my work." She needs to distract herself from her divorce and focus on her own life, writing and work.
The depression that Plath had throughout the years was likely worse again at this time in her life. About a week before ending her life, the poet wrote her final letter to Dr. Beuscher, which included her thoughts about her depression returning. She wrote, "What appalls me is the return of my madness, my paralysis, my fear and vision of the worst — cowardly withdrawal, a mental hospital, lobotomies … I am aware of a cowardice in myself a wanting to give up."