English actress Emma Watson started a book club on Goodreads that emphasizes feminism. Every book she has chosen since the beginning of the club in January 2016 incorporates elements of female power. On the book club page, she shares that she has started reading many books and essays on equality since she started her work with UN Women. The club is called "Our Shared Shelf" and was started because Watson wanted to share what she was learning with others.
I have never considered myself a feminist, but I decided to see what the book club was all about and joined. Anyone can join too; all you have to do is have a Goodreads account or log in through Amazon, Facebook, Google or Twitter. You can then search for the club under the community section.
Goodreads is a platform for readers to track, rate, recommend and discuss books. You can choose books you read, want to read and are currently reading so friends can see and even read the same ones. Goodreads allows readers to also challenge themselves by setting a goal of how many books they hope to read during the year. This is a great motivator for those who would like to read more, and hey, you can even challenge your friends and see who can read more books.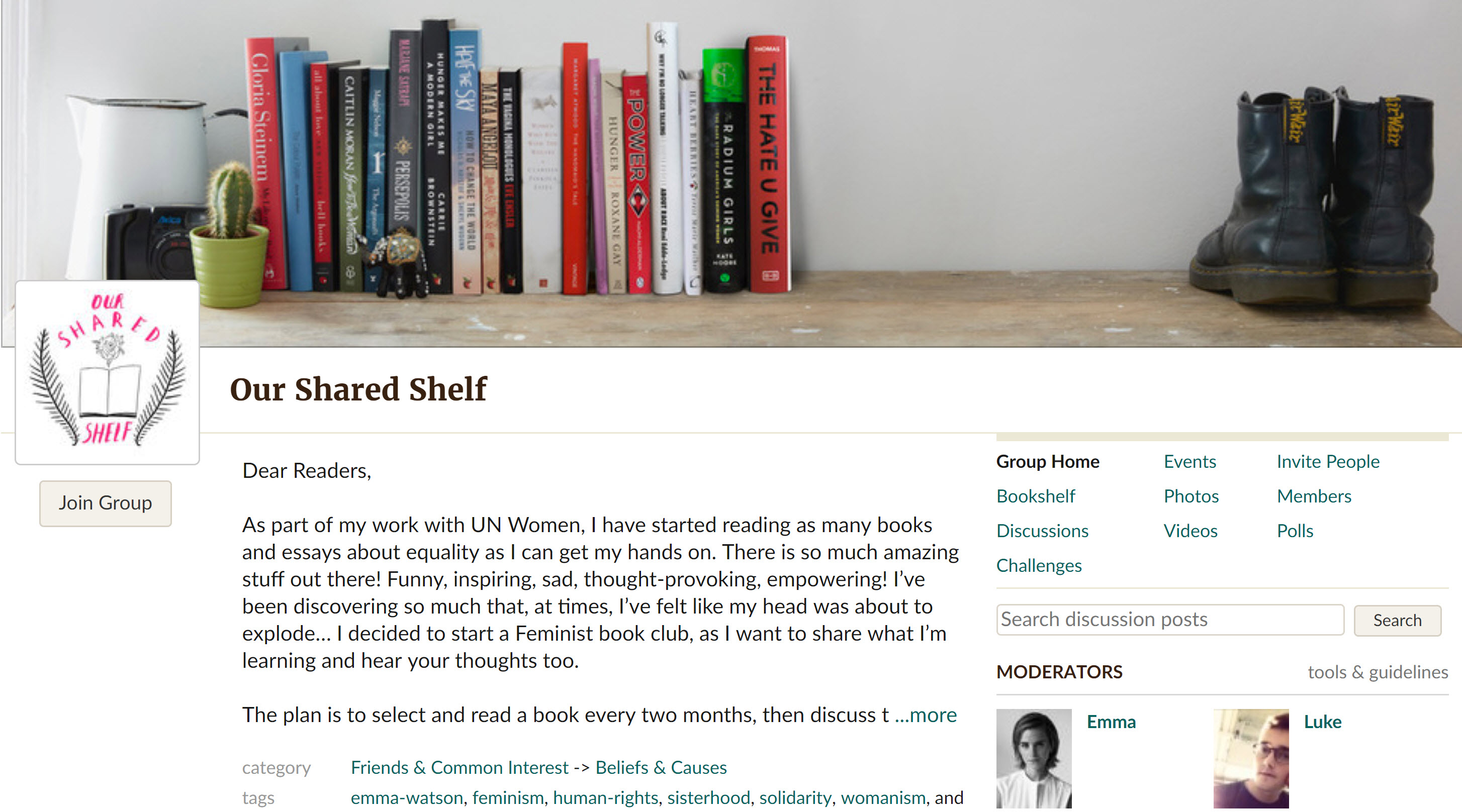 Upon joining the book club, I skimmed through the discussion topics; these include topics pertaining to feminism, the bimonthly books and more. Watson started the club by choosing a book every month, but because of the limited availability of the chosen books, she changed it to every two months. This gives readers more time to find, read and discuss the book.
I experienced this dilemma when I tried finding one of the books at my local library. They did have all the books she has chosen, but they were already checked out and many of them were also on hold. I figured everyone must be a part of her book club.
After searching for at least one of the books to read, I did find one that was in stock: "Half the Sky: Turning Oppression into Opportunity for Women Worldwide." It's a nonfiction book by Nicholas D. Kristof and Sheryl WuDunn that tells stories of women in developing countries including Pakistan, Congo and Afghanistan.
These stories aim to inform and empower the reader on the events of women's restrictions, abuse and neglect. Many people do not want to face the violence that occurs in other countries, but reading about it sure does make you think.
Under this discussion post, it is noted that this book is the "most important book in the club," and because many group members agreed, I was glad that I could read this one. At first, I was a bit hesitant to read it because I'm not much of a fan of nonfiction, and I didn't think I really cared to read about topics of feminism.
After I read the first few pages, I was hooked. Watson picked a fantastic book for discussion, and honestly, even if you don't consider yourself a feminist or participate in feminist advocacy, reading the books in her club will open your mind. It might even encourage you to help women too. Reading this one book has taught me so much, and it lists numerous ways on how to help women in other countries.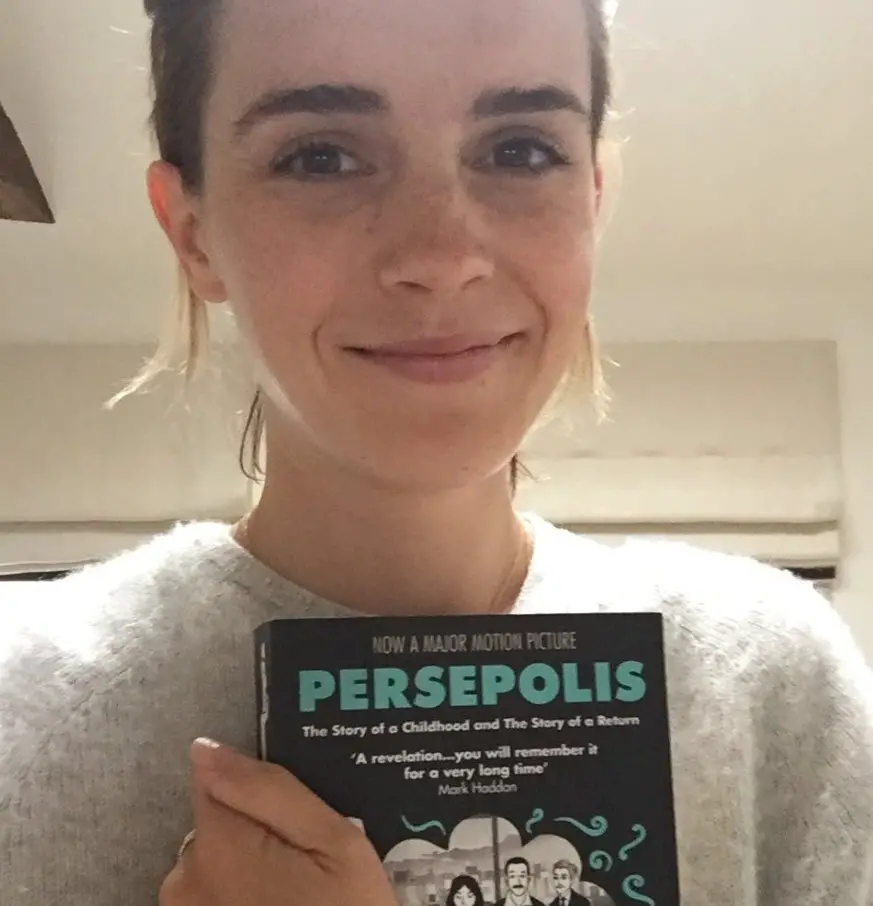 Other books Watson has chosen throughout the years include "Persepolis," "Heart Berries," "The Hate U Give" and more. Many of the books are biographies, autobiographies and nonfiction genres, but she has chosen her first poetry collection to discuss this July and August. "Milk & Honey" is Rupi Kaur's first self-published poetry book. The issues of violence, love and femininity clearly come through in each chapter.
Now, since this book club was started by a celebrity, you might be wondering if you'll be able to discuss the books with her. Well, Watson is a book fanatic just like her movie characters Hermione Granger and Belle, so of course, she chooses every book.
She has nine moderators who carry out the discussions by asking questions and opinions on the topics in each book. Watson seems to mainly pick the books and describe what she found so intriguing in them. However, she doesn't seem to engage with the members in future discussion of the books; other members or the moderators keep the conversations going.
Another thing that this book club shares with its members is occasional author interviews. Watson finds authors that are prominent to the discussion and allows members to ask questions for the author. Watson will then post the answers, either in text or video, for all members to benefit. Authors she has had in the club are Kate Moore, Gloria Steinem and Caitlin Moran.
"Our Shared Shelf" members also have the opportunity to create their own discussion topics as long as it relates to the books, the club or feminism and does not contain hate speech or spam. There's even a discussion for readers to recommend future books or books by the authors they've read in the group.
If someone can't find the month's book, the club has a discussion thread for those who might offer to send other members their copy to borrow. Another thread allows readers to find members in their area to meet up to connect and discuss the books in person, and someone even created a discussion if anyone is interested in becoming pen pals to review the books and topics privately through email. This also allows members who are a bit more secluded in other countries to connect with others.
A rumor surfaced within the discussions that Watson's book club would only be a year-long in 2016. Fortunately, it has gained many new readers and the conversations just keep on flowing. The club currently has around 215,770 members and there is no sign that she will quit anytime soon, especially with her passion for feminism and her hope to change the lives of women worldwide.