Last Tuesday we celebrated Columbus Day, which—other than getting the day off from work and figuring out what's closed for the day—carries with it the heavy weight of commemorating the first transatlantic human trafficker and instigator of genocide towards indigenous peoples; all while honoring the community of Italian American's and their right to revere a fellow ancestor. The dualism of colonialism and the pride of Italian American's is what makes the holiday highly controversial to rename and commemorate as a holiday.
On October 12, 1492, Spanish King Ferdinand III and his wife, Queen Isabella, commissioned the Italian explorer, Christopher Columbus, to voyage the seas in search of a sea route to Asia. Though, instead of arriving in Asia, Columbus landed in the modern-day Bahamas, then voyaged to modern-day Cuba, then Central America and finally, Columbus reached the modern-day United States of America. Three hundred years later, in 1792, Italian Americans revere their ancestor as a hero for having "discovered" the Americas—a contentious claim since not only were there native Hispaniola inhabitants already living in the Americas but, with the intention of colonizing the lands, he systematically led the genocide that nearly wiped out the entire population of these same native peoples.
In 1905, Colorado was the first state to celebrate, as an official holiday, the day Columbus sailed the ocean blue. However, the day did not achieve national recognition until 1934 by President Franklin Delano Roosevelt, who was encouraged by Knights of Columbus, an international Roman Catholic fraternal benefit society. October 12 was declared as the day to celebrate Columbus' voyages in succeeding years. As a political prerogative and an effort to recognize the Italian American community in America, Roosevelt wanted to garner the support of a sizeable Italian American urban voting bloc, while at the same time honoring an ancestor of the Italian American community. Columbus Day became a national holiday already entrenched in political meaning.
Today, Columbus' legacy is controversial for a number of reasons. The first argument against the holiday is that Columbus didn't actually discover the Americas, since there were already indigenous peoples living on the land. Secondly, academics such as Peter Nabokov, professor in the Department of World Arts and Cultures at UCLA, claim that Columbus became the "first transatlantic human trafficker," when he brought back with him to Europe over a thousand enslaved Hispaniola indigenous peoples. Most problematic, upon first encounters with the native Taínos population in the modern-day Bahamas, the native Taíno peoples were approximately 250,000-300,000 in size; however, after enslavement, looting, stealing and murder, there was little than over five hundred Taíno left.
Many progressive states and cities are celebrating Indigenous Peoples' Day, in the place of Columbus Day, to commemorate the traditions, culture and lives of the indigenous peoples who died by genocide at the end of the 15th century.
Boulder, Colorado
Coloradoans had the opportunity to participate in a mini Pow Wow, teach-in and friendship dance at Boulder's Bandshell in Central Park hosted by the White Horse Creek Council, a Denver-based preservation society for indigenous culture. The event offered Coloradans the opportunity to learn about four different indigenous Native American dances and their meanings. Lakota Elder Lee Plenty Wolf, an indigenous "Water Protector" activist for Standing Rock, spoke on the oral history that was passed down by the indigenous peoples in Boulder.
Seattle, Washington
Seattle devoted an entire week, rather than a single day, to commemorating Native Americans' contributions to America. Performances by Muckleshoot Performing Arts Group, a group that teaches Muckleshoot Tribal dancing and song, and Quinault Drum Group, a dance group which also supports the activism at Standing Rock, took place that week.
Crazy Horse, South Dakota
Crazy Horse celebrated Native American Day at the Crazy Horse Memorial on the second Monday of October. They have been celebrating since 1990, the Year of Reconciliation, with pressure from Governor George S. Mickelson, who worked to remediate the relationship between Native Americans and non-Native Americans in South Dakota. It was the only state to vote against observing Columbus Day state-wide until Vermont made the switch to Indigenous Peoples' Day in 2017. The celebration names a Crazy Horse Memorial Educator of the Year, which honors an individual who has contributed in a significant way to Native American Education. A free buffalo stew is provided while guests enjoy performances by Native American singers and dancers.
Los Angeles, California
For the first time ever, Los Angeles observed Indigenous Peoples' Day by celebrating the holiday with a Life Before Columbus Festival. The Gabrielino Tongva Springs Foundation—a cultural center and museum for the Gabrielino-Tongva indigenous peoples native to the Los Angeles Basin area—held this year's festival at Kuruvungna Springs, a historical Californian landmark. The celebration included performances from Azteca dancers, Tongva dancers and social bird singers.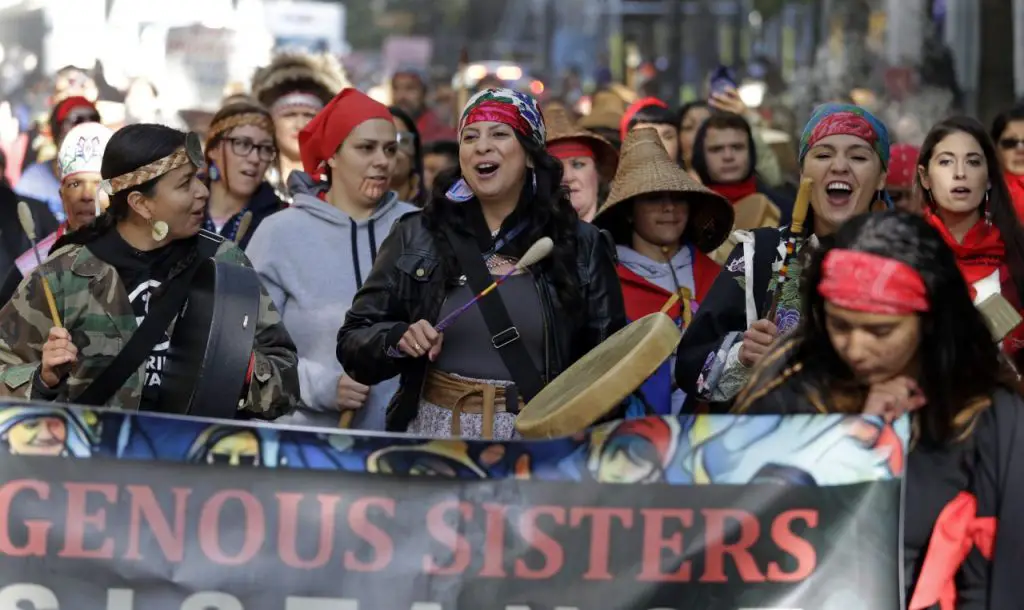 Randall's Island, New York City, New York
Randall's Island Redhawk Native American Arts Council, a non-profit cultural organization and the only Indigenous Art Council in New York State, celebrated a Re-Thinking Columbus Day, which included an overnight camp out, ceremony, spoken word performances and guest talks from activists and cultural groups. The celebration also welcomed Indigenous peoples outside of the U.S. from Polynesian dancers from the islands of Hawaii, Tahiti, Samao and New Zealand, as well as a Taíno group coming from Puerto Rico and the Dominican Republic. The festival honored members of the indigenous tribes who protest against the construction of the Dakota Access and Keystone XL pipelines, which they call water protectors.
Ashland, Oregon
Ashland celebrated a larger variation of Columbus Day to encompass a Decolonization Celebration. Groups such as Southern Oregon University (SOU), the Oregon Shakespeare Festival and a local grassroots organization called the Red Earth Descendants held events such as a salmon bake social, a drama workshop and a performance of the Oregon Shakespeare Festival's first play by a Native American writer Randy Reinholz. "Off the Rails" is an adaptation of Shakespeare's "Measure for Measure" which weaves the Union Pacific Railroad, an Indian boarding school and Madame Overdone's Stewed Prunes Saloon into one story.
Other states and cities, even the more conservative ones, have become increasingly open to Indigenous Peoples' Day. Formerly celebrating Discoverer's Day to remember the Polynesian explorers who founded the islands, Hawaiians now opt for celebrating Indigenous Peoples' Day in solidarity with the many cities and few states that celebrate the day already.
Although many states and cities celebrate Columbus Day differently, the Italian-American community in New York advocates the importance of Columbus Day in their community. Mayor Bill de Blasio, a Democrat appointed to evaluate the historical value of monuments to certain figures, received backlash from Italian Americans who pledged to defend the Columbus statue. Thirty-five thousand people marched on Columbus Day in New York, where vandals doused the hands of a Christopher Columbus statue in blood-red paint and scrawled the words "Hate will not be tolerated" on its base. It will be challenging for the Italian American community to reconsider Columbus Day, but there may be a solution that still recognizes the contributions of Italian immigrants to the U.S.—even if it means losing the national reverence of one Italian ancestor.
Despite its controversies, US News contributor Peter Roff encourages Americans in his piece to celebrate immigrants on Columbus Day, rather than reflecting on the voyages and "discoveries" of Columbus. He argues that Americans should view Columbus as the first Italian immigrant to voyage across the sea to America. Rather than celebrating the actions of one Italian immigrant who came to America, Americans should opt for celebrating the many immigrants that have, do and will continue to come to the USA in search of a better life for themselves and their children. Renaming Columbus Day to Immigrants' Day would be an interesting switch as well.
The bottom line is that Columbus Day should be renamed and reconsidered in how it is celebrated. I would even suggest reflecting on American land—since this is what Columbus originally "discovered" in the first place. The search for a better way to celebrate Columbus Day shows that Americans have become more progressive in their interpretations of their own history with its intersections with European histories.