Pentatonix is an a capella EDM group that consists of five members: Scott Hoying, Mitch Grassi, Kirstin Maldonado, Avi Kaplan and Kevin Olusola.
In 2011, they competed in "The Sing Off," which they won. After being dropped from their record, they took their talent to YouTube, which allowed RCA Records to discover them. Since then, they have won two Grammys, debuted at #1 on the Billboard Top 200 and achieved much more.
Despite being an EDM band, Pentatonix makes their beats without computers or instruments, instead using only their mouths, hands and feet. Because they don't use machines, each note is unique — something irreplicable in machines—which means that listening to Pentatonix for the first time can be shocking.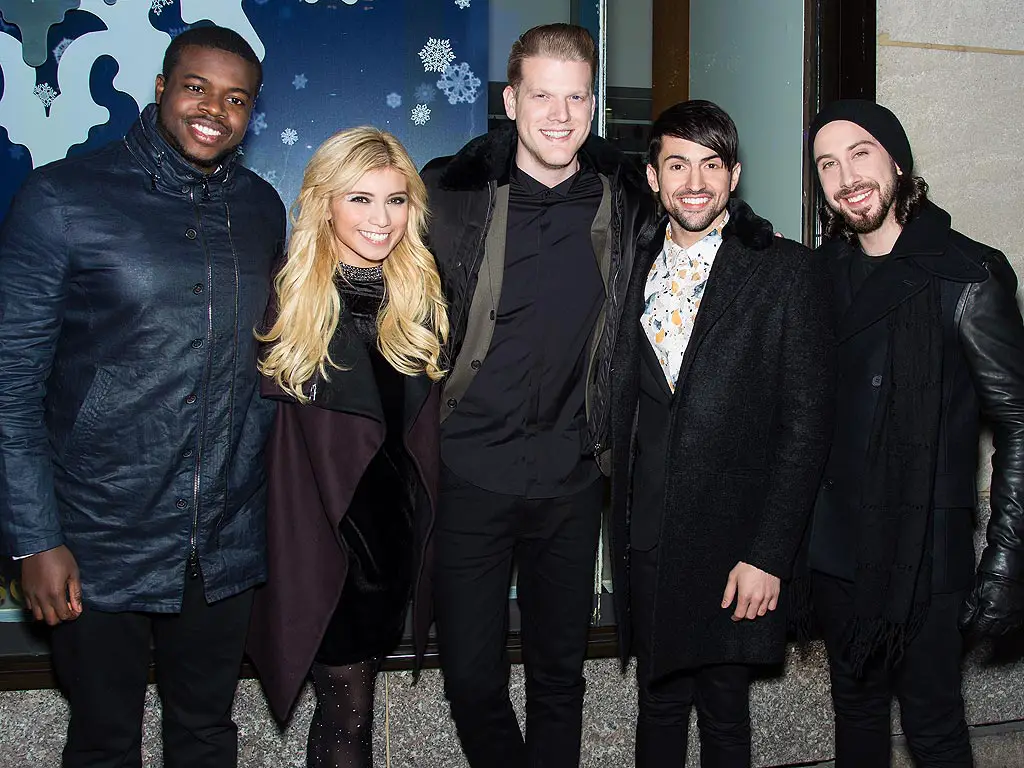 Most of their EDM sounds are accomplished by beatboxing, running on a bass line and harmonizing. All of these parts work together to produce music that sounds almost indistinguishable from traditional EDM, such as their "Daft Punk" and "Where Are Ü Now" covers.
Crazy, right?
Though you can watch Pentatonix's videos, learn about all the awards they've won and listen to their music nonstop, nothing compares to experiencing them live. In fact, they actually sound even better in concert.
Having seen them twice, I can confirm that their live shows are absolutely breathtaking. Their harmonizing makes your heart melt. Their beats shake your soul. The songs they mash-up leave you amazed.
Because the members of Pentatonix are so talented, their concerts are pretty intense. So if you are going to see them live, you need to make sure that you try to prepare for it. Don't worry if you don't know what to do, because here's some advice for going to your first Pentatonix concert.
How to Get Hyped
If you're a mega Pentatholic, chances are you bought your tickets during presale. Even if you're not, you're probably going to need to buy them a few weeks (or a even for a few months) in advance. Either way, once you have your tickets, I recommend not looking at them until the concert is two days away.
By looking at your tickets before then, you'll constantly be reminded that you're going to see Pentatonix, which will allow small amounts of excitement to leak out. If you wait, the exhilaration of seeing the band will hit you all at once—a much better feeling. You'll look at them and BAM! You'll feel like the feels train has no brakes.
Aside from the tickets, the next important thing is learning the song lyrics. Unless you're going to their very first show, make sure you look up their set list. (Please note that this is optional. If you want to be surprised when you arrive at the concert, don't look it up.)
Once you do, use the set list to make a playlist that you can listen to repeatedly, which will allow you to learn what order Pentatonix is going to perform their songs, in addition to the lyrics.
If you're a new fan, streamlining your song intake will allow you to focus on listening to only songs they'll perform at the concert, which will boost your likelihood of being able to sing along. If you're not one to sing, then forget about that part.
By learning the lyrics and making a playlist, you are getting hyped by becoming one with Pentatonix. In other words, you are getting on their level, and who wouldn't want to be on their level?
On the other hand, should you choose to eschew my set list/playlist advice, you will have the benefit of enjoying the surprise. If we're being honest, I looked up their set list both times, but didn't listen to their cover of "No," which left me in awe when I saw them perform it. Surprises can be good!
Next thing to worry about is your outfit. If you want to wear something that reflects Pentatonix, you can order a shirt from their website or make your own. Either way, make sure you give yourself enough time to receive (since it has to be shipped) or make your shirt.
What to Expect
No matter where your tickets are in the venue, prepare to have your mind blown. Scott, Mitch, Kirstie, Avi and Kevin own the stage when they perform. The group walks confidently across the platform and hits every note with faultless precision.
They work together as a team to put on an enjoyable show, and the love they have for each other radiates through their smiles. As they sing, passion is painted on their faces. And as you witness their majesty and listen to their talented voices, you feel the magic take hold of your heart.
There are times where Kevin or Avi's beats will shake your seat. I am not lying. During "Water," Kevin's beats were so powerful that my seat vibrated.
On the past two tours they have gone on, they have called people on stage. If you are picked to go on stage, don't forget to breathe!
Also, expect no intermissions during the show, so make sure you go to the bathroom and get snacks and such before it starts.
Pro tip: If you are planning to buy Pentatonix merchandise, look at their store online to see what you want. Looking at their offerings in advance is helpful because you will know what you want before facing a wall filled with shirts, posters and knick-knacks. Believe me, standing in front of that array is distracting.
Also, try your best to buy merchandise before the concert, because you don't want them to run out of the item(s) you want. If your tickets are for standing floor, you most definitely want to look at their merchandise in advance because you want a good place to stand and watch the concert.
Before you know it, BOOM the show is here. Enthusiasm runs through your veins. Your heart is pumping, your mind is racing. Even though I have told you how to get hyped and what to expect, no amount of preparation will prepare you for the amazing experience of what is to come.
Enjoy your concert experience, my fellow Pentatonix fans.