The Rise of Lianna La Havas
After being tapped for greatness by Prince, La Havas' rich, soulful voice has caught the world's ear.
By Daniel Nguyen, Wharton County Junior College
---
27-year old singer-songwriter and multi-instrumentalist Lianne La Havas has generated significant amounts of critical acclaim and partnered with some of music's biggest names since her spectacular 2012 debut album "Is Your Love Big Enough?" a work later named by iTunes as Album of the Year.
I first heard of La Havas during a routine scroll through the labyrinth of YouTube's inner sanctums. This was during sophomore year, and Little Dragon was at the forefront of my musical inclinations.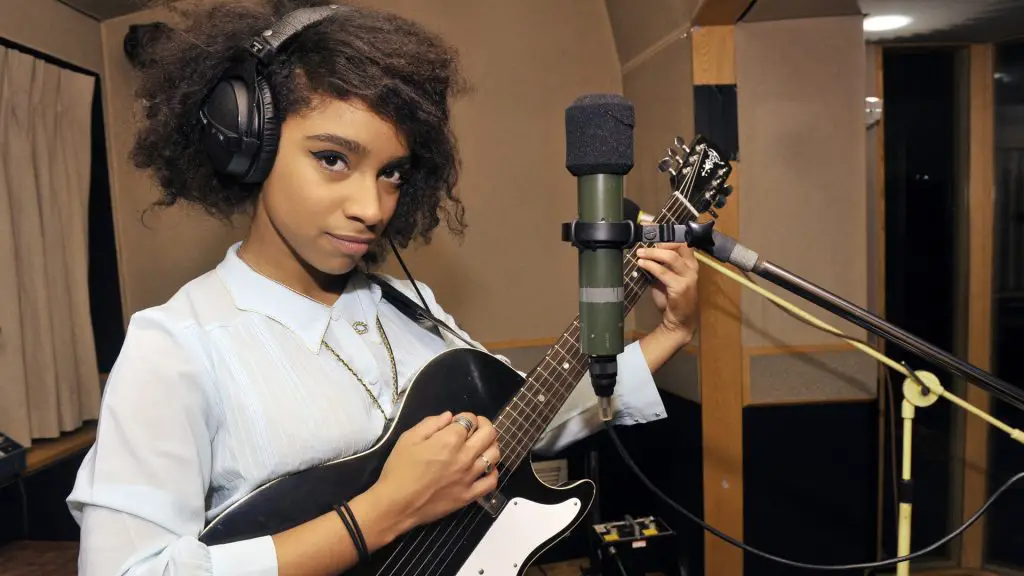 Lianne had done a wonderfully simplistic rendition of one of their most famous and emotionally poignant tunes, "Twice." Accompanied by a single acoustic guitar, La Havas belted out the languid song, allowing Nagano's words to fall through into the artist's adeptly constructed cradles.
This is one part of why La Havas has enjoyed such tremendous acclaim among her fan base and fellow musicians. Able to meld her layered voiced with any manner of different song styles, La Havas has proven incredibly adaptable, a talent that has landed her on stages alongside Coldplay, Bon Iver and even Prince.
But how did she get here?
Born Lianne Charlotte Barnes, Lianne took La Havas from her father's surname. With a Greek father and Jamaican mother, La Havas' cultural blend and the fact that she was raised by her maternal grandparents exposed the artist to a variety of musical influences early on.
Even so, La Havas only picked up the guitar at 18, though she had written her first song at 11. With a multi-instrumentalist dad and an early proclivity for songwriting, La Havas possessed the perfect background for a career built around music.
Currently, La Havas holds center stage in historic music venues like Webster Hall in New York, and is scheduled to tour alongside Texas native Leon Bridges. But before all of that La Havas got her start through a serendipitous series of connections via her own industry friends.
Initially pursuing an art career at the Norbury Manor College for Girls, a mutual friend introduced her to another prominent British musician and singer: Paloma Faith. La Havas entered the music scene as a background singer for the decorated artist, later extending the connection to appear with other famous artists of high acclaim.
Having abandoned her art education to focus full time on her songwriting and singing, La Havas had by 2011 developed a voice that struck a powerful chord when she appeared alongside Bon Iver on a popular English TV music show called Jools Holland. After noticing her talent, Justin Vernon invited La Havas to be a supporting act on Bon Iver's summer tour.
In the same year, La Havas began singing backup vocals for Paloma Faith, who had scored a record deal with Warner Bros, expanding her breadth of available resources while securing a pathway to her debut two years later.
During this time, La Havas worked with corporate technicians, but found they were unable to steer her toward a clear style; the Warner Bros techs were at a loss when trying to work with her inimitable style.
As a result, the fluidity that helped her as a professional musician originally hurt her chances with a company that often demanded stringent branding standards. But La Havas remained true to her songwriting, and after two years of pickling La Havas released her first full EP, "Is Your Love Big Enough?"
Critics found it hard to classify the album's genre, as each song seemed to speak separately to the artist's multi-faceted influences.
This inability to pigeonhole La Havas has kept open her limitless musical possibilities. During her first tour, La Havas appeared on stages with music legends like Alicia Keys and performed at monumental national music festivals like Glastonbury.
Alongside Paloma Faith, whom La Havas has known since 2007, the musician gained new celebrity fans, not the least of which was Prince. Afterwards, La Havas accompanied Prince through 2014 in a number of career-boosting projects, and her lilting voice can be heard on Prince's "Art Official Age" album on songs such "Clouds."
Additionally, La Havas sang alongside the musical legend on his appearance on "Saturday Night Live," serving as a key supporting vocalist. When news of Prince's abrupt death swept across the media landscape La Havas was one of the few who were able to recount a personal moment with the deceased legend who was always known for being mysterious.
In 2015 La Havas returned to her Jamaican homeland with her mother on a vacation trip that turned into another critically acclaimed album. "Blood," the artist's second album, features a grip on stylistic integrity that almost demands listeners kowtow to the blazing vocals of La Havas' featured single "Unstoppable."
In her sophomore effort La Havas isn't shy in showcasing her musical prowess, fortifying an initially tentative debut into a harshly critical landscape. With "Blood," La Havas reaffirms both her identity as a person possessive of a rich family lineage as well as her inherent musical proclivities.
Lianne La Havas occupies a unique space in the entertainment industry. Simultaneously lauded for her musical excellence but on the fringes of mainstream success, La Havas has built over the course of six years a career that spans multiple continents and has accrued fans—famous and not—that are in tune with her singular sense of style.
Although I first heard her in the barn session covering Little Dragon, La Havas' gravitational draw first became apparent to me in another live session- this time around an office setting.
In La Havas' Tiny Desk concert for NPR, it's not just the outlandishly good performance she delivers that first piqued my interest, but the description below the video by NPR veteran producer Suraya Mohamed who said her interaction with La Havas "pulled emotions out of me I didn't even know existed." Here's to hoping she never stops.