For much of Lady Gaga's career, she has played with themes of fame, dance, and monsters — both psychological and physical. After all, her fan base, the "little monsters," knows Gaga as "mother monster" herself. In her new concert tour, "The Chromatica Ball," she blends these themes into one performance as she is finally able to perform material off her 2020 album, "Chromatica."
A dance record with lyrics that detail her struggles with physical and mental health, "Chromatica" was released in late May 2020 and marked Lady Gaga's return to her classic pop sound after changing direction on 2016's "Joanne." The concept behind "Chromatica," her sixth studio album, is rooted in a need for escape, to a world Gaga's created where love conquers all and everyone dances till they die.
Tickets initially went on sale in March 2020, and after being rescheduled twice, "The Chromatica Ball" is finally a reality for Gaga's fanbase. There's been much speculation about what this show would entail, especially after so much time has passed in which to change things and rework concepts. Thankfully for Chicago fans, all speculation can come to an end, as the "little monsters" dressed in their best and made their way to the land of "chromatica" on Monday, August 15.
The Show
The scene outside of Chicago's Wrigley Field is crowded with fans ages five to 95, sporting everything from black mesh tops and harnesses to hoodies and jeans. Inside the venue, it's clear that one of Lady Gaga's greatest strengths is bringing people together. The crowd demonstrates that music is an ultimate uniting force, bringing in a wide range of people: a group of 30-something women presumably there for the essential hits, grandparents with their young grandchildren, and an enormous number of young queer people who have found sanctuary in Lady Gaga's music.
After an hour in line to buy a concert T-shirt, I'm finally able to push my way through the foot traffic and find my seat in the 300 level of the stadium. The stage is massive, and dimly lit with projections that make it appear cold, industrial and brutalist. It's not the pink and neon wonderland displayed in the "Stupid Love" music video, and I can't help but think that this new thematic direction has been informed by all that's happened in the world these last two years. I feel an intense sense of excitement that I'm about to see "mother monster" live, especially after two years of rescheduling and wondering if the show would ever happen.
By the time the lights go out at 8:32 p.m., the stands are filled with all 45,000 fans and smoke machines emit wispy clouds across the stage. A video interlude begins to play on the screens and marks this moment as the "Prelude" section of the show before the opening notes of "Bad Romance" begin to play. The crowd screams with excitement and chants "Rah, rah-ah-ah-ah" along with Lady Gaga. Gaga stands on top of a platform on the main stage in an upright casket-looking structure before breaking out of it for her classics "Just Dance" and "Poker Face."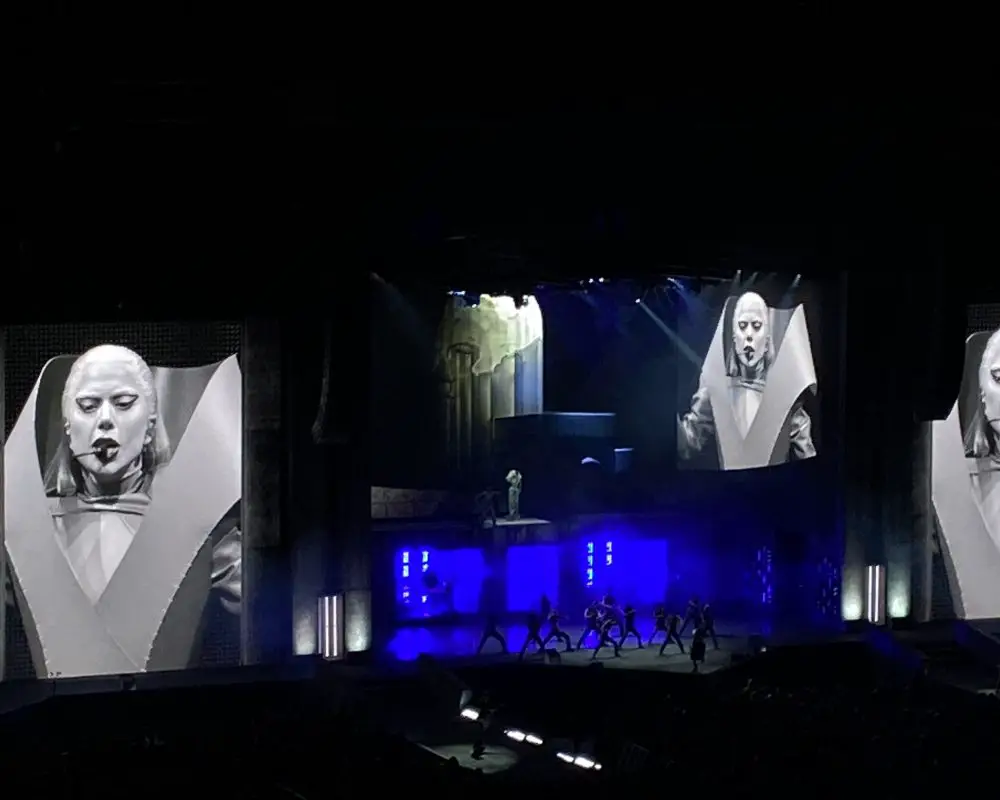 Though she's singing some of her biggest hits and is out of her constrictive shell, her movements remain relatively small and stern. Earlier this summer, Lady Gaga retweeted a fan theory about the meanings behind the "Chromatica Ball" acts, theorizing this first act represents Gaga's struggle with fame and feeling trapped by her onstage persona as "Lady Gaga" instead of her true self. This theory makes perfect sense in the full context of the show as it's uncommon for a performer of her stature to start with her biggest hits. After many years of struggling with chronic pain as a result of her fibromyalgia, the shelled bodice symbolizes her feeling trapped by her fame, which inflicts this pain. It's intense symbolism to start the show with, but not at all surprising based on Gaga's history of powerful storytelling through her music and live performances.
Moving onto the official "Act I" of the "Chromatica Ball," Lady Gaga emerges onstage strapped to a bionic stretcher as she sings the opening track on "Chromatica," "Alice." Gaga delivers a one-two-three punch this act as she moves onto fan favorite and "Chromatica" deep-cut "Replay." The stage glows green and red as Lady Gaga dances around through smoke, backed by her crew of backup dancers. An incredible moment for longtime "little monsters" comes during this act as Lady Gaga performs "Monster," which she'd previously performed only irregularly since 2014. After "Monster," she disappears offstage before returning in a black latex bodysuit, complete with sharply pointed shoulder pads, to start "Act II."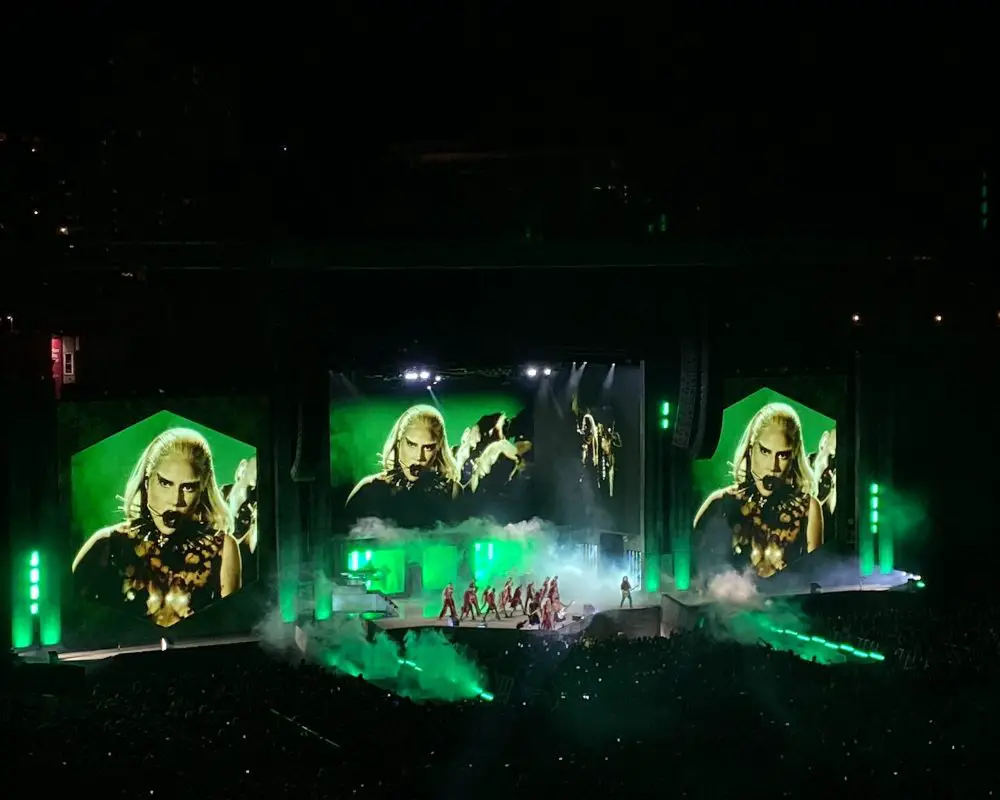 "Act II" kicks off with a bang as she sings "911," a song about Lady Gaga's need for an antipsychotic medication she's prescribed to help maintain the way her mind works. Almost all of the songs on "Chromatica" detail stories of struggle and suffering over a dance and house-inspired instrumental track. "911" transitions into Gaga's collaboration with K-pop girl group BLACKPINK, "Sour Candy." Lady Gaga twirls around at the end of the song for a solo dance break as fans cheer her on. To end this act of the show, she performs two throwback classics, "Telephone" and Lovegame," before once again leaving the stage.
For "Act III," the stage transforms into something that looks like the shimmering gates of heaven as Lady Gaga and her dancers march onto the stage dressed in metallic golden suits. "Have you ever had to battle for your life?" Gaga asks the crowd as she transforms the stage into the ancient city of Babylon before she sings her song of the same name. "Babylon" is a highlight of the show because of its infectious choreography, and this performance marks a transition in the story of "The Chromatica Ball." No longer is Lady Gaga trapped by her fame or letting her demons control her like in acts one and two; she is now fighting for her life and is filled with hope and empowerment. "How hard did you have to dance through the pain? Laugh through all the tears? You better werk Chicago!" she continues.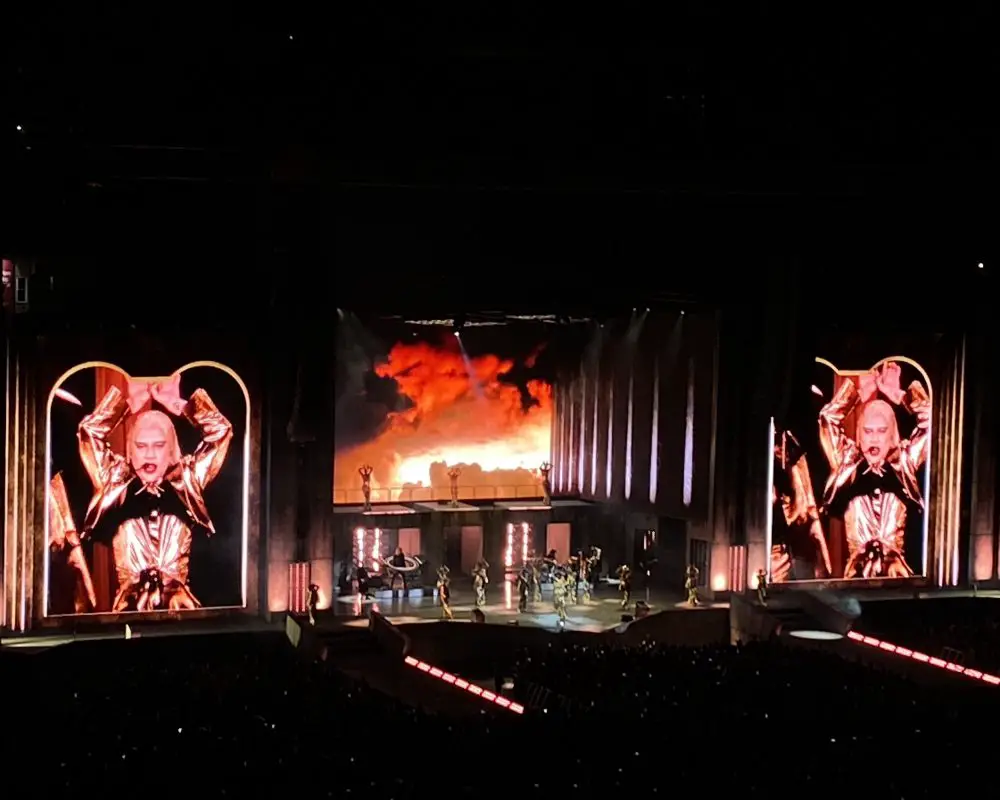 Gaga "struts it out" for this number, as she transitions into the anthemic "Free Woman," descending into the crowd and making her way onto a small B-stage across the field. She is lifted onto this B-stage as she sits at a piano and takes a moment to look out into the packed stadium. The look on her face is filled with warmth and thanks for the massive display of support. She takes in all the applause and cheering before playing her massive 2011 hit, "Born This Way," on the piano, then finishing the performance with the support of her full band. Fire cannons shoot out flames at least 60 feet into the air, and I'm able to feel the heat on my face even from section 310.
After another outfit change, Lady Gaga performs "Shallow" and "Always Remember Us This Way" from her film "A Star Is Born," in addition to "The Edge of Glory" and "Fun Tonight." To finish off her time on the B-stage, she sings "Enigma" as the audience claps along in unison with her.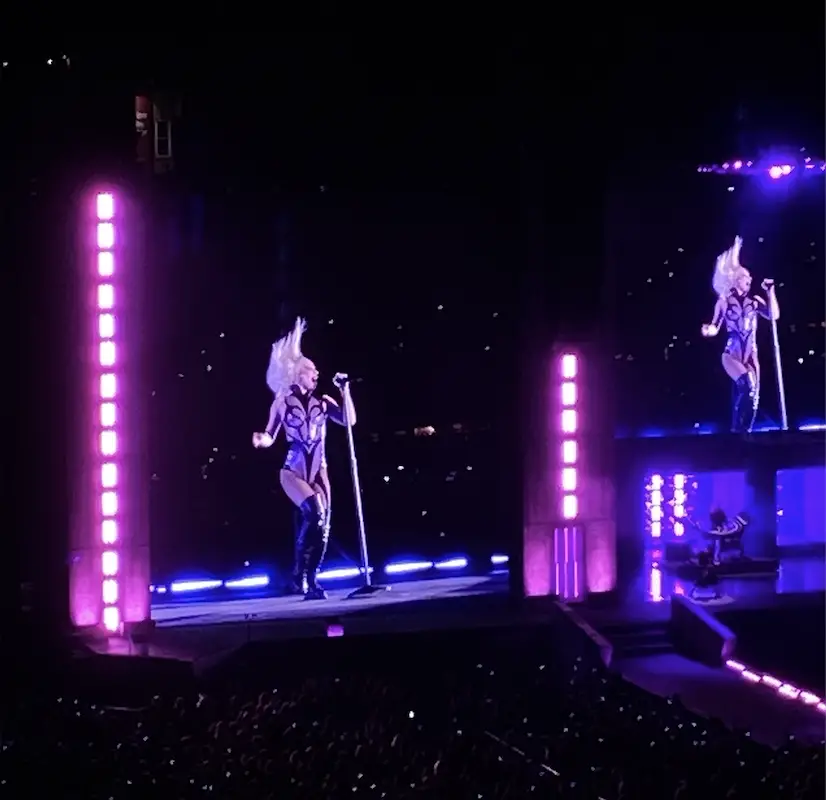 It's nearing 10:30 p.m. as the band starts playing the lead single from "Chromatica," "Stupid Love." Gaga emerges back on the main stage sporting a new wig and a new darker makeup look as she begins singing. "Stupid Love" is followed by her collaboration with pop star Ariana Grande and the biggest hit from her sixth album, "Rain On Me." This moment in the show almost feels unreal, as I can remember listening to this song on a loop during quarantine in 2020. Never did I think I'd be among the 45,000 people dancing along with Lady Gaga to the song two years after its release. The lights cut out after "Rain On Me," and everyone on my side of the stadium has a perfect view of a half-moon glowing yellow behind a thin layer of clouds over the stage. It's a picture-perfect moment whose full scope can only be captured by your eyes.
The stage lights return as Lady Gaga reappears at the edge of the main stage, now with a row of flames illuminating her from behind. She sports a large bionic-looking hand with sharply pointed fingers as she begins singing "Hold My Hand" from the recent "Top Gun: Maverick" film. It's an interesting choice for an encore, especially since the song doesn't match the soundscape of "Chromatica," but in this moment, it makes sense. Lady Gaga proves that not only is she a pop artist, but an all-around rock star. Her ability to give fans two hours of dance music, stripped-down piano performances and now a booming ballad is incredible. Although many fans aren't the fondest of "Hold My Hand" closing the show, the performance wraps things up gloriously as Gaga jumps over the flames onstage and bows alongside her band and dancers, showing how grateful she is for this moment.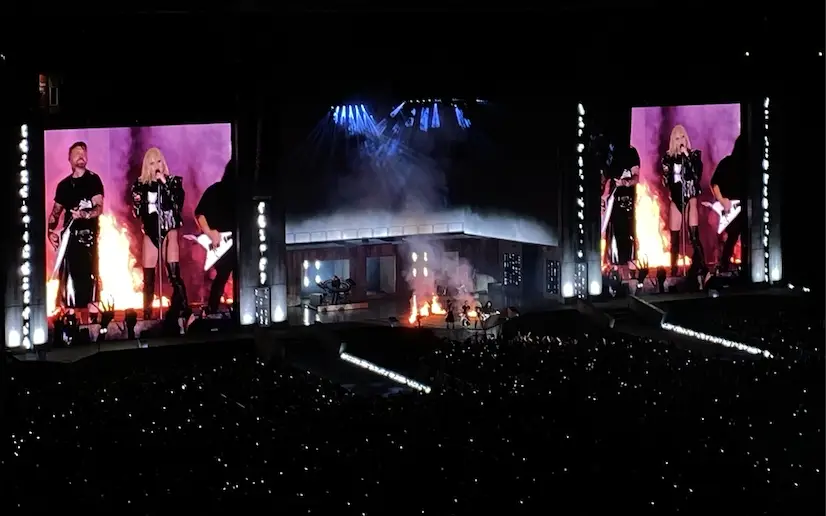 "Goodnight Chicago. Don't give up, keep going. Believe in yourself. I promise you it will work out. You know how I know?" Gaga asks the crowd.
"I heard from the heavens," she sings, pointing her bionic hand up to the sky and finishing off "Hold My Hand."
After years of dealing with pain, making a pop comeback, and having to reschedule live shows twice, "The Chromatica Ball" comes at a moment in time that couldn't have been better for fans and Lady Gaga herself. She shared earlier this summer that at one point she thought she'd never perform again, and with all the struggle occurring in the world these last two years, fans have been given two hours of release to the soundtrack of Gaga's catalog, performed flawlessly with resilience and raw talent. Whether a casual fan or die-hard "little monster," Lady Gaga's "Chromatica Ball" is 100% worth seeing. Not only is it a masterful telling of overcoming struggle, but there's something for everyone no matter who you are.