Kanye West Has Made a Social Currency out of His Insanity
For celebrities in the digital age, every tweet, post and picture is a self-promotional platform. Combine that massive influence with megalomania, and you get Kanye West.
By Mallory Arnold, Ohio University
---
I credit Kanye West for pushing me through grueling workouts with "Stronger," pumping up lame parties with "Gold Digger" and giving me the boost through my breakups with "Heartless."
But lately, it's become clear that while Yeezy has the musical and producing chops to make some historic albums, his finesse in the tweet department is lacking.
The reality is though, that his musical genius and pubescent public antics aren't at odds with each other—they're a package deal. As he says in "Feedback," "Name one genius that ain't crazy." And while his lunacy hath more than poured over lately, Kanye has a rich and storied history of being one thousand percent bat sh*t crazy.
It all started in 2005 when Kanye went on live television with for NBCUniversal's "A Concert for Hurricane Relief." The point was to raise charity through a telethon, which was actually running smoothly up to a certain point.
When Mike Myers and Kanye West prepared to be broadcasted, Kanye mentioned that he was going to ad-lib a bit. (Repeat—a little bit) After Meyer had said his piece, Kanye West looked calmly into the camera and blurted,
"George Bush doesn't care about black people."
While Myers gave a kind of petrified look, the camera cut to a different celebrity, who scrambled to pick up the pieces and go onward.
In 2006, Rolling Stone produced their February issue right on schedule, just like it normally does. But the cover? Not so normal. Kanye posed as Jesus, wearing a crown of thorns and looking rather controversial.
At the time, a lot of fans defended him, claiming that he was simply re-emphasizing his religion. Well, okay. I suppose that's plausible. The article itself, though, had Kanye raising himself on a very high, very rickety pedestal. It was a risky move that offended a lot of people, but it did move magazines.
Now, if Kanye were here right now, he might stop me in the middle of this article and-
"Imma let you finish, but Beyonce had the best video of all time!"
 Ah, there he is. When it comes to unforgettable Kanye moments, there's no overlooking his pièce de résistance at the 2006 VMAs. Years later, when people reminiscence about Taylor Swift winning Best Female Video, they'll always think back on how her face lit up, how touching her speech was and how gracious she looked.
Oh wait, no they don't. All they'll remember is Kanye prancing onstage and swiping the microphone to drunkenly announce that Beyonce should have won the award. Okay, Kanye. We know that, obviously. You don't need to tell us. But the outrageous stunt probably wasn't the best decision. After all, Taylor was just a little country singer at the time. Even President Obama shook his head and rallied behind her.
"He's a jackass," Obama shrugged.
 OMG, Kanye! You just got Mr. President to cuss!
Since then, the T-Swift and Kanye feud has continued for years. Kanye has apologized, then rescinded his apology, then apologized again by giving Taylor an award, then dissed her in a song.
Taylor of course has tried to keep her composure throughout all of this, but let's be honest. It's Kanye—you're not going to win.
In reality, people shouldn't have been so shocked by his interruption. Just a few weeks earlier, he did the same thing at the MTV Europe Music Awards, where he was nominated for Best Video.
When the band Justice won the award instead of Mr. West, he jumped the stage in disbelief and had a bit of a temper tantrum. It basically consisted of a lot of "hell no's," an expense report on how much the video cost and an uncomfortable host with a charming accent. "If I don't win, the awards show loses credibility," Kanye said. Justice didn't even have a chance to give one of those cliché "Thanks mom and dad!" speeches. I mean, come on. Little rude.
One day in 2010, I was leisurely at home watching the Ellen Show, when Kanye arrived as the guest of the day. When he smiled, which rarely happens, his bottom teeth glimmered.
And no, not because they were sparkling white. Actually glimmered. Because instead of teeth, he had diamonds.
"Mom! Get in here, Kanye is on!" I screamed.
"What did he do this time?"
As cool as a cucumber, he calmly talked about how he had the dentist rip out his bottom set of teeth and replace them with diamonds. It was like he was talking about a new pair of shoes he bought.
"I just thought the diamonds looked cooler," he admitted.
Sure, one could say this decision was pretty nuts. But you go ahead, Kanye will be crunching up those peanuts, almonds and pecans with diamonds. He doesn't care what you have to say.
And if you don't have a way of watching Kanye on TV, you can stay close to him by reading his tweets. You can call him arrogant, entitled and egotistical, but you can't call his social media bland. Here are two of my favorites: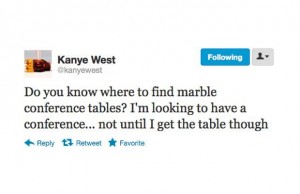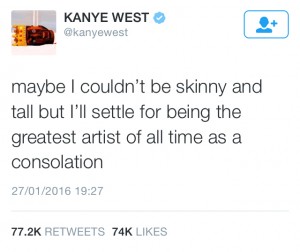 Last August, Josh Groban (can you say gorgeous?) took to Jimmy Kimmel Live! with his interpretation of Kanye's constant twittering, and it was hilarious. (Please don't tell Kanye though. I have this irrational fear he'll show up on my doorstep one day and kick my ass.)
Speaking of kicking, Yeezy has also produced god-like shoes that are worth a year's tuition at my school. I can either go to college or wear Yeezy Boost 350 sneakers. I'm sure we all know what Kanye would suggest.
More recently, Kanye spread out his colorful, controversial peacock feathers to run his own fashion show and album release party, which of course was jam packed with rants, kick-ass clothes and too many Kardashians.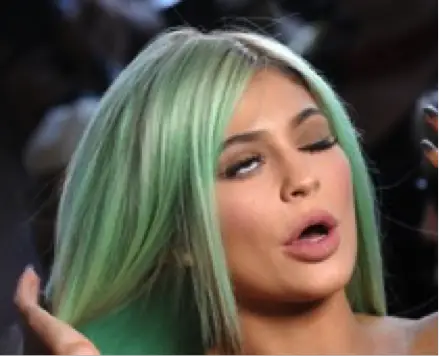 During the show, Kanye made it clear which brands he endorsed when he proclaimed "F-ck Nike!" to promote his new Yeezy Adidas shoes. His partisanship also made it unsurprising that he nearly combusted with anger when Kylie Jenner signed a deal with Puma.
He tweeted level-headedly, "1000% there will never be a Kylie Puma anything. That's on my family! 1000% Kylie is on Yeezy team!!!"
Uh, awkward.
But through it all, no one can deny that Kanye has been like the Twinkie of the 21st century. He's bad for you, but, c'mon. You're gonna keep going back.
He's an artist, a fashion icon and in my opinion, a damn good father, so I'll leave you with a Kanye quote that makes me think that maybe there's hope for Yeezy.
"One of my biggest Achilles' heels has been my ego. And if I, Kanye West, the very person, can remove my ego, I think there's hope for everyone."
Awww!
"Have you ever thought you were in love with someone but then realized you were just staring in a mirror for 20 minutes?"
Dammit, Kanye.