With his long brown hair, gaunt cheeks and sunken green eyes, George Clanton hardly seems like the Los Angeles type. In a city filled with bronzed models and aspiring actors, the Virginia native is bound to stick out, but that's part of the plan, really.
After spending the last few years in Brooklyn, the vaporwave artist has grown in popularity across the country, but nowhere has welcomed him as warmly as LA, a city whose reputation for progressive music seems to strengthen with each year. So, last month he and his girlfriend, who performs and tours alongside Clanton as Negative Gemini, set out for the West Coast.
Around the same time, on Aug. 17, Clanton released his second full-length album, "Slide," a project that comes three years after his first release, "100% Electronica," a 10-song production that introduced his signature sound. The first album is a pounding mixture of deep, thumping bass lines with bright, dancing synths glittering above them. Clanton sings, through heavy distortion, above the sonics and adds plinking keyboard notes to break up the interplay between the two main aural components. His newest work, "Slide," follows much in the same vein, but with the addition of guitar and other more recognizable elements.
I was able to talk with Clanton last month, before his album had been released, about his recent tour — which featured a handful of stops in Texas — as well as his then-impending move to Los Angeles, the death of his dog, his plans for the future and what he envisions for his burgeoning career as a record label owner.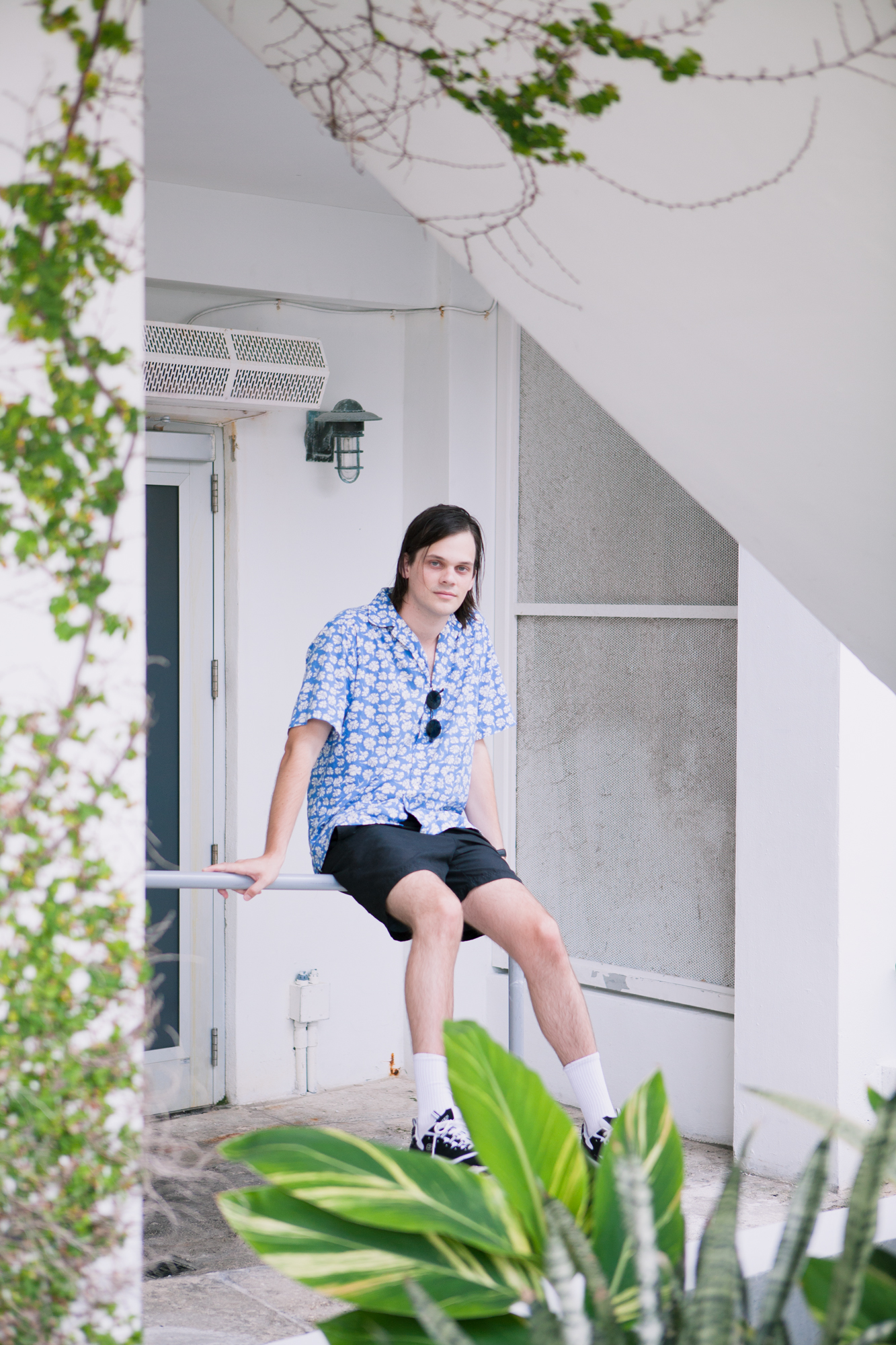 Haley Newlin: There are up-and-coming artists everywhere, how did you get your break?
George Clanton: I was discovered by Skylar Spence (then Saint Pepsi), who gave me a shout out on the Gorilla vs. Bear blog, which led the blog to give me the award of the 10th best album of the year for 2015. I got to open for Charli XCX and Sophie that year as a result, and it's been growing ever since.
HN: Some refer to your music as dance/electronic, how would you describe it?
GC: I don't know how to dance, and it's not EDM. I put it in the main category "electronic" because it's not quite "pop" either. I think it's probably indie-pop as stupid as that sounds. It's pop music with a punk ethos. My friend called it progressive pop and I like that too.
Anyways, I don't think I have enough contemporaries to warrant getting my own genre yet. My notoriety comes from the vaporwave movement, so I'm often called a vaporwave artist as well. Whatever works! Except synth pop. Don't call my music synth pop, please.
HN: Are there any reoccurring themes in your music? You've talked a lot about just living life and positive energy — how does that come through in your songs?
GC: My lyrics are definitely not about living life or positive energy. I think it's the opposite. I yearn to live life and surround myself with positive energy because the world is already a dark and sad place. I don't want to revel in it. That's easier said than done.
My lyrics tend to be vague, abstract presentations of what I'm really feeling, which isn't always nice. But during the show, nothing feels better than belting the lyrics out with a few hundred strangers that all know the words and want to physically pick you up and carry you through the air. That's the positive energy I was talking about. The songs and the show are dichotomous.
HN: What was your experience like when co-founding 100% Electronica?
GC: It was actually very easy. The hardest part was convincing people it was a real label. But between my partner, Negative Gemini, and I, we had four different groups who had already reached a certain level of success that we could put under our label umbrella.
By the time we released our first outsider record, "Surfing – Deep Fantasy," the press was already referring to us as a label. Ultimately it was super easy because we had the respect of the audience and of other artists we wanted to work with before we even started. If we didn't have that it would've been nearly impossible. Still we are very small and boutique, but we do have a pretty unreal cult following and that's more than we ever hoped for.
HN: What are your goals for 100% Electronica?
GC: I would like to get to the point where we can sell at least 1,000 records just by putting our stamp on it. With that kind of power, you can break out new artists you believe in and mutually benefit from it.
HN: What kind of artists would you like to help with your label?
GC: We have been very serious about being selective to build our brand to the point where everyone who follows us knows whatever we put out will be fire, and the vinyl record itself will be a high-quality product.
HN: You have done quite a few performances already, including your recent appearance at the Memphis Concrete Music Festival. How do you choose where you'll perform?
GC: When I'm booking shows myself, I choose the venues very specifically. Especially in cities where there is a high demand, like New York City, I pick the venue that makes the most sense for the crowd.
I definitely like to play more intimate, smaller shows and sell them out than play a room so big it will never feel full. That's not to say I won't play just about anywhere if someone wants to reach out to me seriously.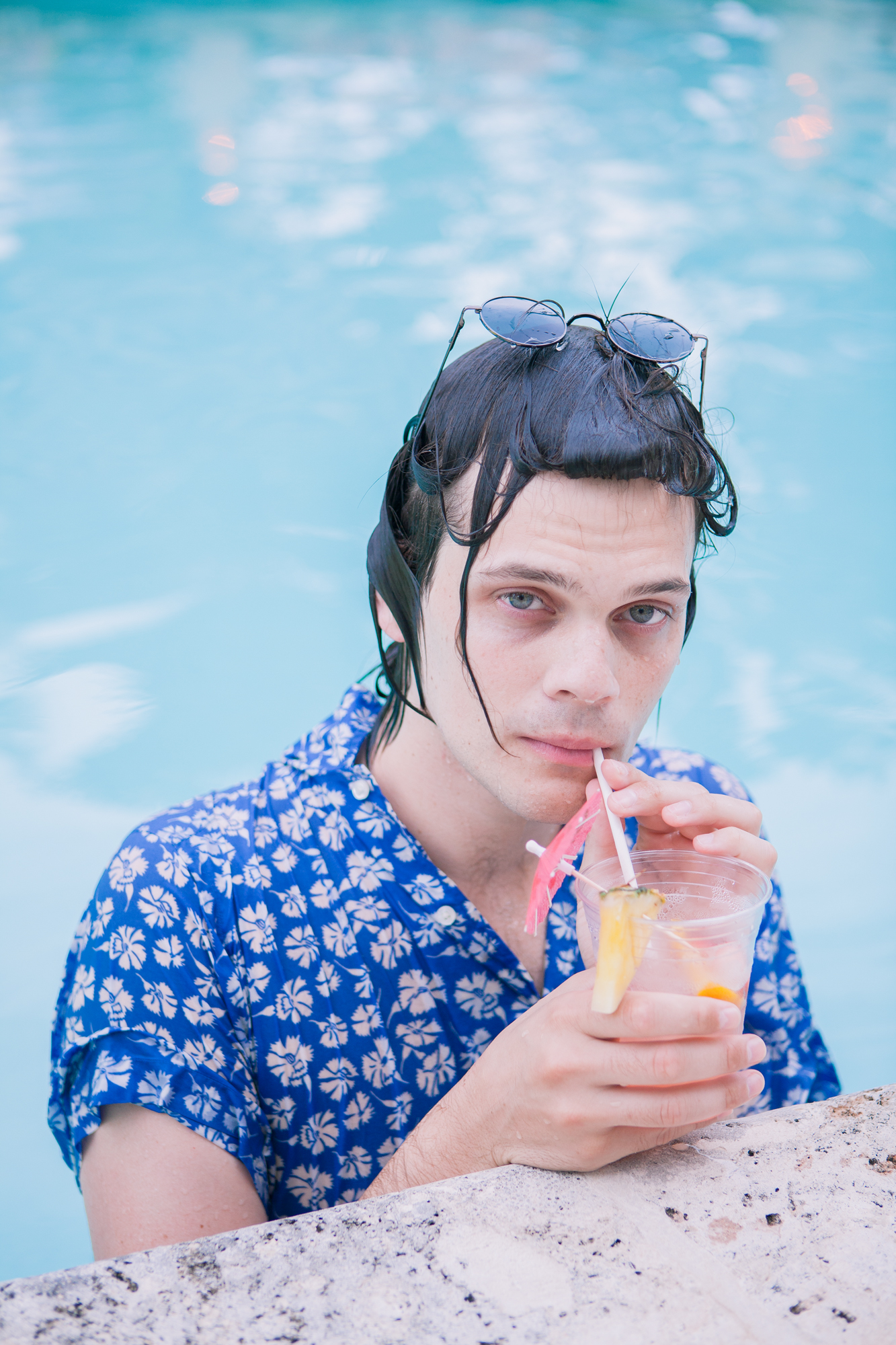 HN: Where are some of your favorite places to perform at, so far?
GC: I have played Elsewhere in Brooklyn a few times now and I really like how the crowd pops off in that room. Recently Satellite Bar in Houston surprised me with how sick it was. Empty Bottle in Chicago is another one that is always loud and wild.
HN: What can the audience expect from you at your shows? What is the atmosphere like?
GC: First-time viewers never know what to expect. But it's loud and high energy from start to finish. We will jump around together and sing all the words as a group.
In Richmond, Virginia this year, someone who didn't know what was going on with the mosh punched a guy in the face. As the show went on, the puncher bought the punchee a drink, apologized and started jumping around in the pit too. There is just too much positive energy.
HN: You say you don't want to be compared to other artists and try to express your unique style, but are there any artists who inspire you when you're creating new music?
GC:  I think very recently Tame Impala reinforced this idea of being your own. I didn't appreciate his first two albums very much because to me it sounded like The Beatles mixed with Black Sabbath or something and I didn't feel surprised or impressed by any of his choices. It didn't feel original.
So, I didn't listen to the third album, "Currents," for years until my friend put it on during a road trip. By contrast, "Currents" seemed very original and honest, and as a result, I listened closer and respected the music more. So, there's that. But earlier in my life, 311 taught me how important it was to "Come Original."
HN: You recently shared that your dog, Kody, passed "into the next dimension." What did he mean to you as an artist?
GC: I don't think I drew inspiration from Kody musically in any way, but Kody has been a very important part of my life for years now, and all the fans know him by name. He was kind of a mascot for us.
HN: You referred to Kody by several different names, why?
GC: It's just the sense of humor my girlfriend and me have. Have you ever had a significant other for a long time or anyone else that you love that you didn't have several nicknames for? It's even easier to nickname a dog because you can imagine they like all of the nicknames. We called him "Mister Roll Tail" because he was a husky and he had a rolly rail.
HN: Your first album, "100% Electronica," was successful among vaporwave artists and on Bandcamp. How did you feel when you heard "Slide" hit No. 1 as the best-selling on Bandcamp's vinyl charts?
GC: A big relief! All of my releases have hit No. 1, so it would've been a big glaring sign that my career was falling off if it didn't hit No. 1. Bandcamp is more popular than ever, as are vinyl records, so I had to accept that it was going to be a lot harder to reach No. 1 than it was in previous years. As time has passed with the preorder, I see now that many people are just as excited as I am to have this record out and it's selling better than any of my other releases.
HN: What should fans expect from your newest album?
GC: They can expect it to be my best work, also the most unique. I think this album will be even harder to draw comparisons to single artists. I am trying my best to really show that I am my own thing.
HN: How does "Slide," which came out on Aug. 17, compare to your past releases?
GC: It's more open and free than my previous work. The album is all over the place stylistically. That isn't to say its unfocused. I think it works beautifully. I think the most striking new element is that there are more bits of rock and roll: acoustic drums, electric guitars, etc.
HN: Are there any other projects you are working on at the moment?
GC: I am working on buying old deck fingerboards on eBay and putting my own art on them to commemorate the release of my new album.
HN: You've had a lot of success in Brooklyn, why do you want to move to LA?
GC: It took like 10-15 shows before we were selling out shows in New York City, but it only took two tries in LA. It seems like we have a bigger fanbase there.
My brand of wacky pop music seems to be in demand there and I want to move there and thrive! Also, several celebrities we admire were at our sold-out show, which played right into our LA fantasy. We just want to live that life. And the weather is nice all year.
George Clanton's new album, "Slide," was released on Aug. 17 and can be streamed on Spotify and iTunes. Listen to the album here.