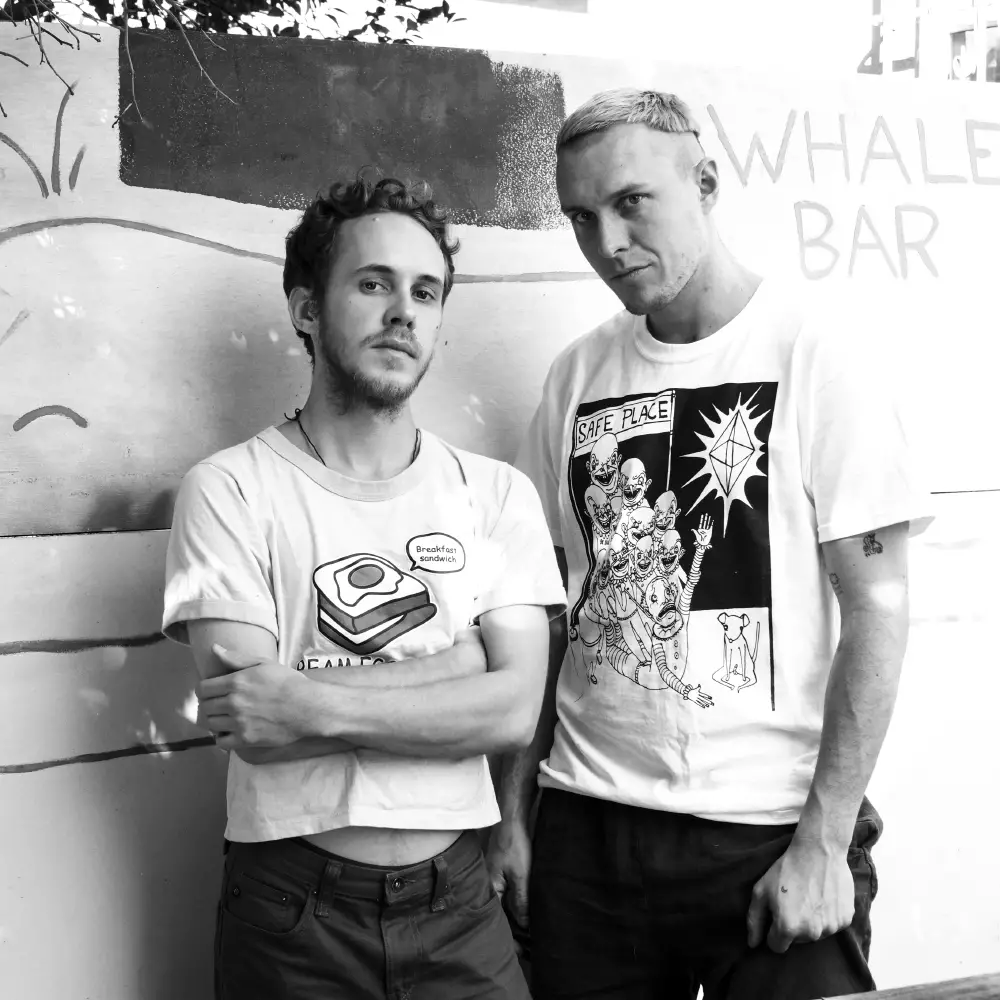 The Austin-born, LA-based duo chats new cities, career analogies and potion recipes.
When I google CAPYAC, each search result basks the Austin duo in a different light. One article refers to them as a "French house duo." In another, they're a "funky electronic band." A third one calls them a "surreal dance act." Nearly every article I could find describes CAPYAC in inconsistent terms; each of these qualifiers makes me imagine something completely different, but that's kind of the point.
CAPYAC is a sort of "musical project," the brainchild of Austin natives Eric Peana and Delwin Campbell. Their music is widely labeled electronic but even that doesn't quite fit — they've made a habit of subverting the expectations and attributes placed on them by critics and fans alike. As CAPYAC, Peana and Campbell have released four albums, an array of singles and remixes, and given wild, improvisation-heavy performances. Their music videos are distinctive and eccentric. Their interviews are offbeat and fun. Consider this exchange from ours:
Study Breaks: Describe CAPYAC's mission in a single sentence.
Campbell: CAPYAC is a slice of coconut cheesecake that was left out and is now a feast for ants.
Peana: CAPYAC is a miniature giraffe, and it's sort of getting used to living inside your house with your cat.
The broad range of sounds and genres in the CAPYAC repertoire is no mistake, as Campbell and Peana explain to me over the phone one Tuesday morning. The two approach music making similarly to Daft Punk and Pink Floyd. "Each of their albums could be by a completely different band, but they're still very contained," Campbell says. "These days we're generally less concerned with having a matching aesthetic [throughout our work]."
That kind of sweeping, eclectic artistry is perhaps best exemplified by CAPYAC's most recent EP, "Who is Donny Flamingo?," a notable departure from their previous output. Where "Movement Swallows Us" was lush with atmospheric synths and raindrop-like beats, and its successor "Headlunge" grounded itself in funky riffs, "Donny Flamingo" has a clear Latin influence.
With "Donny Flamingo" now in the rearview, Campbell and Peana have a busy year ahead: plenty of new tracks, a bunch of videos in the works, a residency at The Echo in Los Angeles during May. They plan to release a new song every month. They're unsure if the new stuff will turn into an album, but it could. Like I said: busy.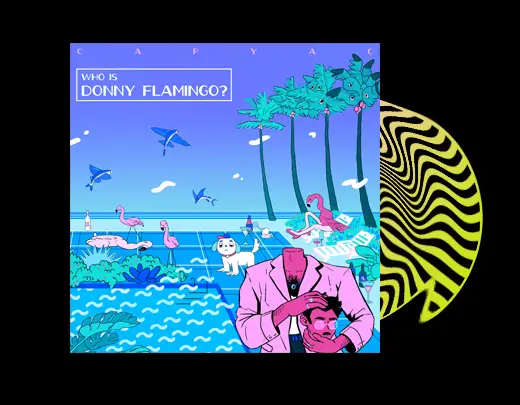 They're also working in relatively new territory, as Campbell has only been based in Los Angeles for about two years, and Peana even less. Surely, the jump from Texas to California has marked a new era for CAPYAC? Yes, but maybe not in the way one would expect.
"No one shows up to shows in L.A.," Peana tells me, half-joking. The Los Angeles music scene is at once densely packed and highly competitive, making it difficult for groups new to the city (or to the industry itself) to get their foot in the door. This dog-eat-dog dynamic — in conjunction with the countless number of dogs — also prompts a higher standard for musical quality. For CAPYAC, raising the bar was a push factor, believing that the challenge presented by LA would be good for them.
"It's like we're starting over," Campbell says. When CAPYAC first made the move from Austin to LA, Peana and Campbell didn't really know anyone there, and nobody knew them; the crowds were a bit stuffier, a little more self-conscious than easy-going Austin. But that's not the only difference. "At first we were kind of overwhelmed by the professionalism in Los Angeles, which led us away from our original purpose," Peana admits.
A moment of clarity helped the duo get back on track, and Campbell helpfully sums up their last year in an epic analogy befitting an old Western film: It was like they were on a train in the Wild West, careening toward the gold rush in Southern California, carrying family and friends in the front, the expectations of industry and financial pressures in the back. Finally the train crashes into a nearby river, unable to handle its cargo. Everyone on board makes it out safe, and they'll continue the journey knowing the risks … but they probably won't carry so much with them this time around. "We're definitely trying not to become too serious," says Campbell.
Beyond jumping home base, CAPYAC has evolved considerably since Peana and Campbell first joined forces in 2013. They attribute most of those changes to being more acquainted with the business-side of the industry, and for having a manager — Anthony Erickson, or Samosa Jones, as they refer to him — who they call "the best in the biz."
"We're just more knowledgeable of the process now," Campbell says. "We're better in objective, practical terms." But, as Peana adds, they don't regret earlier days spent finding their footing. "There's something special about not knowing anything," he says. Any personal and philosophical developments have ultimately reflected back onto, and enriched, their music.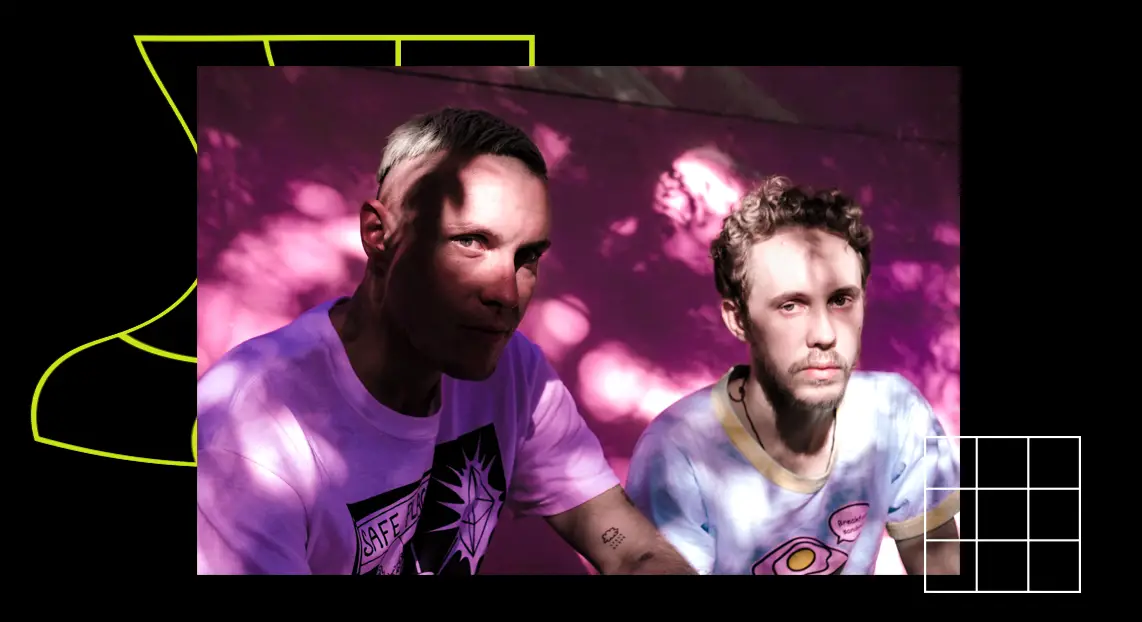 In such a precarious field, it helps to have a web of contemporaries to admire and motivate you. Campbell and Peana have a bunch of favorites who they count as peers: MetronOhm, the funky LA-based group, whose lead singer they're currently working with; Batty Jr., the Austin quartet; French musician Lewis OfMan; and then a few big names they like, including Steve Lacy, Frank Ocean and Beyoncé, the latter who they assure me they have never met.
CAPYAC finds equal inspiration outside of the musical world. They name a few: poet Rainer Maria Rilke, Roger Federer, Michelle Obama and sculptor Daniel Arsham. Peana points out that they've also been galvanized by the Ba'athist and Surrealist movements, the latter of which can be felt with particular intensity in their performance art.
They round out their list with a few odds and ends: watching billiards and World Cup soccer, eating delicious food made by excellent roommates. They tell me about a roommate who's making a film about them, but the only detail they give up is that they want Stevie Wonder to play a yoga instructor in it.
Though Peana and Campbell provide vocals on most CAPYAC tracks, they've also curated an impressive roster of guest artists. Caroline Watson croons on "Disco Muse," Rudi Devino raps on "Fade Out" and Mary Bryce sings "Never Let Go" — to name a few. I ask the duo what makes the difference between a track sung by them or by someone else; generally, if a song isn't in the right key for them or if it's better suited for a different voice, they'll invite another artist to feature.
"We think about every song in isolation. It's not necessarily a continuation of previous songs," Campbell explains. Increasingly so, the duo are leaning into a trend of centering other vocalists, as they enjoy building a network of collaborating artists. Ideally, they'd create a giant collective of people working together under the CAPYAC umbrella — this is in line with past interviews, where they've hinted at world domination.
Beyond studio recordings, CAPYAC is known for eccentric live performances that often shift into the realm of theater, making their style even harder to pigeonhole. A quick search on YouTube prompts footage from dozens of festivals and jam sessions, but the CAPYAC lore also includes non-video-captured antics, like making pancakes onstage and auctioning off a gallon of milk. The theatrics have been part of their shtick since the beginning, but they only recently began curating it.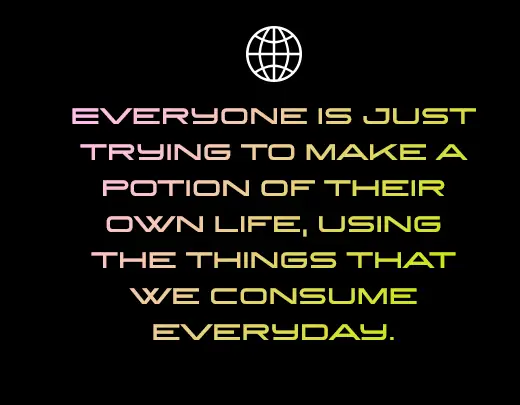 "There's always a disaster element to it," Peana says of the improvisation. "When you do something weird, people kind of get angry." Generally, though, the theatrics are a sure-fire way to get the crowd engaged at the top of a show; in turn, CAPYAC feeds on the audience's energy. Sometimes friends will join in on the performance; sometimes they'll pull random toys and knick knacks from a big chest of props that they keep on stage with them. They describe one show at the "same same but different" festival in California where they improvised a song based on the sounds of a squeaking rubber chicken toy.
What if they weren't in music, I wondered, but still working as a duo under the CAPYAC moniker? "We'd be working in fashion," Campbell says. "We both have a significant interest in clothing design." In fact, CAPYAC once held a fashion show, which they brush off as soon as I bring it up. "Most people wouldn't have called that a fashion show," Peana insists, laughing. "It was a fashion show in that people wore clothes," Campbell levels.
The duo also toys with the possibility that they'd work in set design or theater. Neither have real theater backgrounds; Campbell hated school plays, and Peana only recalls putting on plays with his sister as a child, though he always wanted to perform. "We're kind of outsiders to the theater," Peana says. "Mostly cause we don't have the money to afford seeing shows." Campbell agrees: "I couldn't name a single opera."
As performers, Campbell and Peana like to shroud themselves in mystery; they frequently wear masks or helmets to conceal their faces, they give ambiguous answers to simple questions in interviews, and they refer to themselves by a whole slew of nicknames. Peana goes by "Pablo Dingo" and "P Sugz," and Campbell prefers "Queen Zaza" or "Potion."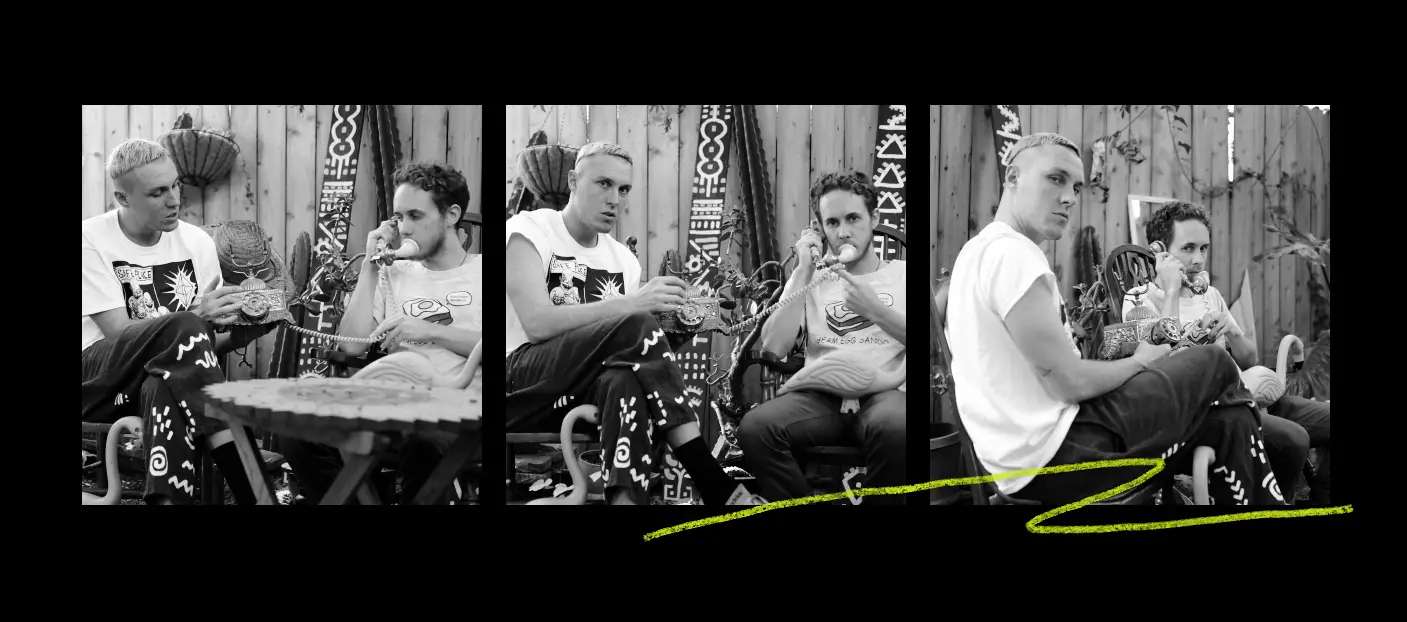 In the spirit of Campbell's "Potion" alter ego, I asked the duo to come up with a CAPYAC potion. On the spot, they meticulously outline a four-part recipe, describing the work station ("a quiet base, stable horizontal circuits, and some pink marble"), the music they'd play while brewing (something dramatic like Beethoven or "The Rite of Spring"), and the equipment they'd need: bowls, beakers, goggles and gloves. "Proper ventilation is very important," Peana says. "We'd also need showers, like the ones they have in high schools." "This is basically a 7th grade science class." "Yeah. We broke into a middle school, and everyone's looking at us … "
What about the actual ingredients? Some bass notes. A bit of sage. Some copper. Some plutonium. Per Peana's suggestion, half a quart of lamb's blood, though he worries that this ingredient might be alienating to some fans. That sounds about right, though. Any delicious CAPYAC potion will have mellow beats, strong flavor, radioactive energy and a special ingredient that only they know what to do with.
Campbell waxes poetic about the hypothetical potion. "The first try won't come out great," he says. "Everyone is just trying to make a potion of their own life, using the things that we consume everyday." He pauses for a second. "But maybe the one we make tomorrow will taste different."
In a way, that's the the essence of what CAPYAC is: art with otherworldly mystique, its creators on a constant mission to transcend the status quo.