The Many Personas and Outfits of the Style Icon David Bowie
From Ziggy to the Duke, never has a musician so profoundly influenced the world of fashion as David Bowie.
By Julia Dixon, Texas State University
---
David Bowie was a work of art.
And while music will stand alone for generations to come, his style and aesthetic were a tour de force in the world of fashion. For more than thirty years his stage and everyday ensembles were revolutionary in the fashion world, and many of his iconic looks still continue to be relevant today.
His shameless confidence and authenticity were portrayed not only through his music and acting career, but through his style on-and-off the stage. Through his multiple personalities, Bowie was able to act as a voice for those who couldn't speak up. He allowed people to feel more comfortable with themselves and their sexuality. He was never afraid to let his freak flag fly.
From his mod beginnings to his alternating personas in the 70's and later, there's always been something timeless about Bowie. Because of his unique interpretation of music and his out of the box attire, Major Tom will forever be an icon and inspiration. Although he didn't quite escape mortality like we all were convinced he might, he left behind scores of inspiring works that will continue to live on forever.
Mod Beginnings (1962-1968)
Born David Jones, Bowie began his music career in 1962 when he released a single under the band David Jones and the Bees. He continued collaborating musically with a few other groups until the debut of his self-titled album, David Bowie, in 1967.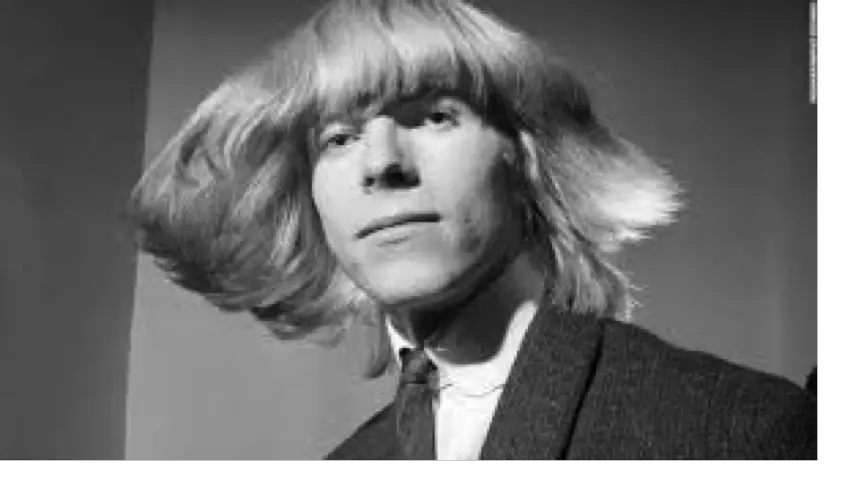 As a mod English boy in his late teens/early twenties, Bowie was already beginning to shape the fashion scene of that time, beginning with his tapered pants and home-made hair dye. Like in the picture above, Bowie was a strapping and fashionable young lad with an effortlessly cool aura.
Like many of the youth of his generation, he went against societal standards and rebelliously began to grow out his hair. (Fun fact: Bowie started a Society for Prevention of Cruelty to Long-Haired Men at the age of 17—the first of the many gender stereotypes that he questioned).
With his fitted pants, white button ups, skinny ties and Chelsea boots, Bowie's changed the way fashion looked. He was a classic looking boy laying the groundwork for an avant garde sound.
Bohemian Bowie (1969-1972)
Coinciding with the Apollo 11 moon landing of 1969, Bowie released the single "Space Oddity" and introduced the world to Major Tom, the first of his many personas. The song was groundbreaking and genius. Retrospectively, it is clear that Bowie's second album was a mixture of what he was at the time and what we would see him become in the future, as if all the different David Bowies were trying to come out at once.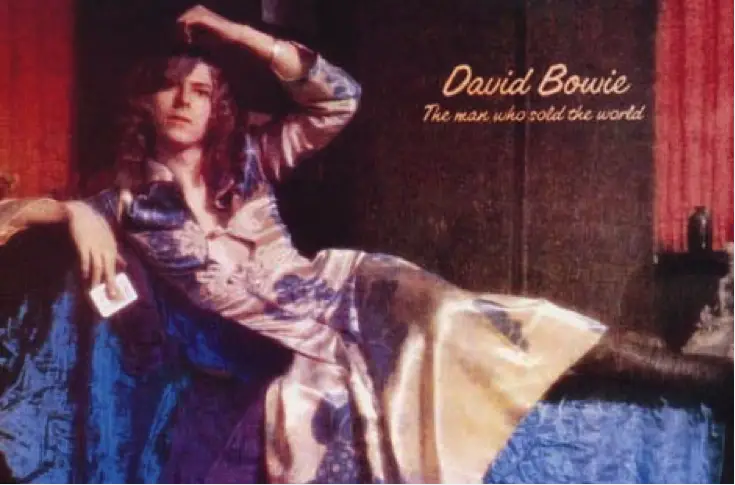 The album helped him morph into the even longer-haired hippie Bowie, and with his increasingly organic look came folksier tunes. As you can see in the photo, Bowie became known as the man in a dress, a reputation he enforced when with the cover of his third album, The Man Who Sold the World.
When his mother was asked if she was worried about her son's dressing habits, she replied "as long as he remains a boy, I can't see any harm in it." Bowie remained a boy, but that didn't stop him from coming terms with his sexuality and proclaiming his androgyny in his fourth album Hunky Dory.The album set the stage for the rest of Bowie's career (and includes the hit "Changes") and was considered flawless.
Ziggy Stardust (1972)
After releasing his fifth album, The Rise and Fall of Ziggy Stardust and the Spiders of Mars, Bowie underwent his greatest metamorphosis and became Ziggy Stardust. The extraterrestrial Stardust (David Bowie in drag) was his most evident gesture toward bringing gender subversion into mainstream culture.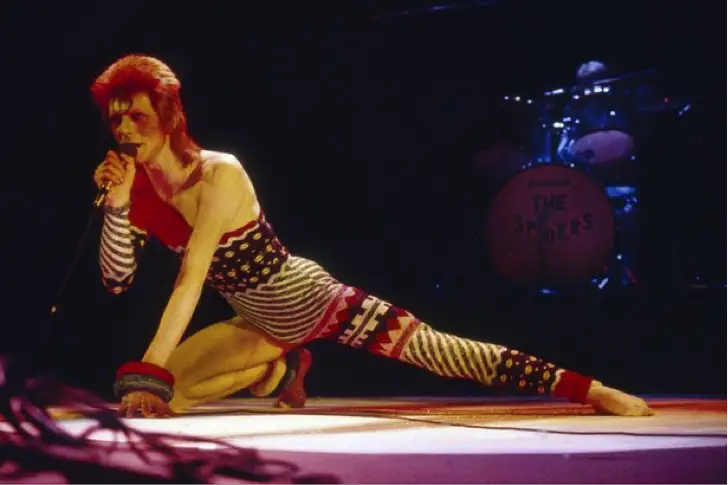 When Bowie came out as bisexual in 1972, Ziggy Stardust allowed him to be the most authentic form of himself. Dressing in all things glamorous and shimmery, Bowie wore everything from a one-legged, one-armed jumpsuit, to a crazy patterned long sleeved, legless onesie—all while adorned in sparkles and jewelry.
But for all his sartorial invention, Ziggy was best known for his bright red mullet and gold iridescent forehead circle. His appearance was so surreal that people started to believe that he was quite literally from out of this world. Like Tommy Hilfiger's Spring 2015 collection and Jean Paul Gaultier's Spring 2013 collection, designers to this day continue to channel this quintessential era of Bowie.
A Lad Insane (1973-1974)
Although Ziggy Stardust retired at the end of his tour with the Spiders of Mars in 1972, Bowie created a spin off persona, Aladdin Sane. The album Aladdin Sane, or what Bowie disguised as "a lad insane," was based on his schizophrenic half-brother who had committed suicide.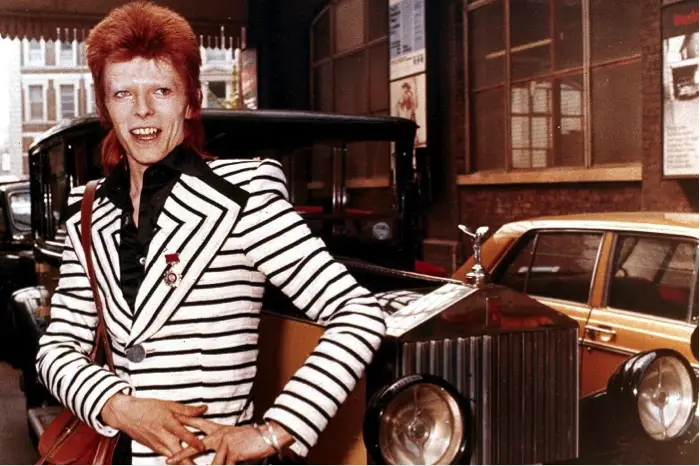 Aladdin was a more American take on Ziggy Stardust, where he switched out the gold circle on his forehead for a bright pink-and-blue arrow that streaked across his pale white face. The iconic lightning bolt, like the one Kate Moss modeled for a cover of Vogue in May 2003, has been recreated innumerable times and is a hallmark tribute to the glam rock god.
In addition to a closetful of outlandish costumes, Aladdin also sported Ziggy's famous red mullet. His devotion to the outlandish was due in part to the fact that Bowie had been spending a lot of time in Japan.
The culture of the country heavily influenced his appearance, and in fact designer Kansai Yamamoto ended up designing all of his costumes for the A Lad Insane tour. Another weighty influence at the time was the Kubrick masterpiece A Clockwork Orange. The result of his eclectic influences was a style so striking that it left indelible mark on the fashion industry. In fact, Givenchy paid homage to Bowie's 1973 wide lapel, white-and-black striped fitted suit jacket in their Spring collection back in 2010.
The Thin White Duke (1974-1976)
Following the release of Diamond Dog in 1975 and the decline of Aladdin Sane, Bowie's music took a turn for the soulful in Young American.
The album, as well as the star role in the fantastic film A Man Who Fell to Earth, again paved the path for a different era of Bowie fashion: White collared button ups, high-waisted pleated trousers, and English hats and boots encompassed Bowie's wardrobe. To accompany his new rockabilly look, Bowie would also slick back his bright red hair (that he somehow managed to get a blonde streak into).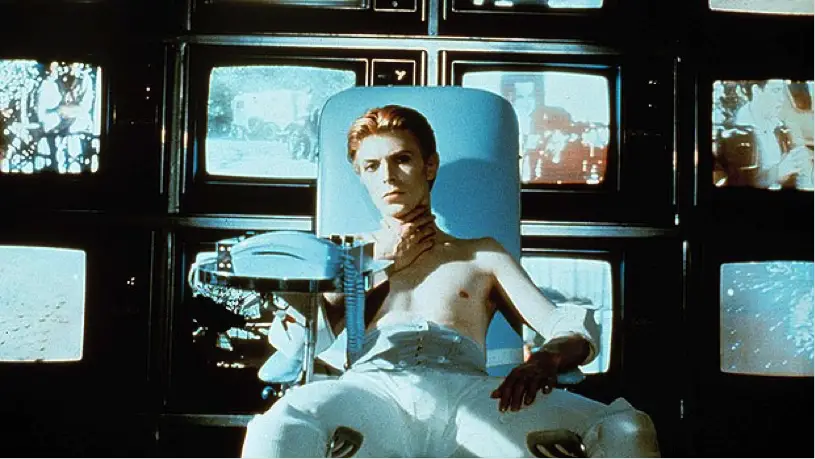 Often seen wearing a canary yellow suit jacket with shoulder pads, Bowie created the Thin White Duke for his 1976 album Station to Station. Since then, designers such as Dolce and Gabbana, Gucci and Dries Van Noten, have all borrowed different style elements of the Duke.
The Later Years (1977-present)
Burnt out on the limelight scene in Los Angeles, Bowie moved back to Berlin in 1977 and began recovering from drug addiction. His toned down his style, often wearing plain colored suits and pleated parachute pants. During this period he collaborated with Brian Eno of Roxy Music to create an amazing trilogy of rock albums: Low (1977), Heroes (1977) and Lodgers (1979).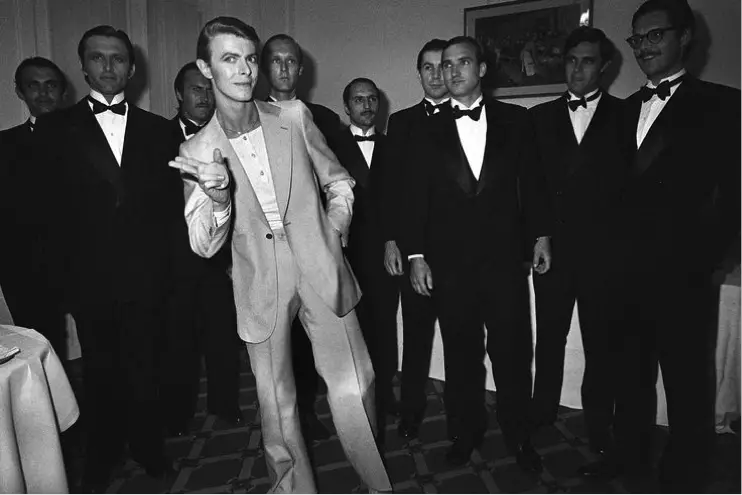 After releasing his 15th studio album Let's Dance in the early 80's (his most successful album), Bowie's next claim to costume fame was when he played the Goblin King in the movie Labyrinth. The role allowed Bowie to convey an alter ego, like Aladdin Sane and Ziggy Stardust, that had since been long gone.
Following the movie and two more studio albums, Bowie took a break from his solo career in 1989 and started on a new venture. The Tin Machine, a five-piece band including Bowie, put out two records until he decided to call it quits in 1991.
During his Tin Man phase, although he would begin performances in a bright yellow suit jacket that matched his pattern-rich button up, he often ended up shirtless, with nothing else on but his yellow and black striped, skin tight pants.
In 1992 he got back to his solo career, and from that point on his style resembled that of a neo-classicist. On his 1997 Earthling album cover, he sported a design by Alexander Mcqueen—a long coat with the British Flag on it. He wore the frock, as well as other various long coats that had embroidery, and would often pair them with a button up and dress pants.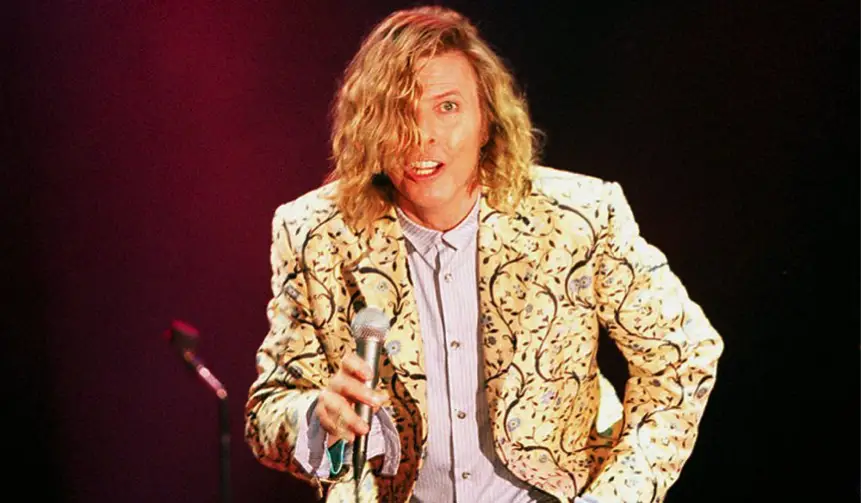 Needless to say, Bowie was always the most stylish man in the room, even leading into the early Aughts when he reclaimed his fitted suit look once more. No matter what time period you look back on in his career, you can sure to be awed by the different personas he led on. How captivating and timeless they really are. Long live the man who fell to Earth, may his everlasting style reign.