Chances are, you've heard of Chance the Rapper. Chance, born Chancelor Bennett, has been on a magnificent upward rise in the music world for the past five or six years. After the release of his mixtape "Acid Rap," Chance seems to be just about everywhere. He plays at endless parties, headlines every music festival and stars in nearly every candy bar commercial.
He's certainly a busy man; on top of his musical success, Chance is going to be in the upcoming "Trolls World Tour," is well known for his political activism, recently curated an event in Chicago for the Obama Foundation and is a dedicated father to his almost-three-year-old daughter, Kensli. He now has a new title to add to his long and impressive resume: fiancé!
Chance popped the question to his girlfriend of five years, Kirsten Corley, on the Fourth of July at a barbecue surrounded by family and friends. In a video of the proposal, Chance asks Corley, "Will you make me a man and be my wife?" as onlookers cheer and clap. He then picks up Kensli as the couple kissed, a beautiful picture of a blissful family.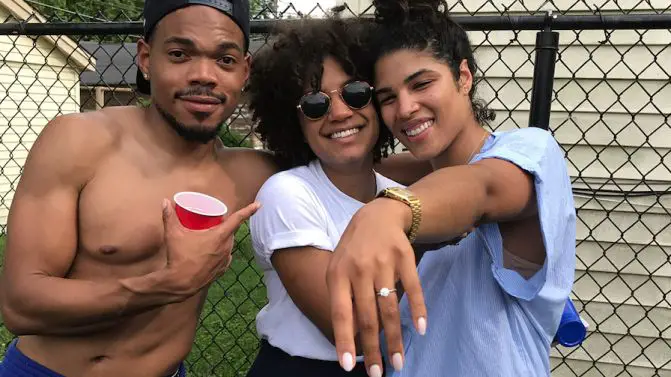 Chance later tweeted, "She said yes," with an emoji of a linked chain. Chance's brother, Taylor Bennett, tweeted a picture of himself and the happy couple with a sweet message of love toward his brother.
The now-happy couple has had their fair share of difficulty. Kensli was born with atrial flutter, which is a heart condition that causes an abnormal beating pattern. Chance credits this scare as his reasoning for rediscovering his Christian faith. Addressing his newfound faith on Twitter, Chance wrote, "Today's the last day my old life, last day smoking cigs. Headed to church for help. All things are possible thru Christ who strengthens me."
In 2016, Chance and Corley split and began a heated custody battle over Kensli; however, the charges were dropped a year later when the couple reunited and moved back in together. Chance was outspoken about his dislike toward the media coverage of the split and the custody case. Taking again to Twitter, he wrote to the Chicago Sun-Times, "Y'all better do y'all jobs and stop worrying about how good my family is. Just a friendly reminder. Don't let anybody get between you and your family."
Cloudy skies have obviously opened up for the family, considering the excitement seen at the proposal. Fans can't wait to see how Chance's family life and increasingly strong religious devotion influence his next album. After the hit with 2018's "Coloring Book," — for which he won Grammys for best new artist, best rap performance ("No Problem") and best rap album — Chance may find it hard to produce another record with the same impact.
My prediction is that listeners will see something totally new from Chance the Rapper next time he releases — and it might just be his best work yet.