Barbra Streisand, the uncontested queen of sound, film and stage, returns to the music scene on Nov. 2 with the release of her new album, "Walls," her first LP since 2005 to be composed primarily of original songs. Streisand, never one to hold back, dropped the impassioned, politically charged single "Don't Lie To Me" off the album earlier this month, throwing merciless digs at President Trump.
While everyone waits (myself included) for Streisand to drop the rest of her sure-to-be beautiful tracks, let's trace the astounding roots of what made the best-selling female artist of all time who she is today. It's never not a good time to reminisce about Miss Streisand.
While it may seem that someone as glamorous and iconic as Streisand must have always been showered in limelight, it was not the case for the Brooklyn-born star. In fact, "Barbra" was originally Barbara Joan Streisand — yes, with an extra "A!" Born April 1942 in the now overly gentrified Williamsburg, Streisand, along with her older brother Sheldon, was raised by her mother Diana after her father died when she was only 15 months old. After living on the brink of poverty, Streisand and the rest of her family moved in with her grandparents.
Streisand's childhood didn't get much better from there. While she dreamed of show business, her day-to-day life was nothing short of agonizing. Her mother eventually remarried to a man Streisand has since described as emotionally abusive. Even more, the Peabody Award Winner was ridiculed constantly growing up — even as she entered into showbiz — for her unconventional appearance and shy demeanor.
In school, Streisand was exceptionally bright but also immensely inquisitive, often talking out and lacking the discipline of her peers. However, the Grammy winner quickly gained a reputation as the neighborhood vocal talent. In grade school she was a member of the school's choir and made her official singing debut at a PTA assembly, consequently becoming a favorite among community members.
By the time she entered Erasmus High School, Streisand was an honor-roll student and a member of the Chorus and Choral Club, singing alongside future collaborator Neil Diamond. On the experience, Diamond has said, "We were two poor kids in Brooklyn. We hung out in the front of Erasmus High and smoked cigarettes."
Regardless of her obvious vocal talent, a young Streisand was always more interested in the stage than the recording studio. Inspired by the glamorous television and movie stars of her time, the "My Man" singer began traveling to Manhattan to take acting lessons while still in high school. After a string of small stage gigs, including backstage work at Cherry Lane Theater in Greenwich Village, Streisand graduated from Erasmus High at age 16 and moved to Manhattan to pursue her showbiz dream full-time.
Everything took off in the heart of the city. The "Funny Girl" star attracted a devoted following after venturing into a career as a cabaret singer and taking gigs at local bars. Streisand stood out with her bright vibrato and charming Brooklyn-style humor displayed during brief conversations between numbers. Additionally, she dropped the second "A" from her name to make herself stand out even more. Soon enough, the Tony winner was being compared to the likes of Judy Garland and Fanny Brice. She had secured her placed in the hearts of anyone that saw her magic.
Eventually, Streisand was able to move her career onto the professional acting stage and finally realize her dream. Her first starring role was in the Broadway musical "I Can Get It For You Wholesale," which secured her a Tony nomination. The popularity of the show's studio cast-recording led to her first contract with Columbia Records. Subsequently forging the path for her first album "The Barbra Streisand Album" in 1963, which won two Grammys, including album of the year.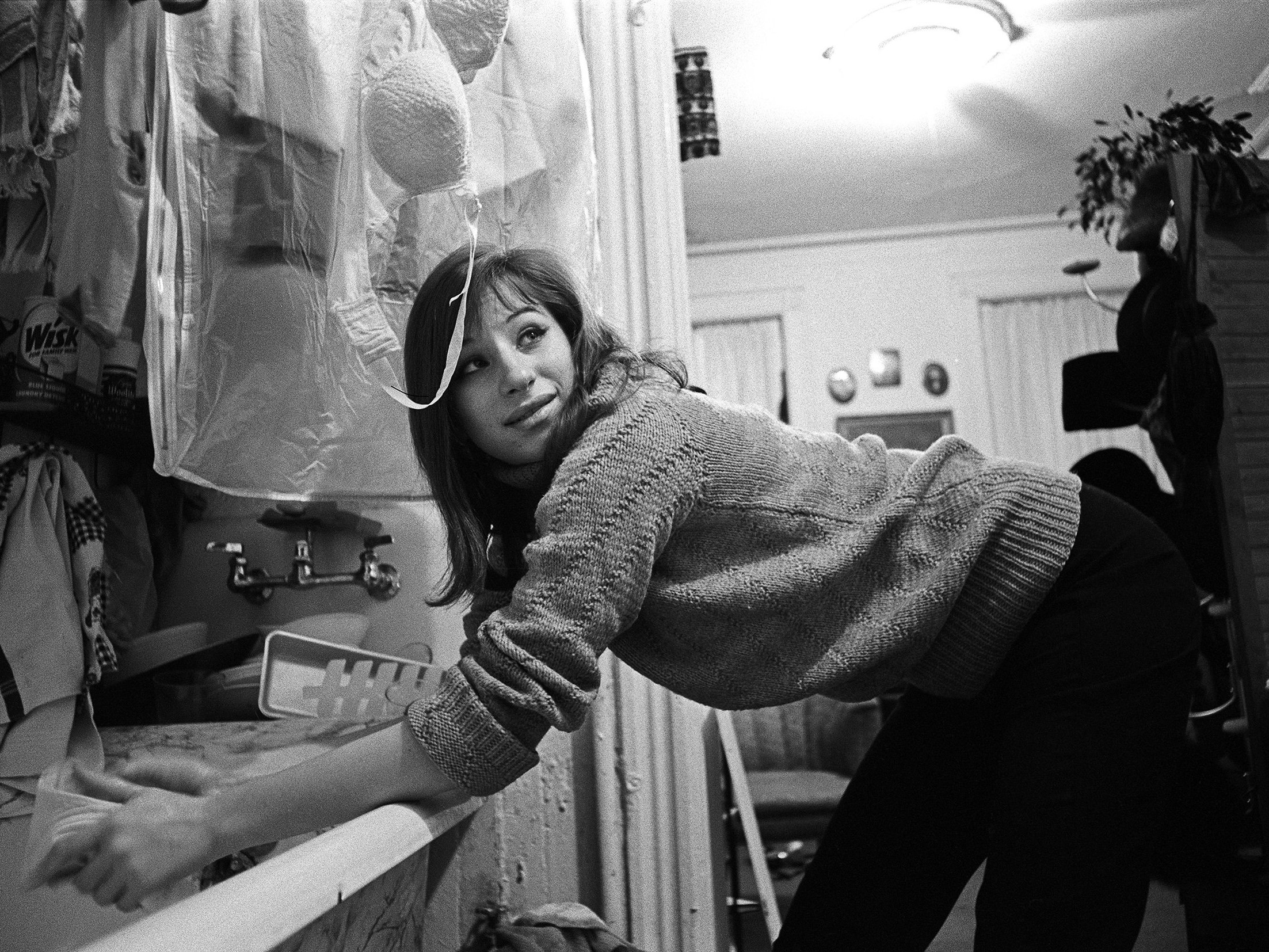 Despite studio and television success with her Emmy award winning show "My Name Is Barbra," Streisand continued with her Broadway career, playing the lead in the hit musical "Funny Girl" and eventually making her big-screen debut in the critically acclaimed film adaption. For her role as Fanny Brice, Streisand won the Academy Award and was named Star of the Year by the National Association of Theater Owners. Keeping up with the film buzz, Streisand starred in "Hello, Dolly!" "The Owl and the Pussycat," "What's Up Doc?" and the classic film/music crossovers "The Way We Were" and "A Star is Born," which earned her first two No. 1 singles.
Following the late 1970s and into the '80s, Streisand's success did nothing but soar even further. She had three more No. 1 hits: Her duet with Neil Diamond "You Don't Bring Me Flowers," the Donna Summer collaborative dance-bop "No More Tears (Enough is Enough)" and "Woman in Love" off her best-selling album, "Guilty." Shortly after, Streisand made her directorial debut with the musical-drama "Yentl," adapted from the short story "Yentl, the Yeshiva Boy." The film was nominated for five Academy Awards and won Streisand two Golden Globes.
A series of successful films, albums and concerts followed the success of "Yentl," including "The Broadway Album," "Nuts" and her first concert debut after 27 years, "The Concert," which raised over $10 million for AIDS organizations, women and children and Jewish/Arab relations. In fact, Streisand's philanthropic efforts have been of large importance in her life, and she often donates profits to causes she feels passionate about. She has also used her fame to advocate for the Democratic Party, supporting candidates such as Bill Clinton and Barack Obama in the past.
Streisand's political views spiked in her new single "Don't Lie To Me," where lyrics like "How do you sleep when the world keeps turning?" dominate the emotional pop-ballad. In an interview with TIME, Streisand said, "My problem is what's been happening to America. Even basic human decency seems to be melting away faster than the polar ice caps." She added, "It's easy to feel powerless, but we're not." Similarly, her upcoming album is dedicated to the young people pushing for political change. Oh and yes, the song is a definite banger (even for modern audiences).
Streisand, it seems, just never quits. In her career spanning six decades, the sensational woman has created dozens of gold- and platinum-selling albums, and has had No. 1 albums in each of the last four decades. She surpasses The Beatles and The Rolling Stones in the all-time charts, has sold approximately 250 million records worldwide and is among an extremely small group of artists to have won an Emmy, Grammy, Oscar and Tony.
Streisand continues to impress year after year, whether it be with a new hit album or starring alongside Seth Rogen in a comedy flick — "The Guilt Trip" anyone? I had the pleasure of seeing the legendary singer live back in 2012 after listening to "Don't Rain On My Parade" on repeat, and she blew my mind. It's no wonder why she's regarded as one of the greatest female artists of all time. Despite her being 76, I see no signs of Streisand slowing down or for anyone to ever stop honoring her extraordinary existence. In "Funny Girl," she belts her heart out to the energetic ballad, "I'm the Greatest Star," and well, she really is.