There's no question that Brendon Urie, the lead singer and backbone of the American rock band, Panic! At The Disco, is absolutely adored by fans. From his adorable, quirky good looks to his soaring vocals and lyricism, Urie is undoubtedly a crowning jewel in the music industry. He's a trendsetter, a poster boy for the industry's mistakes (like his struggle with substance abuse highlighted in his latest album) and a prospect for a brighter future.
Just recently Urie came out as pansexual in an interview with PAPER magazine. "I'm married to a woman and I'm very much in love with her, but I'm not opposed to a man because to me, I like a person," said Urie. "Yeah I guess you could qualify me as pansexual because I really don't care." His coming out, though justly brave and respected, also effectively enhances his agency in the music industry; it encourages acceptance from the industry, a need for it to be greater.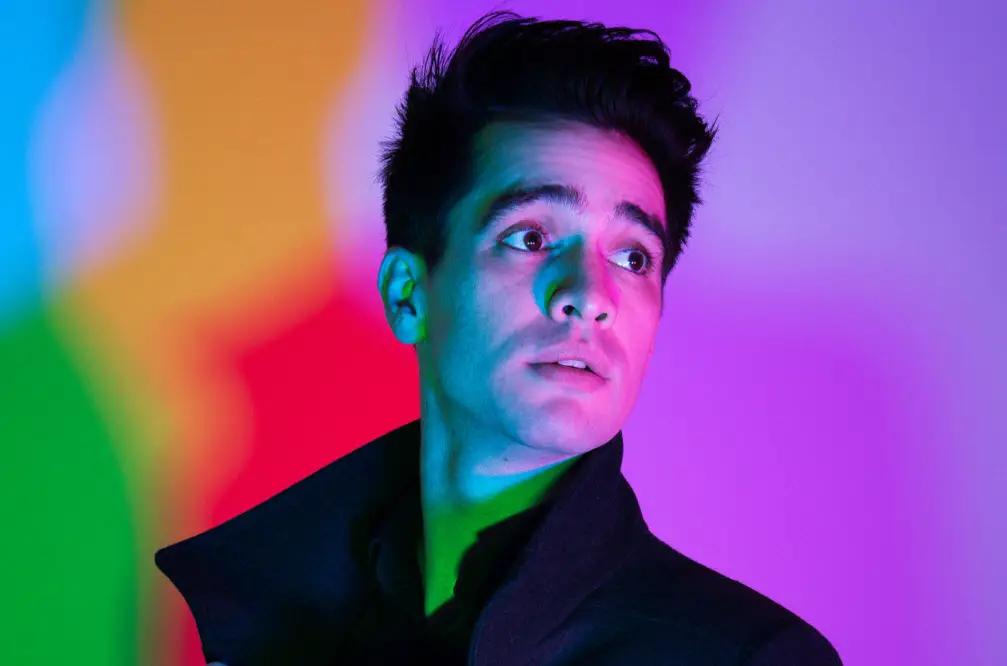 But I'm not here to talk about Urie and all of his promising accolades, or how he and Panic! At The Disco have reached superstardom. No, I'm here to talk about Brendon Urie and Josh Dun, the drummer for Twenty One Pilots, and the importance of their friendship — how it can promote growth in the music industry and in fan culture.
It may sound ridiculous to stake the music industry's future on two good friends that like to do backflips together, but hear me out. I promise that there's a valuable lesson to be learned here.
The Origins of Brendon Urie & Josh Dun
To set the stage, Urie and Dun both grew up in strict, religious households. Urie was raised in a Mormon family and decided to leave that faith behind when he was 17. In high school he was bullied for being a "spaz."
Coming from the same vein, Dun was constantly at odds with his parents. "I just had aggression," said Dun. "They almost sent me to a military school. They didn't know what to do with me, and I was always in detention. I never got into drugs or alcohol, but I would yell at my parents and just treat them terribly. Everything was an argument."
Luckily, they both found their calling through music. Urie met Brent Wilson, the ex-Panic bassist, in his high school guitar class and was asked to try out for lead guitarist for Panic! At The Disco. He got the gig, of course, but lead guitarist wasn't his true calling. When he filled in for Ryan Ross, the band's original lead singer, during a rehearsal, his vocals impressed his band mates and the rest is history.
As for Dun, his musicality started with listening to punk rock records his parents disapproved of. They had strict rules on what music he was allowed to listen to, so he'd hide albums under his bed and suffer the wrath of Christian alternative music when his parents found them.
Then, Dun decided to teach himself how to play the drums. He believed taking lessons would only suppress his creativity. In 2010 he joined House of Heroes when their drummer took a break to spend more time with his family.
When their drummer returned, Dun made plans to go to Nashville and pursue a drumming career. Before he could, however, the original Twenty One Pilots' drummer, Chris Salih, offered his position and introduced Dun to Tyler Joseph, the lead singer. From that point on, the dynamic duo of Joseph and Dun was born.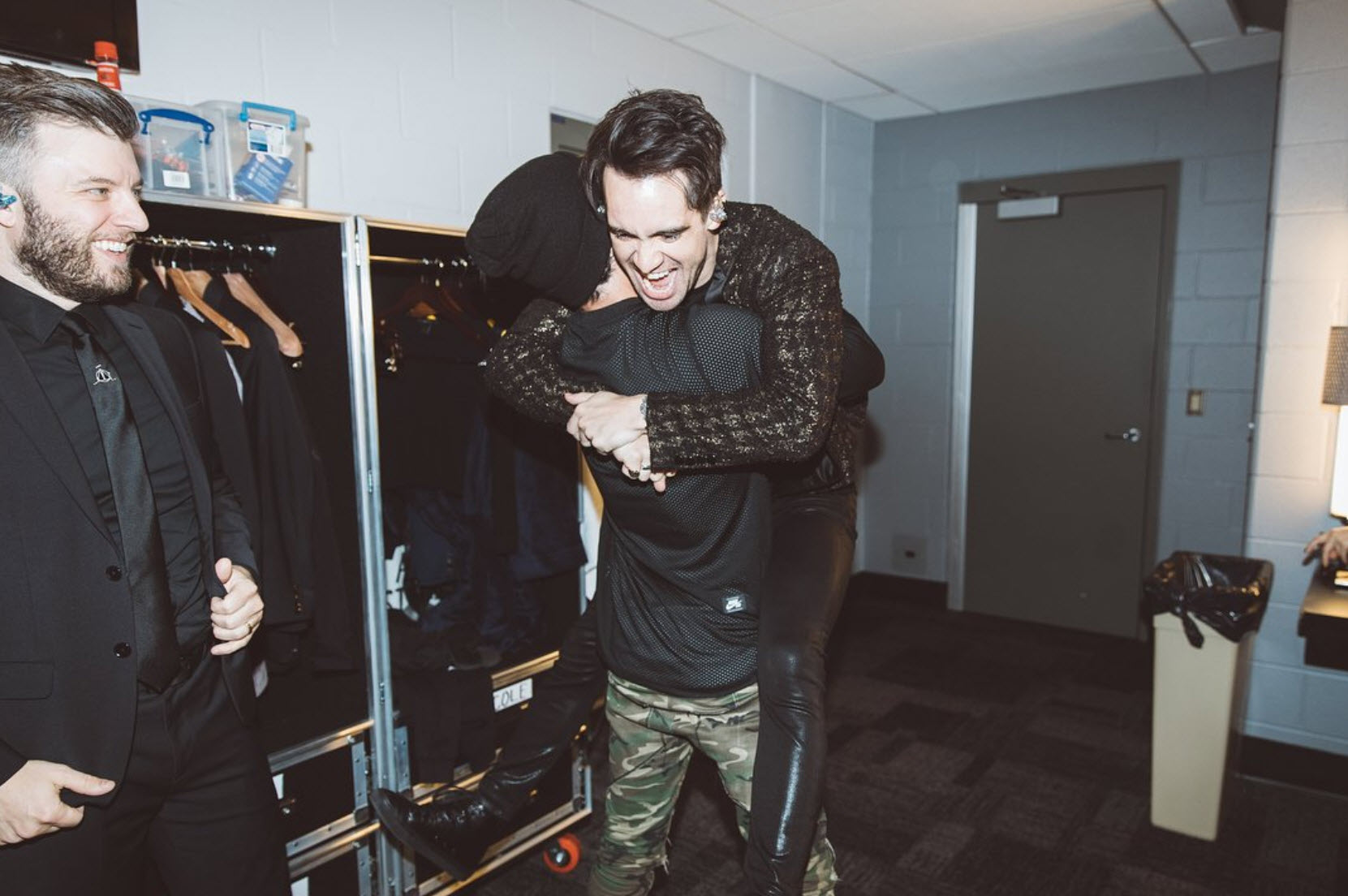 But let's talk about the dynamic duo of Urie and Dun. Just this month during his "Pray For The Wicked" Tour, Urie had a show in Columbus, Dun's hometown. After the show, the TØP (Twenty One Pilots) News twitter posted a photo of Urie and Dun hugging backstage.
This isn't Dun's first time showing up to support his friend. He was at a show during Panic's Death of A Bachelor Tour when it came to Columbus, in the audience at Urie's Broadway debut as Charlie Price in "Kinky Boots" last year in August, at a charity dinner with both Urie and All Time Low earlier this year and appeared at a Panic pop-up show in Santa Ana, California, back in March. His support for Urie is boundless.
Of course, Urie echoes those sentiments. About Dun and Joseph as Twenty One Pilots, Urie said, "They're both so talented. Tyler's such a phenomenal writer. And they're just sweet people. If we did nothing musically together again ever, they're just really good friends. They're just nice to be around ya know? There's some of those people that, you hang out with them and you kind of adopt some of their mannerisms because you're like 'oh that's kinda cool.' They're nice, just nice people."
He's also expressed interest in collaborating with Twenty One Pilots and having a joint tour possibly in the future. His love and support for Dun and his work with Twenty One Pilots is infinite.
Together, Urie and Dun are absolute goofballs. They do backflips together, play around with fidget spinners, make surprise appearances in each other's promotional videos and have their own handshake. Take a look at this video to see some of their shenanigans. They're definitely an underrated duo in the music industry that deserves some more press for their adorable antics.
Friendship Is Better Than Beef
So, why is their friendship and support for one another so important? Well, it has to do with the music industry's obsession with "beef" between artists. Taylor Swift and Katy Perry, Taylor Swift and Kanye West, Camilla Cabello and Fifth Harmony, Azealia Banks and Cardi B, Meek Mill and Drake — the list goes on and on.
The truth is that the music industry has created a destructive culture among music artists, a culture that stirs the pot and instigates feuds more than love and support for fellow artists. Sure, there are artists like Urie and Dun who choose friendship over beef, but that's not what the media likes to focus on. The media feeds off the drama between artists. Just look at Taylor Swift's music video, "Look What You Made Me Do" — it's simultaneously a clapback and a compilation of this negative culture.
The music industry could certainly take a hint from Urie and Dun's endless support for one another. Showcasing positivity in the form of friendship rather than feuds between artists is what the industry really needs right now.
There are artists suffering from substance abuse (like Demi Lovato's recent drug overdose), mental illness (coincidentally highlighted in Twenty One Pilot's recent music) and violence, among other things. There should be a focus on promoting positivity and support in a community that pressures artists to produce content rapidly and butt heads with their fellow music makers.
Bridging the Gap Between Artists and Fans
There is a fine line in fan culture that is crossed way too often. Like when in February 2017, Urie moved out of his home in Los Angeles, California, to an unknown location because of the overwhelming attention he'd received from fans. He even claimed he didn't feel safe there anymore. This is an example of toxic fan culture — fans obsessing over their favorite artist to a point where the artist in question is exceedingly uncomfortable.
Artists have confessed that some fans' fantasies about them can be unsettling. For one thing, fans sometimes claim that they know artists intimately, even if they've only interacted with them through their music. Only, they don't know them at all. Artists are regular people, but fans will project their fantasies onto them and turn them into something they're not.
It's definitely off-putting, but also understandable considering the distance between fans and artists — connecting with them through their music is inevitable, and the real person is then lost in the background. When the real person behind the music is lost, it makes it easier for fans to justify toxic obsessions. It produces an unhealthy relationship to bridge the gap.
Showcasing a friendship like Urie and Dun's may bridge that gap between fans and artists. Suddenly, artists are shown outside of music and, in the case of Urie and Dun, are seen goofing off and just hanging out. They can become real people instead of celebrity icons in the eyes of fans.
That realization could help ward off unhealthy obsessions and unwanted attention by fans (though, of course, not completely). Again, promoting positivity and authenticity could produce a needed change in fan culture.
Urie and Dun have an adorable, underrated friendship that the music industry can surely learn from. Ending beefs and bridging the gap between artists and fans through friendship and support is an initiative for a brighter future. And if it takes two dorky, musically talented guys to prove that point, then so be it.