While Thanksgiving is traditionally celebrated with family, if you can't travel home for the holidays or just want to celebrate Thanksgiving more than once, Friendsgiving is the perfect answer. Since it's somewhat unconventional to begin with, there are a number of ways to personalize a Friendsgiving to fit your expectations and the originality of your friends. In my experience, though, a potluck, in addition to being the least logistically challenging method, is also the most affordable choice, which is key when you're on a tight student budget.
The cost ends up being split pretty evenly between everyone, and, if you assign dishes to prevent redundancies, you have the added bonus of setting a table that will be brimming with sides, mains, apps and desserts that you've never even seen before, which makes the whole experience feel like an even bigger departure from the norm. So, if you're planning to throw your own Friendsgiving this year, here are five tips to keep it affordable, relaxed and primed for the making of holiday memories.
1. Preparing for the Feast
As it is essentially a dinner party, Friendsgiving will require a little more effort than a normal party. For one, you will need to create enough space for your guests to sit down with their food, so only invite as many people as you can comfortably seat in your apartment or dorm. If you want to invite more than you can accommodate, ask your friends to bring their own chair or borrow a few tables to make sure there is enough room for everyone at the event.
Everyone's calendar during the holidays can be jam-packed with events, especially when finals are right around the corner. Decide on a date for Friendsgiving and stick to it, even if it does not work with everyone's schedule. There is always going to be one person who already has plans, so just pick a date that works for you and invite someone else if a spot is available.
2. Let's Eat!
The host should be in charge of the main course, which is typically turkey with gravy; however, you can easily go with a different bird if a turkey is outside your budget. If you feel unsure about your cooking capabilities, go with a smaller fowl, i.e. chicken, so you avoid putting the culinary centerpiece at risk; if you're really nervous about roasting the turkish delight, then just opt to have a pre-cooked one delivered to your home, as paying a little extra for shipping still costs less than burning the meal and having to start from scratch. If you go with turkey, though, the standard ratio is one pound per guest, so make sure to have enough for your whole guest list.
Since turkeys will require more preparation on your part, ask your friends if you, as a group, want to definitely go with the big bird. If you have any vegetarian friends or anyone in your party has dietary restrictions, this is a great time to have a conversation about how their preferences will play into the overall menu. You can also opt to have a tofurky in addition to the turkey, and anyone gluten free or paleo can volunteer to make a stuffing or casserole that works for them and will also be good for the group.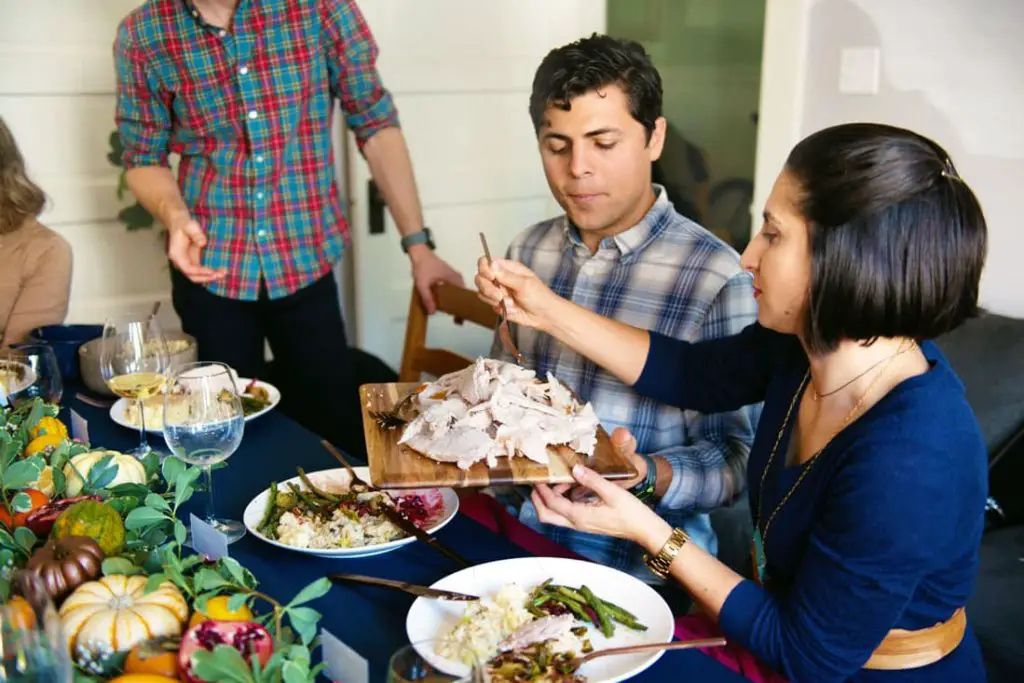 To cut down the cost of Friendsgiving, have everyone bring a dish that represents some aspect of their culture or just their favorite side dish at Thanksgiving. Ideas include: green bean casserole, cornbread dressing and mac and cheese. Mashed potatoes and vegetables are fairly cheap, quick meals and are always crowd favorites.
Some friends, like me, are terrible cooks and would feel more comfortable avoiding the task altogether. In that case, they can bring something store-bought or be responsible for drinks. Since some stores offer discounts for spending more and there are often holiday-related coupons for most of the items you will need, before the event, if you can, try to go grocery shopping together to save as much money as you can.
3. What Do Guests Bring?
Friendsgiving can easily be a fun holiday, but the food can ruin the event if everyone brings the same item. Enter: Google Docs. Using the constantly updateable documents, you can create a list of the dishes you want prepared and then ask each friend to sign up to bring an item that hasn't yet been claimed. Make sure the sign-up list covers each food and drink group so you have a variety of options available for your friends. It should cover appetizers, salad, starches, vegetables, dessert and alcoholic/non-alcoholic drinks. It's your duty, as host, to make sure and stock up on ice and any other items that others might expect you to have.
When it comes to alcohol, pool your money together to buy bigger bottles of wine or items too expensive for someone to purchse individualy. If you go with the alcohol kickstarter approach though, make sure to set a cap on the amount each person can spend on booze, as even a small, $3-5 limit can add up quickly. Overall, try to budget the meal at around $100, with everyone contributing a few dollars and still having enough food to pass around.
4. Festive Decorations
Make the room as festive as you can without going overboard on decorations. Tablecloths are a must, both for presentation and ensuring that there is minimal clean-up at the end of the night. When it comes to ornamentation, a few inexpensive Thanksgiving knickknacks can liven up the room. Arrange candles, buy some gourds, set out flowers and try to keep the setting tasteful. If you are crafty, you can even make your own decorations for a fraction of the cost. Remember, the meal is more important than decorations, so only do this step if there is room in your budget.
When it comes to ambiance, get your most musically inclined friend to curate a playlist. The event should be lively as a result of the conversation and eating, but music prevents the party from ever dropping into silence. If you're feeling democratic, you can even let everyone pick a song and compile an aggregated playlist, but this should only be an option if everyone in your group has good taste in music, which is highly unlikely, just statistically.
5. The Day of Friendsgiving
Ask your friends to arrive about an hour before you actually want to begin dinner. For those that arrive late to social events, they will be right on time and won't miss any of the festivities. In the meantime, your friends can snack on appetizers and chat before the actual feast. Everyone should bring their own leftover containers so they can snack on food even after the event is over.
If you're the host, try not to stress! Your friends will immediately notice and feel obligated to help. Instead, ask for help before you're completely overwhelmed. Friendsgiving is a group effort and you can and should rely on your friends for assistance.
The whole point of the dinner is for everyone to show their gratitude for each other, so no one should feel obligated to carry the event on their shoulders. If the turkey overcooks or you run out of mashed potatoes, it's okay! As long as you are with your friends and having a good time, your Friendsgiving will be great.