King Krule Recently Released "A New Place 2 Drown" Under His Real Name, Archy Marshall
But like the name switch, Marshall's new sound isn't really new at all.
By Charlie Wooley, San Diego University
Photography by El dave Photography
---
It's no secret that modern audiences have an unprecedented level of access to music.
Streaming services such as Spotify and Apple Music have opened the floodgates, freeing any Average Joe with a phone to swim through endless depths of music.
As a result, musicians are pushing boundaries more than ever, blending influences from forgotten eras to remain unique.
As a result, this genre-meshing has reached new heights of popularity. In fact, some of the most critically acclaimed albums of the past year effortlessly blend nostalgic influences from multiple eras.
For example, Death Grips blended glitchy electronic music with hardcore hip-hop and Deafheaven blended black metal with the dreamy atmospheres of 90s shoegaze in their own unique subgenre.
That's not to say every major act out there has perfected this craft – there's plenty of artists struggling to keep up, falling off along the way (Kid Cudi, we're looking at you – you aren't Kurt Cobain).
Buried among the success stories lies Archy Marshall, AKA King Krule, whose music has included elements from so many genres that his music is often difficult to classify. While it's easy to throw his music under the broad umbrella of "indie," there's much more to it than simple jangles and crafty lyricism.
So what makes Marshall so successful? And where does does he draw his inspiration from? Listening to his music, it's easy to dissect the origins of each major element.
Most of Marshall's music has an emphasis on a dark atmosphere, with baritone vocals and a heavy, reverbed bass guitar. However, he clearly draws inspiration from music ranging from cool jazz to hip-hop and old school rock and roll.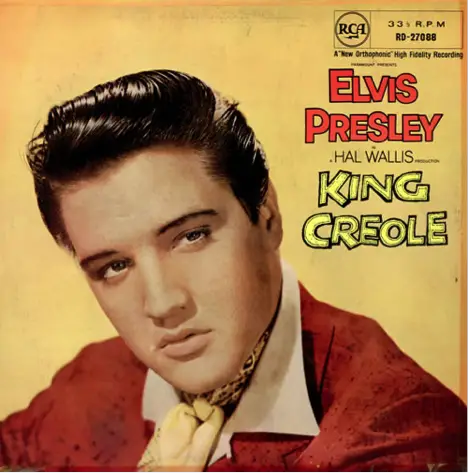 First, and most obviously, Marshall takes his stage name "King Krule" from the original musical King, Elvis Presley. In 1958, Elvis starred in King Creole, recording an accompanying soundtrack, which thrived on the Billboard Charts at the peak of Elvis Mania.
Although it's far from Presley's most famous work, Marshall was inspired.
In interviews, Marshall has pointed to this performance as the source of his stage name, as a thick British accent results in an alternate pronunciation – "King Cruel."
Additionally, it seems as though Presley had an enormous impact on Marshall's voice, which lies on a similar baritone register. Marshall's crooning approach to singing is oddly reminiscent of Presley, but Marshall remains distant enough to avoid criticism as an impersonator.
Despite the Presley comparisons, Marshall claims that one of his biggest songwriting influences was King Pleasure, a master of jazz vocalese.
Much of Marshall's music includes emotional vocal breakdowns, in which he completely loses the pitch of his voice. Crooning in an improvisational fashion, Marshall can sound like a darker version of his predecessors in the scat and vocalese movements of the early 30s. In a similar vein, Marshall uses his voice as an instrument in an incredibly unique fashion.
Other jazz influences are apparent in Marshall's music as well. For example, "A Lizard State" is a remarkably upbeat tune and is performed with a backing jazz ensemble.
Saxophones solos ring out at multiple points and sliding trombone give an unusual groove to an artist usually so obsessed with depression. Although it's too rock-based to be considered jazz, there's a considerable amount of crossover.
The actual atmosphere of Marshall's derives from the post-punk movement of the early 70s and 80s. Many of the hollow, reverb-driven bass lines are similar to Marshall's British inspirations in Television, Interpol and Joy Division.
In fact, the instrumentation on most of his music runs on the minimalist, much like his post-punk idols. Hell, he even dawns an oversized suit just like post-punk icon David Byrne.
Since his music often relies on very few instruments, it gives off a very spacious atmosphere, feeling like Marshall is performing in an empty, sullen bar.
Much like his favorite post-punk group, Josef K, Marshall remains alone in the world, striving to make it a better place with his emotionally driven songs.
Additionally, his philosophical, dark lyrics are at times remarkably similar to Josef K. Similar themes of abandonment and existentialism are present throughout Marshalls's discography. And similar mixing/mastering techniques and guitar effects give Marshall's music a hollow, melancholy feel.
If you're wondering what gives his music such a dark, emotional atmosphere, it's most definitely the post-punk influences shining through.
Lastly, Marshall is impacted by his upbringing around hip-hop. In a few of his songs, especially off Six Feet Under the Moon, he relies on brief periods of spoken word or even rapping.
On "Foreign 2" and parts of "Neptune Estate" for example, he rhymes in a traditional hip-hop style, which even members of the more recent post-punk revival wouldn't dream of attempting.
And at times, like on "Border Line" and "Bathed in Grey," the beat sounds more like boom-bap than a traditional rock drum break.
So where does Marshall go from here? So far, his music has integrated elements of an incredible variety of genres, from traditional jazz standards to hip-hop and post-punk.
In step with his atypical style, he recently released A New Place 2 Drown, a trip-hop influenced electronic LP. That pretty much covers the musical spectrum, doesn't it?
At just twenty-one, Archy Marshall has a promising future. After all, it's rare to see a musician release such cohesive and unique music at such a young age.
He makes an incredibly emotional brand of music, drawing from decades worth of history – yet it's almost unlike anything heard before. Marshall's music is the perfect cathartic accompaniment to dark, cloudy day.
"You don't have to care [about my music], man," Marshall said in an interview, "I don't care about a lot… If you like, you like it."
Although it seems depressing, there's a slight glimmer of hope in his nihilism attitude – and his music.