Twenty-year-old singer/songwriter Taylor Grey is making a name for herself in the music industry, and it isn't just because of her catchy choruses or polished beats. As a self-proclaimed "space pop" artist, Grey has written an album as glimmering and glorious as her highlights.
In 2013, Grey released her first three-track EP, "Lovely," and her second, "Mind of Mine," in 2016. These first two projects started off with soft acoustics and wholesome guitar riffs, but her new album is a complete and enjoyable departure. A mix of R&B, pop and a hint of country, "Space Case" established a genre of its own. Earlier this year, Grey released two tracks for the album under separate singles: "Miami" and "Never Would Letcha." It's easy to see why she chose to release these songs separately–they are two of the album's best.
"Miami," Grey's collaboration with solo artist Spencer Kane, starts the album off on a note of rhythmic romance. The lyrics "First day that I met you, never thought I would forget you," paint a picture of Grey's star-struck eyes marveling at Kane's boyish charm. However, the lyrics quickly reveal a long-distance relationship headed south, with each suspecting the other of playing games. Grey sings, "I remember the days when you used to complain that you don't understand me. Now I'm out in L.A., but I know how you play when you're down in Miami." Her words are reminiscent of the confusion love instills in our hearts, no matter how strong. It's possible to love someone and not understand why you want to explore someone else. Grey and Spencer's powerful ballad reassures listeners that love is not an exact science, and there are many corners of it still to discover.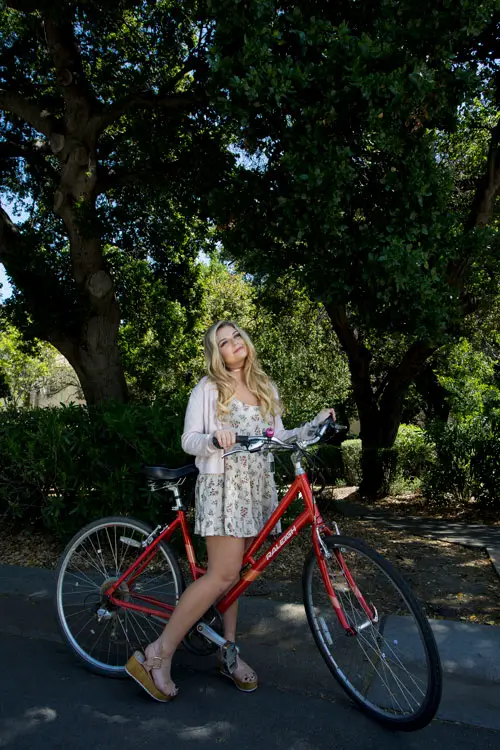 "Never Woulda Letcha" is a song about having a crush on your best friend, seeing them through their heartbreak and fantasizing about if they were yours. The music video is full of goofy dance breaks where Grey shows her cute, quirky personality. Her voice is pure flirtatious fun. The melody starts off with a lone guitar, quickly building with a jumpy beat and metallic undertones, making it impossible not to sway your shoulders. In an interview with Indie Band Guru earlier this year, Grey said she "took lyrical cues from 'Closer' by The Chainsmokers ft. Halsey, and tried to tell a more specific story with concrete details." I have a deep appreciation for musicians who look for ways to incorporate real details about their lives into their music, and not just sing in generalities. Props, Taylor.
The album's title and corresponding track, "Space Case," is my personal favorite, combining simple and sultry while belting out an anthem of freedom and empowerment. Grey isn't tethered down by reality, and defines herself as a self-assured, confident woman. Although the song is written in third-person, you can tell Grey is telling a small chapter of her own story. As Grey sings, "She's just a girl with a lot to say," I think of myself and my never-ending amount of opinions. People have always made fun of how much I talk, but Grey reassures me that my words have meaning and importance. She encourages people to dream as big and as fearlessly as they can. Talk about freaking empowerment.
Grey's star power lies in her storytelling and her innate ability to relate to audiences. The songs are on the long side, but you don't mind because you've become wrapped up in the mystical world Grey has created. Each song fits perfectly with the last as each star of a constellation; the songs can be a great listen on their own, but listening to the album track by track is much better. Though her album combines multiple genres and styles, each song adds to the larger narrative of exploration Grey intended. Her music has a vibe unlike anything out there right now, so it's fitting that she has created a genre for herself. Her genre, "space pop," is a musical style that's translucent, glossy and draws you closer with magnetic vocalization. Like gravity, Grey's style pulls you into her mind, and allows you to see that the magnitude of her talent stretches beyond writing. And, have I said the girl can sing like there's no freaking tomorrow? She's a beast when it comes to reaching those high notes without sacrificing the mood of the song.
Grey's got dancy beats and summer jams covered, but she's not done yet. "Miles Away" starts out with a slow, galactic feel as Grey's voice sweeps over the synthesizer. She explores her wide vocal range as she describes waiting for someone, unsure if they'll ever come around. The beat stretches to fill the entire room as Grey's vocals invade your mind, proving she's just as successful with slow jams.
Grey and The Vamps' Brad Simpson sing of falling out of love in their soft duet "Fallin." The song tells the story of two people who fell hard for each other, and are wondering if rekindling their once fast romance is a good idea. The song captures the uneasy reassurance that comes with considering taking an ex back. "You said that you wanna go back to our old ways/But it's not the same," reminds me of conversations I've had after breakups before. Grey and Simpson's un-love song is a beautiful blend of lustful longing and defiance.
When writing a love song, most artists choose only one end of the spectrum: the falling in love or heartbreak. Grey separates herself from the crowd by focusing on the middle, the weird and unexplored avenues of the heart. "Space Case" is a fitting title for the songwriter's first album, which explores the deep and uncharted abyss of infatuation.
The music universe is a big and extremely daunting prospect to take on; Grey's album is a glimmer of hope floating amongst the other artists in the industry. There can be a fine line in pop music between self-indulgence and self-obsession, but Grey tightrope walks across with grace and never allows a flicker of vanity. In addition to being a summer day jam session, her album is honest and heartfelt. Grey allows listeners to hear another side to her personality, the side that's unsure, reluctant, curious and all together fearless.
"Space Case" is available on Spotify, iTunes, Soundcloud and more. Follow Taylor on Instagram, Facebook and Twitter because this chick has a really cool life and trust me, you want to be a part of it.