Though you may not recognize her name, singer Anna Wise is no newcomer to the music industry. This classically trained songstress has been featured multiple times in the work of Kendrick Lamar, both as a songwriter and vocalist. In fact, her collaboration with the revered rapper even lead to a 2015 Grammy award for Best Rap/Sung Collaboration. At the young age of twenty-six, she has already been a member of two musical groups and is now growing her solo career. With credentials like these, she shouldn't have to prove herself to the world, and yet she is far from a household name.
Wise's sound is unabashedly pop, with a heavy reliance on vocal loops and modern electronic innovations. However, she isn't constrained by genre, as there are elements of rap, hip hop and R&B in her songs. In essence, her music is easily digestible, infectious, even danceable; I dare say it even verges on commercial, especially with electronic music still on the rise.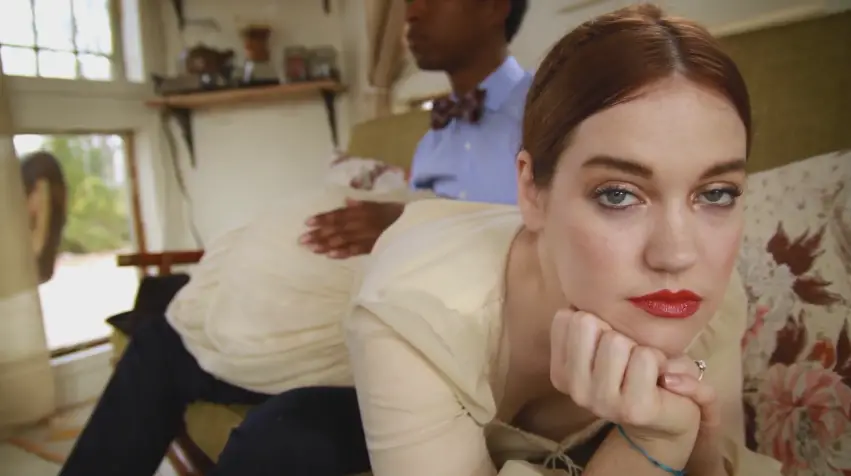 Where her music becomes problematic for some listeners, though, is her lyrics, and I'm not talking about explicit language (which is definitely in there). Her artistic approach calls to mind contemporaries such as actress and pop star Janelle Monae, whose "Metropolis" series takes on many heavy themes. Like Monae, what is most impressive about Wise is not her awards or collaborations, but the message she is spreading through her music. Pop music is often devoid of meaning, but Wise is aptly named. She's a feminist warrior, smashing the patriarchy with her quippy (and at times painfully honest) lyrics and unshakeable confidence.
Currently, Wise is on tour with rising male pop-duo Lewis Del Mar (also a wonderful act to pay attention to). There aren't many times the opener outshines the main act, but this may be one of them. I was able to see her in concert last month, in Austin, and when I did, I saw Wise march onstage with swagger, but with a deceptively sweet, heart-shaped face. By her looks, I thought she was about to whip out a ukulele and sing the crowd some sweet nothings, but I was happily surprised when she Wise began the performance without a single instrument to rely on.
The young singer is charming and confident, basking in the limelight that she has created for herself. She has forged her own unconventional path. She dropped out of high school, but later got her GED so that she could attend Berklee College of Music, a prestigious music academy. There, she met her boyfriend and frequent collaborator, and her career began to take off. She then left Berklee before graduating to start her music career out of the boundless talent she already had. She's a trailblazer, out to make a name for herself and inspire people to take control of their own path.
Wise is creating music that can't be listened to only once. In fact, if you listen to the demure "Precious Possession" passively, you may mistakenly hear some extremely unsettling ideas about femininity. I personally balked at Wise when she began to sing in an ultra-feminine voice that she was "delicate" and in need of "protection." A close listen to this song will reveal that Wise is mocking the lies that society teaches young women, not reinforcing them. The song is a revelation, a look into the psyche of the American girl. It's unique in that at first the listener is unaware of the position Wise is taking on the issue, which leads to an unsettling feeling that ultimately reinforces Wise's point: The idea that a person is something to be owned is wrong, and it's time to redefine what it means to be a woman.
When Wise sings her most well-known single at her live show, "BitchSlut," one young fan in the front jumps on the mic with her, and the two women connect over the shared experience of the Catch-22 of female sexuality. I was able to catch up with Wise after the show, where she told me that the song was inspired by an experience she had at age twelve, one too many women today can relate to—a group of men in a truck, catcalling and harassing her. Not only is the song relatable, but it's a really catchy tune.
Wise is currently working on the last installment of her "Feminine" trilogy, the first two "acts" being an anthemic, and at times uncomfortably raw, look at the effects so many years of misogyny have had on the women of today. When she sings "Self on Fire," I can barely stand to listen to her. The song is important, but it is not easy to hear Wise shriek about assault and an abusive relationship. It's an incredible piece of music, so well done that you can't help but feel the anger that Wise's lyrics drip with. Her live performance is stunning, making it all the more difficult to watch. Though simply written, "Self on Fire" has a serious bite. It's a more serious, representative example of the bold statements she is making in her music.
Wise is a role model in a space that is often dominated by men, and where there are ridiculous standards placed on women. Though we have made great progress toward gender equality in this country, we cannot choose to be ignorant. Too often people become complacent. We think because women can vote and work, that they can be anything they want to be, that the war is won. But it's just not that simple, and equality is sadly a long ways away. Feminism is not over, and Wise is soldiering on, her battle cries echoing loudly. I will certainly be listening.