As a college student with a passion for fashion, shopping for expensive items may be out of the question. If you have a lower budget, it's important to remember that quality over quantity is the move. You could buy fourteen things from Forever 21 for under $100, or you could buy one purse for $93. Try to be smart with your money; carefully think before making a large purchase.
Although, sometimes you just have to say "screw it" and treat yo self.
I have narrowed down a list to the three categories of essential summer items and their affordable duplicates. Here, I compare high-end products to cheaper alternatives to help you decide if you should splurge or save.
1. Swimsuits
The beloved and trendy one piece is emptying stores' racks, and, as a result, high-end designers have created some stunning designs for them. However, more affordable stores, such as Pacsun, Forever 21 and American Eagle, have created one-piece swimsuits that are just as stunning as the high-end ones.
When it comes to choosing which swimsuit to buy this summer, try stepping out of your comfort zone and pick up one that is bright in color, has stylish cut-outs or a trendy print. If you live in Florida or somewhere else in the world where it is hot year-round, you most likely live in a swimsuit, so you'll probably want to spend a little more money on a good quality swimsuit that you can wear many times a year. However, if you live in a place that gets chilly, you might want to spend less money on an inexpensive, but good-quality swimsuit.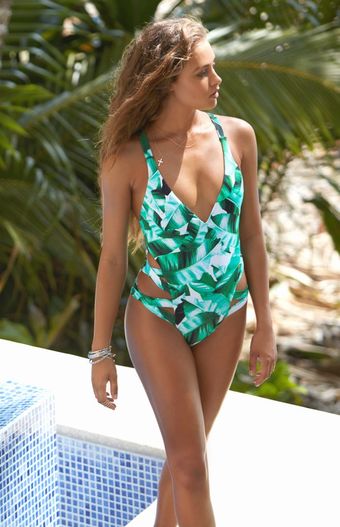 Stone Fox Swim is a California brand of swimsuits that are known for funky patterns, slimming bottoms and cool cutouts. One of my favorite swimsuits by SFS is the Hermosa one piece in the pattern called "Monster Fruit." With a price tag of a whopping $190, this bathing suit is definitely not worth the splurge. Save your money, and check out these almost exact duplicates for the Hermosa one piece that won't hurt the bank and are still great quality.
Another hot trend heating up the shelves this summer is the strapless bikini top with high-waisted bottoms, which have proved popular due to their ability to look flattering on all body types and feel very trendy. The worst part about buying a bikini nowadays is that you have to buy the top and bottoms separately, which can put a damper on your bank account.
The Johnny Twisted Bandeau Bikini Top from Norma Kamali, a well-known American designer, is subtle, classic, and matches with just about everything, but the price tag of $175 for one bikini top is outrageous! The quality of the NK top is phenomenal, but not worth the splurge! A cheaper alternative to this bikini top is by the brand Bar III from Macy's and is $44. The Gold Coast High Waisted Bottom from swimsuit designers MIKOH are stunning but not worth the price tag of $112. If you are looking for an inexpensive alternative, check out the Hula Honey Lace-Up High-Waist Swim Bottoms from Macy's for only $21.
2. Sunglasses
The most essential accessory for summer is a pair of sunglasses. The worst part about sunglasses is how fragile they are—I can't even tell you the number of pairs I've crushed by accident. So, when it comes to picking out a pair of sunglasses, I highly recommend purchasing a few inexpensive pairs that you can rotate through.
One of the most popular styles of sunglasses is the Wayfarer frame, which is a rectangular style of sunnies. The Clubmaster Classic Sunglasses from Ray-Ban are a cult favorite and are always stylish, but their price tag of $150 is a little hard to see past. Ray-Ban makes great quality sunglasses and are sure to last for a long time, if you take good care of them. If you are clumsy but still love the Wayfarer style, then I recommend purchasing the Skylar Half-Frame Sunglasses from Urban Outfitters. These sunnies are an exact duplicate for the Clubmaster Classic. The quality is pretty standard, so they are a little flimsy, but definitely worth the price of $10.
Another option is round frame sunglasses, which are hella trendy. Last year, I splurged and purchased the Polarized Round Flash Lenses from Ray-Ban, and holy crap am I obsessed. These glasses have a hefty price tag of $200, but I promise you I don't regret a thing. Heck, sometimes you just have to splurge! A cheaper duplicate of these sunnies is the Fest Aviator Sunglasses from Madewell. The pair from Madewell isn't polarized and their quality is a little cheaper, but they are almost identical in style and color and are reasonably priced.
3. Sandals
Every girl needs the perfect pair of strappy sandals to make a statement this summer. Sandals are the perfect way to show off your freshly painted toes and let your feet breathe. I highly recommend investing in a good-quality pair of sandals.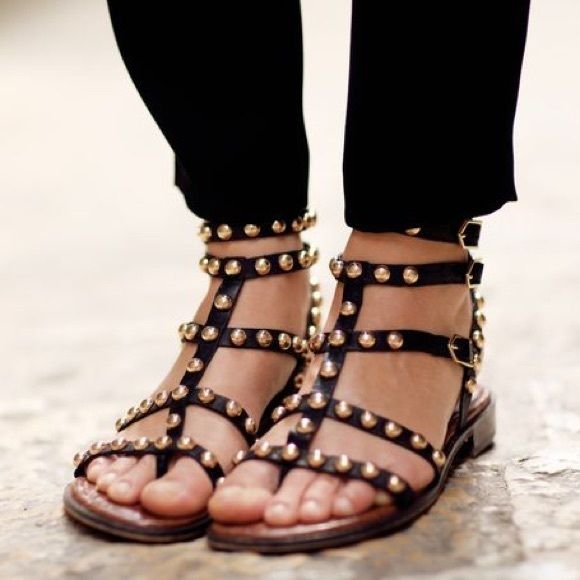 One of my favorite designers is Valentino, who has designed some of the most drop-dead-gorgeous sandals. The Rockstud Sandal has the perfect amount of class and edginess, but holy moly that price tag of $975 is mind blowing. The studded design can be found on many cheaper alternatives that are a whole lot cheaper than the Rockstud Sandal by Valentino. This pair from Target is almost an identical duplicate for only $28, and the quality is not too shabby. Forever 21 has a pair of studded jelly sandals that are similar, fair quality, but only $25. There is no need to splurge on Valentinos; check out some of these great alternatives.
Finding the perfect pair of block-heeled sandals can be tricky and quite pricy. Block-heeled sandals are easy to walk in, look stylish and can instantly make your outfit look more put together. Stuart Weitzman makes some of the best quality shoes, but good quality comes with a steep price. The NudistJune Block Heel Sandal is timeless, classy and is going to last a long time, but for $375, they are not worth the splurge. Steve Madden, another great designer who makes some of the best shoes, has created a similar design called the IRENEE for only $80, which is totally worth the money.
When it comes to making pricey purchases, remember that quality over quantity is more important, and you're paying for quality instead of a designer's name. Treating yourself to the finer things in life isn't bad, but be smart with your purchases, and happy spending!