Where Have All The Good Men Gone?
The worst terrible twosomes in the college football.
By Will Strecker, University of Texas at Austin
---
We've seen Baylor's dynamic duo, Seth Russell and Corey Coleman, mercilessly put up ungodly amounts of points on opposing teams.
TCU is primed to be a top contender in the nation, thanks at least in part to the chemistry between quarterback Trevone Boykin and wide receiver Josh Doctson. But what about at the other end of the spectrum? I'm willing to make a bet that unless you attend or are a fan of a school with a sub-par passing attack, you won't be able to name the teams that have been as inefficient as Baylor is efficient, or as inept as TCU is adept.
So for everyone that's sick of the do-gooders and the success stories getting all the attention, who gets a perverse pleasure from the pain of others, or if your team has just been sucking this season and you want something to make yourself feel better, you've come to the right place. These are the worst quarterback/wide receiver duos in the nation.
1. University of Texas Quarterbacks/Receivers
For the better part of the past, oh, six years, the University of Texas football program has been a mess. Since Colt McCoy left, the Horns have desperately longed for even a glimpse of consistency at quarterback.
Case McCoy was hardly half the quarterback his brother was. David Ash was promising, but spent most of his football career living in a concussed daze, probably unaware that he was even playing football when he stepped on the field.
In 2014, Tyrone Swoopes proved to the entirety of Longhorn Nation that he was incapable of leading grade-schoolers to recess, let alone a college football team to any degree of success.
As much as I wanted to put Swoopes on this list, he went and lost his starting spot to redshirt freshman Jerrod Heard.
So far in 2015, Heard (from my hometown of Denton, Texas) has provided a spark and given the Longhorn faithful hope for the first time since the 2009 season. However, Heard's playmaking ability lies mostly in his ability to run and extend plays, not necessarily in his skill as a passer. He leads the Longhorns in rushing and is tied with Johnathan Gray to lead the team in rushing touchdowns.
As a passer, Heard has proven much more efficient than the bumbling giant Swoopes, but has only a 3:2 touchdown to interception ratio to show for it so far. Daje Johnson, the explosive senior and Heard's top receiver, has yet to catch a touchdown pass.
Freshman John Burt, sophomore Armanti Foreman, and senior Marcus Johnson have each caught one of Heard's three touchdown passes, but are not the weapon that Johnson is.
I hate to bash Heard since he's given Austin an energy it's lacked for the better part of two years, but he needs to develop as a passer if he hopes to compete with TCU's Boykin/Doctson duo. On the bright side, he's still young, and so are receiver Burt and Foreman, so there is plenty of time for him to develop chemistry with these two and see improved success in the future.
2. Brandon Harris/ Travin Dural (LSU)
LSU is in a unique position, fielding the best college running back since Adrian Peterson in Leonard Fournette, but one of the nation's worst passing attacks, averaging a pitiful 122 yards behind quarterback Brandon Harris.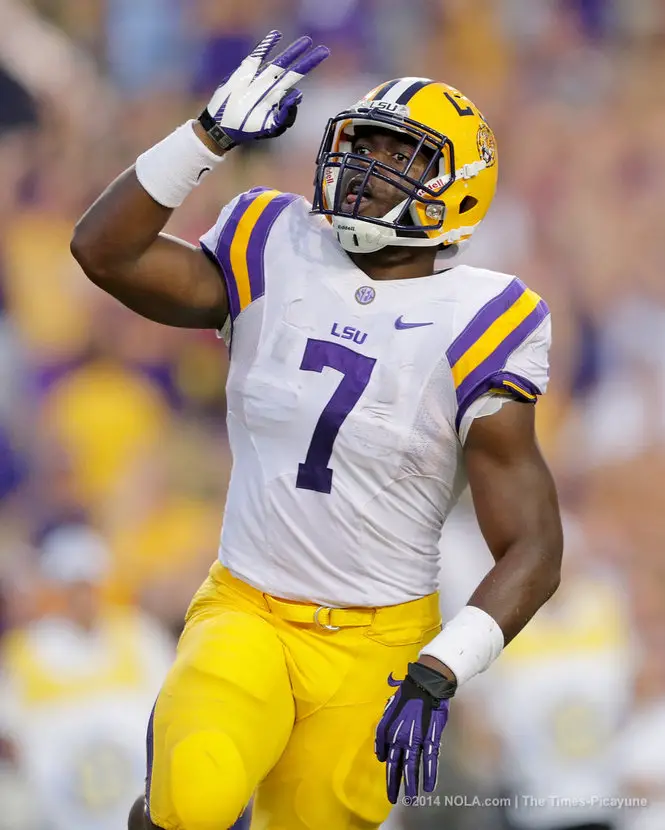 Though they don't really need to pass the ball when their running back is averaging an astounding 204.4 yards per game, it's worth noting that this average lands them 111th in the nation out of 130 eligible quarterbacks.
Given the low passing numbers, junior wide receiver Travin Dural has only managed 229 yards on 14 catches through three games — that's an average of 45.8 yards a game — with one 62 yard touchdown. Evidenced by a 4:0 TD:INT ratio, Harris is a game manager, only throwing the ball when his team absolutely needs him to, and his role as such lands him and Dural on this list for the worst quarterback/wide receiver duos in the country, if for no other reason than they are barely a duo at all.
3. James Tabary/ JD McKissic (Arkansas State)
Despite a 3-3 record, the Arkansas State Red Wolves field arguably the worst quarterback—statistically speaking—in the FBS. James Tabary, the freshman from New Orleans, ranks last in the FBS in total quarterback rating with a disgusting 9.9. 9.9! That's pathetic.
Not only does he own the worst QBR in the nation, but when on the field, he is expected on average to cost his team 10 points lost per game. This includes an average of 5 points per game given away to the other team when he runs, and nearly 5 points lost per game due to sacks (the expected points added metric explained).
Compare this to the expected points added of quarterbacks like Patrick Mahomes of Texas Tech (an incredible 61.5 EPA) and TCU's Trevone Boykin (54.6 EPA), and the distinction between good college quarterbacks and bad ones become clearer.
Perhaps due to the lackluster quarterback play, Arkansas State's receivers have been anything but productive this season.
Senior JD McKissic leads the team in receptions with 29 in 6 games, more than doubling the number of those behind him on the depth chart. However, he's only managed 311 yards, a 10.7 average per reception, and one touchdown.
McKissic appears to be more of a security blanket for Tabary, with Tres Holmes, second in both receptions (12) and yards (192), gobbling up the touchdowns so far this season: he has four on 12 catches. Regardless, he's averaging 2 catches a game, for 32 yards, and McKissic is averaging almost five catches for nearly 52 yards per game. Tabary to McKissic is truly one of the most boring quarterback/wide receiver duos in the country.
4. Colin Reardon/Ernest Calhoun (Kent State)
Let's talk Kent State.
Aside from fielding the first-ever female college football player, kicker April Goss, the Golden Flashes are forced to work with an impressively mediocre passing attack. Junior quarterback Colin Reardon has been inept up to this point in the season, though not quite as inept as James Tabary of ARST, and as such, has a 19.6 total quarterback rating to show for it.
He's completed 65 passes on 144 attempts (45.1%) with a 6:3 TD:INT ratio through six games. Although his total QBR is higher than Tabary's, his play is expected to cost his team just over 15 points a game, worst in the nation.
This statistic can be attributed to bad decision making, inaccuracy, and inability to get first downs, as well as when he turns the ball over in a game, not simply for turning the ball over.
As a leader, he's led his team to a 2-4 record, including a 52 – 3 loss to Illinois and a 38 – 7 loss to Toledo.
It appears as if Kent State's main receiver is junior Ernest Calhoun in the slot, recording 11 catches for 141 yards and two touchdowns through six games. Clearly, Calhoun is the favorite to score touchdowns and is second on the team in receptions, but it's hard to establish yourself as a primary receiver when the quarterback can barely get the ball to you—evidenced by freshman running back Raekwon James leading the team in receiving yards, behind Calhoun in receptions with 10, implying that Reardon frequently checks down to the running back.
Statistically speaking, Colin Reardon doesn't make use of his receivers enough for some reason. This can be attributed to either his ineptitude as a quarterback, or his receivers' inability to get open and catch the ball. Regardless, this makes for a less than ideal combination to see out on the field every Saturday.
5. Caleb Rowe/Levern Jacobs (Maryland)
Finally, head up the East Coast to Maryland, where senior Caleb Rowe, starting quarterback for the Terrapins, has thrown an incredible 4 touchdowns and 12 interceptions in the five games played this season.
But, of those five games played, he's only started in THREE of them, being pulled in ALL THREE to be replaced by Daxx Garman, a transfer from Oklahoma State. Garman has struggled as well, as has Perry Hills who was the starter coming into the season. Hills got the start ahead of Rowe against Ohio State, where he still completed less that 50% of his passes, threw a 1:2 TD:INT ratio and had a quarterback rating of 54.6.
Caleb Rowe's efficiency is below average, and his completion percentage is 44% (when more teams ideally try to keep it about 60%), landing him last in the FBS in both completion percentage and in passer efficiency. It's a true quarterback carousel, a situation no team wants to endure.
Redshirt junior wide receiver Levern Jacobs leads the Terrapins in receptions this season with 22 through six games, amassing an incredible 222 yards. That's an average of 37 yards per game, a pitiful number for a team's leading receiver. Granted, much of the struggles with the passing game come from the abysmal quarterback situation—which is likely to change over the course of the season until someone shows some degree of consistency (not consistently bad)—but for a QB/WR duo to be great, both halves have to be great. For the time being, it's easy to see that Maryland currently fields one of the worst QB/WR duos in the nation.