In general, the college library provides a space for every possible type of studying. For instance, at my library, the SUNY Cortland Memorial, every floor is designed for a different studying style. The first floor has couches and comfortable chairs surrounding small tables for students to work.
The floor above also has tables and stiff chairs but does not have a noise restriction, so students in groups can work together and talk aloud. The top floor, however, is reserved for students who require silence when doing their work; they sit in small, distraction-free cubicles to focus on their homework.
While they may prefer different sections of the library, many of these students are likely working on the exact same assignments, whether that means writing their fifth essay that week or reading the textbook that puts them to sleep at night. Though they could be working on the same math questions at the same time, all students study in different fashions.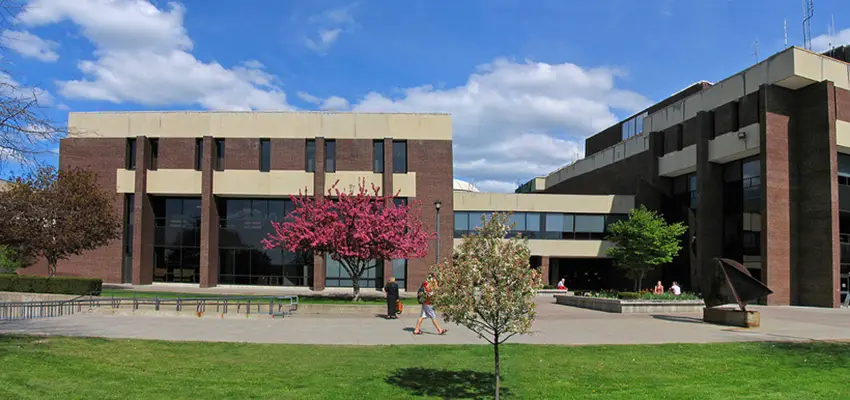 However, no matter which floor they're on, everyone flocks to the library to put an end to procrastination and finally get their work done. They sit in their cubicles or stiff chairs or couches, books sprawled out on a table, frantically typing or writing for hours on end.
Unfortunately, these last-minute study marathons mean that they will likely occupy these spaces for most of the day, ensuring that no one else can use the table. When other students come to the library to work, they've got no place to go. At any rate, there certainly isn't going to be a place near an outlet.
On the bright side, there's plenty of places outside the library where you can study, no matter how you like to get work done. Here are some unconventional places to study when the library is packed.
The Recliners
If you're like me, you do your best work while relaxing and listen to music with your feet up on the table. You might prefer doing work on the comfy couches the library has to offer, but there's always the chance that someone has already reserved that spot. So, if lounging around in your pajamas helps you to be productive, look for anywhere outside the library that offers a similarly casual environment.
Dorm lounges are a safe bet for accommodating your studying habits. There are usually a few couches and chairs for all the kids living there to hang out together, to spend some time outside of their dorm room. Plus, lounges often have vending machines for snacks, so you can fuel up on chocolatey goodness while you study.
If you have to do a group project, dorm lounges also excel in fostering collaboration, as they have enough space for dozens of people, but are laid out in a way that compartmentalizes well. On the other hand, if you do decide to work there alone, other students who go there to study probably won't bother you.
When the lounge is too crowded, many academic buildings also have couches and comfortable chairs. More often than not, they are near elevators and big open areas. Since public spaces often go underutilized once classes have started, these couches are the perfect place to go if you've got a break between classes.
And yes, the buildings might seem a little sketchy once classes are over for the day, but no one will bother you. Don't worry, you won't get locked in.
The White-Noise Lovers
If you are this type of studier, you require a lot of background noise in order to concentrate. You can't sit in complete silence because the sound of typing or pens scratching along the paper drive you crazy; you need to have conversation or music surrounding you to be the most efficient. So if crowded settings with lots of white noise are your forte, here are some unconventional places for you to study:
Since everyone has to eat, the cafeteria is never completely empty — or completely silent. Whether the students are eating lunch and catching up with a friend or the staff is cleaning and chatting with the students, people are always making noise.
If you need background noise to study, find an empty table in the dining hall. Along with having the background noise you need, you'll be able to study while you eat. Many students do this because they can kill two birds with one stone, making time to eat during your busy schedule and also getting your work done.
If the dining hall is too crowded and hectic for you, there's always the laundry room. It may seem like a strange place to do homework, but it will also be a great place if you like white noise. The constant sounds of the washers and dryers will be enough to keep you focused. Besides, you won't be interrupted often; people will take a minute to put their clothes in the machine and then leave for an hour.
Coffee shops or cafes on campus are also a good unconventional place to study. There will be the noise of the daily grind and there is always some soft music playing in the background. You can sit for hours in the morning and afternoon enjoying the smell of the fresh brew while you sit and study for your classes.
The Shhh-ers
Not everyone appreciates background noise while they're studying; many students need absolute silence to be productive. If you're a shhh-er, the slightest noise will distract or irritate you, making it difficult for you to find a good studying haven on a crowded campus. However, finding a silent space on campus probably easier than you think.
If you need complete quiet to learn, empty classrooms are great unconventional places to study. Most academic buildings don't close until nine o'clock after night classes have ended, and there's usually a few quiet rooms that nobody is using where you can sit down at a desk and work on essays or other assignments.
While you might be worried that someone will eventually need the room for a class, there's probably another room in the building where you could go if you get kicked out of the first room you saw. Anyway, unless there's already a class taking place, you most likely won't be bothered after three o'clock.
If you aren't comfortable in an empty classroom, you could try using the computer lab instead. For one thing, you'll have access to a computer if you need one. Even if you don't, the computer lab is still a quiet space which can be great for studying. Even if other students need to use the lab, they'll focus on their own work, so you most likely won't be bothered.
And if you would rather stick to the good old library, try not to procrastinate. It'll be easier to find a quiet place to study if you get there earlier in the day.