We'd all like to think that we'll have the perfect college housing for our university experience. We hope that it would look like the movies—that it would feel like a perfect capsule of our personalities, that it would be cool, that it'd always be clean and neat and, most of all, that we can do a lot of our work in them.
Reality, however, is much different. This is especially true for when you move either to a university or college across the country, or even abroad. You can barely take your wardrobe with you, much less all the comforts at home that allow you to decorate. Instead, you need to build your college housing up from scratch, and that can be a good thing.
Getting a fresh start is the perfect way to begin your new independent, adult life. To help you adjust and make the most of your fresh start, however, you need to make your new student accommodation feel like home using these tips.
1. Make the Bed Comfortable
If your mattress is perfect for you, then you're in luck. All you need now is some very comfortable and warm bedding to put on it, and you're all set.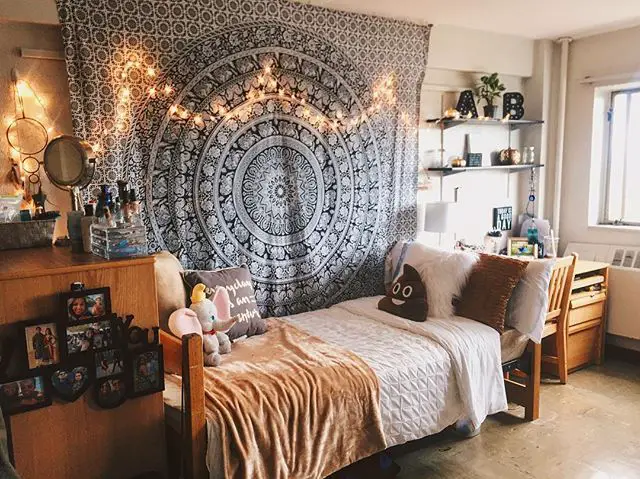 If, on the other hand, your bed needs an upgrade, you can easily buy a mattress topper for a reasonable amount that will make your bed comfortable and ready to snooze in. The better your bed, the better your sleep, and the better you'll be able to relax and take on the next day.
2. Unpack Everything
Having unpacked luggage will only make you feel like your living situation is temporary. On your first day, aim to unpack everything that you can. The sooner you get used to your surroundings, the better.
If you have school textbooks or other books that you need to buy from the university shop, then put them up there too.
3. The Power of Online Shopping
Not all course books, however, need to be purchased from the store. You can save a lot of money as a student from buying the books you need online.
While you are at it, you can also buy other key things that will make your life much easier, like a shower caddy for making showering in the communal showers as painless as possible, or even buying Christmas lights or other cute, decorative items that are within your budget. To begin with, however, you should aim on getting things you need, over decorative pieces.
4. Goodwill Magic
Every country has charity stores, like Goodwill, and it is there that you can find amazing decorations, clothes and more that fit within your budget. You should also check out any on-campus markets. Go with your newly found friends and you can all get something while bonding.
The more effort you put into making your new place feel like home, the better. Having a home away from home will give you the ability to try new things, make new friends, and succeed, because at the end of the day you have somewhere you can relax in.
Study Breaks occasionally promotes the products or services of its partners.