Howard University has admitted to a financial-aid scandal and has confirmed the firing of six employees on Wednesday, March 28, who were involved.
The six employees were fired for "gross misconduct and neglect of duties." The controversy erupted after a nine-year investigation with the university discovered that, from 2007 to 2016, several employees who received tuition benefits to cover the cost of taking classes were also receiving university grants. By double dipping in university aid, the workers received more money than they needed to cover the actual cost of attendance, which is embezzlement.
According to The Washington Post, the news of misappropriated funds, plus the firing of the university's employees, is just the latest in a series of blows to Howard's reputation.
Wayne A.I. Frederick, the president of Howard, criticized a student last month for her tone after she expressed concern about whether she would get housing.
In addition, six women have accused Howard of mishandling sexual assault allegations.
Frederick made a promise in a release on Wednesday that measures had been instituted to prevent a recurrence of the misappropriation. "While this has been a very difficult and disappointing situation, I know our campus community deserves better and I am committed to ensuring that each of our campus offices operate with integrity and are the best that higher education has to offer," Frederick said.
The university did not immediately reveal how much money was involved.
Alonda Thompson, a Howard spokeswoman, said in an email, "We don't have a final amount but we are working with our outside experts to ensure every dollar is accounted for and the university will exercise all of our options to recoup the funds."
Last week, an anonymous item was posted to the online blogging platform Medium that alleged an "office-wide scandal" involving officials in the university's financial-aid department. Frederick's statement did not directly mention the Medium post, which was later no longer available online.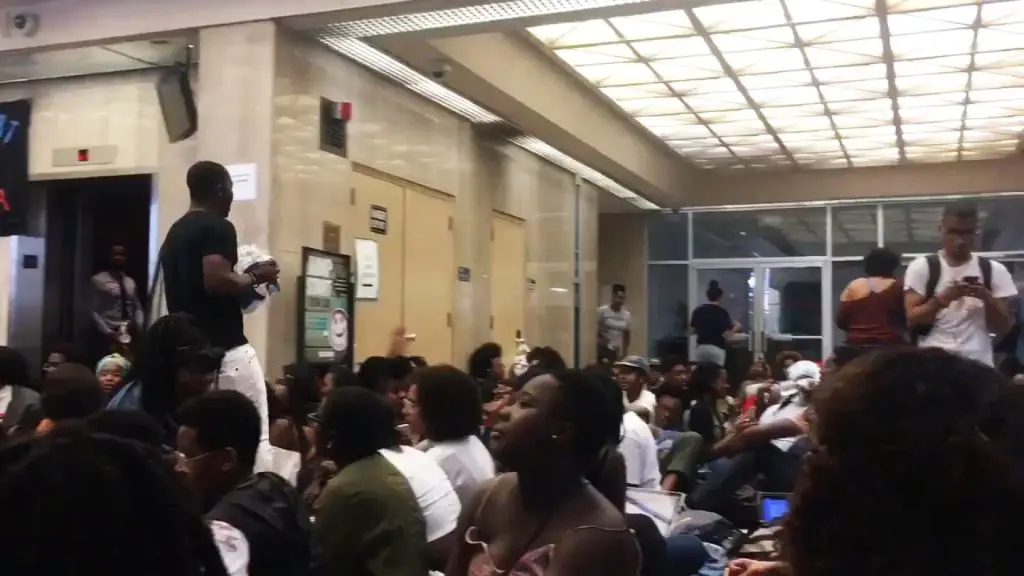 Cori Coffin reports from FOX 5 that students at Howard University gathered inside the Administration Building on campus for a protest. The university's Student Government Association is now calling for the resignation of the school's president.
Students began protesting on Thursday outside of the Financial Aid office to voice their concerns about the scandal. Some students said the administration has been failing to prioritize students' needs, from claims of inadequate housing to fixing what they call a broken financial-aid system.
Several students said that they were denied financial aid after the university said that they were out of money. The fact that several employees were mishandling the funds, then, has students calling for a full audit of the entire system.
The protest later turned into a sit-in, wherein students planned to continue their protest through the night until their demands, which include the resignation of President Frederick, were met.
Some students are saying that the university is not listening to the student body and lies have been told about guaranteed housing. They are hoping the sit-in protest will help them gain a voice.
As of this writing, the student sit-in has reached into its fifth consecutive day. Over the weekend, student representatives met with several members of the Board of Trustees to discuss the list of nine demands the students presented to the faculty.
At a press conference on Sunday, students said their demands regarding student housing have been addressed. Howard University student newspaper, "The Hilltop," first reported a deadline to submit a $200 housing deposit has now been extended to May 1.
For a brief history of student protest, click here.