5 Festivals to Visit Before the School Starts
Cheap, underground and scattered throughout the country, one of these festivals is right for you.
By Michelle Nektalov, SUNY Purchase
Photo by Elena De Soto
---
It's halfway through the summer and you still haven't been to a music festival.
It's not like you haven't been meaning to go, you've just been "busy."
Maybe you have been busy with your summer job. And catching up with family and friends while you're home from school for break is a big priority.
But I'm sure you've spent more time binge playing Pokémon Go than you're willing to admit.
If your excuse is lacking funds, then you're not looking at the right festivals. Popular events like The Governor's Ball and Lollapalooza might be the "it" place to be, but there are more options—plus, cheaper, less recognized options offer the chance to see extraordinary up-and-coming artists, while also avoiding crowds of girls who wear ultra bohemian outfits for a day.
Summer doesn't last forever. If it did, we would never see the end of "hot dogs or legs?" captions (They're clearly hotdogs.) So while the sun's still out, buy your tickets to go to one of the most fun and exhilarating experiences ever birthed.
Here's a guide to low-key music festivals to end your summer with.
Big Dub 
Artemas, PA (July 26-31)
In the farmlands of Artemas, Pennsylvania, awaits one of the most unique music festivals on this list. This bass-heavy EDM camping festival brings together audiences of expressive and passionate people excited to embrace five days of being themselves. The music and art decorating the grounds creates a beautiful scene that will take your mind to another world.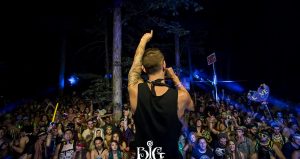 Big Dub takes pride in its ability to loosen the social boundaries that confine people to behaving in the way they think others want them to. In-camp events are offered to "dubbers" such as Bridgettes Trading Post, where festivalgoers bring their unwanted belongings to exchange them with someone else for something cool they see.
If that doesn't peak your interest, then maybe the Badass Popcorn Movie Cuddle Puddle will, an event at which you can watch a movie and eat popcorn with your snuggle buddy. Or perhaps you'd be interested in singing your heart out at Disney Karaoke. It's almost tear jerking how badly the organizers of Big Dub want you to have a good time.
The Wrecking Ball 
Atlanta, GA (August 12-14)
While some have broads in Atlanta, others have The Wrecking Ball. The festival weekend starts off with a pre-party on Friday, August 12th, leading into two days of hardcore performances from a very impressive lineup of amazing punk rock artists. I say impressive because The Ball is a pretty new festival, only going into its second year.
The lineup ranges from the old to the new, giving the audience a taste of what they love and what they will love. One headliner in particular that's been creating a buzz is the New Jersey post-hardcore band, Thursday, coming together to perform live for the first time in five years.
Elements Music and Art Festival 
Brooklyn, NY (August 13)
This year will be the fourth edition of this underdog festival. Elements is a one-day party that takes place in a Brooklyn venue said to look like "a dreamers playground that feels like an affair between Berlin, Burning Man and Bushwick."
Upon arrival you are greeted by the extravagant and colorful designs that Bang On! events never fails to deliver. As you admire the surreal art installations and 3D projection mapping, an array of EDM genres like techno, melodic house, deep house and glitch hop can be heard from the four stages each named by one of the four elements. (For those of you who never watch "Avatar: The Last Airbender," those would be earth, water, fire and air.) With every artistic detail included to make this event the best it can be, it is clear that Elements strives to give their crowds the physically enticing festival they deserve to experience.
FYF Festival 
Los Angeles, CA (August 27- 28)
This year, rain or shine, FYF Fest will bring artists like Kendrick Lamar, Tame Impala, Grace Jones and LCD Soundsystem to Los Angeles' Exposition Park—and those are just the headliners.
The lineup includes amazing talents such as Father John Misty, Beach House, Mac Demarco, Blood Orange and Grimes.
If there are any particular artists you just have to see more than once, check out FYF After Dark. This series of concerts between August 24th-30th gives you the chance to have a more personal experience with FYF artists headlining in local clubs and theaters, before and after the weekend kicks off.
North Coast Music Festival
Chicago, IL (September 2-4)
North Coast is set for Labor Day weekend in the city of Chicago, making it the perfect ending to a great summer. Going into its sixth year, this festival has really gotten its style down without sticking to a genre. You'll see anything from hip hop, indie rock, EDM and fancier styles in between. But what their performers do have in common is that their time on stage will blow you away. These guys aren't here to just perform—they're here to party.
The good vibes don't stop there. If you have time in between sets, head on over to the silent disco to get your quiet groove on. Additionally, this year North Coast will be hosting its first ever pop-up art gallery exhibiting Chicago themed creations made by local artists.
Tickets will only be selling for so long. So use some of that cash you've made from whatever odd job you've worked during break and treat yo self to the greatest jewel of the summer.