Jeffrey McCune, a professor at Washington University St. Louis, has created a class for students to understand the world of Kanye West, a producer, rapper, fashion designer, cultural icon and businessman. West's innovative thinking and flamboyancy has gained the attention, positive and negative, of people from all over the world. With McCune's vibrant personality and passion for educating, he is influencing the students at Washington University St. Louis by bringing awareness to the black creative culture through his course, "Politics of Kanye West: Black Genius and Sonic Aesthetics."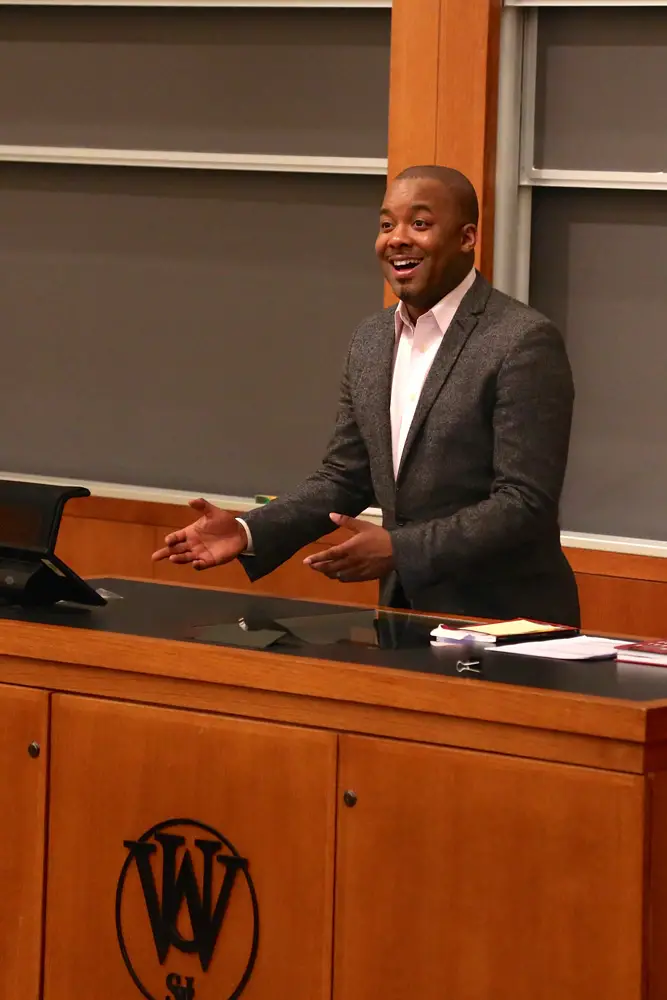 Valarie Kiel: What led you to develop a course about Kanye West?
Jeffrey McCune: Kanye West is a cultural icon. There is a peculiar way he injects into culture and is injected into culture. Like Mozart and Beethoven, his music is embedded into culture like movies, commercials, etc. in a fascinating way.
Kanye is a complex artist, with so many edges for example fashion, visual art, rap and music production. He challenges the paradigm of hip-hop masculinity, being a one-trick pony ("he is only a rapper"), and offers up an intentional, well-thought philosophy of "Black Genius." In this way, he is the perfect subject for a course, which explores race, gender, sexuality and culture.
VK: How many of these classes are you teaching?
JM: This was the first year it was offered. I wanted forty students, but there was a long waiting list. So I opened it to let twenty-five eager folks into the class. The waiting list was still long by the start of class, so that was overwhelming, but a signal of why the class was being offered: Students yearned for a course of this type.
VK: How is your class structured as far as meetings and discussion?
JM: The course meets twice a week. The first day is pretty standard lectures, which explain and challenge whatever read material we have for the week. It ranges from more academic articles on Kanye, racial iconography and hip-hop culture, to pop articles that emerge from public opinion.
The second day of class is what I call the "Critical Listening Party," where students get to listen to music and watch videos, which are often companions to the readings. This has been a lively, intense day. We really need a third day to get through everything.
VK: How will the class help students as they continue in college and after?
JM: For many students, this course will allow them to learn how to connect pop culture with some dense theoretical ideas. It is also a course where they will begin to understand how important it is to celebrate and study black creativity, the way we study white creativity and cultural production.
VK: What future plans do you have for the course?
JM: If Kanye has a new album in a couple years and there is plenty to talk about, I might return to offer the class again.
VK: Did your desire to teach the class stem from a personal interest in his music?
JM: No, though my connections to his Chicago brand of masculinity, his sonically rich music, his growing up in a similar area to mine and his mother teaching at the university where my mother finished her nursing degree, are pretty exciting. I also hold his philosophy of the "genius within," which suggests that with the right resources and access, the potential for us is limitless; [this idea] has implications beyond hip-hop.
VK: What's your favorite West project and why?
JM: "My Beautiful Dark Twisted Fantasy" is for me the most sonically representative project; it is everything he has done, all in one spot—sonically complex, politically charged, highly sexual, genius-driven music, and Nicki Minaj opens!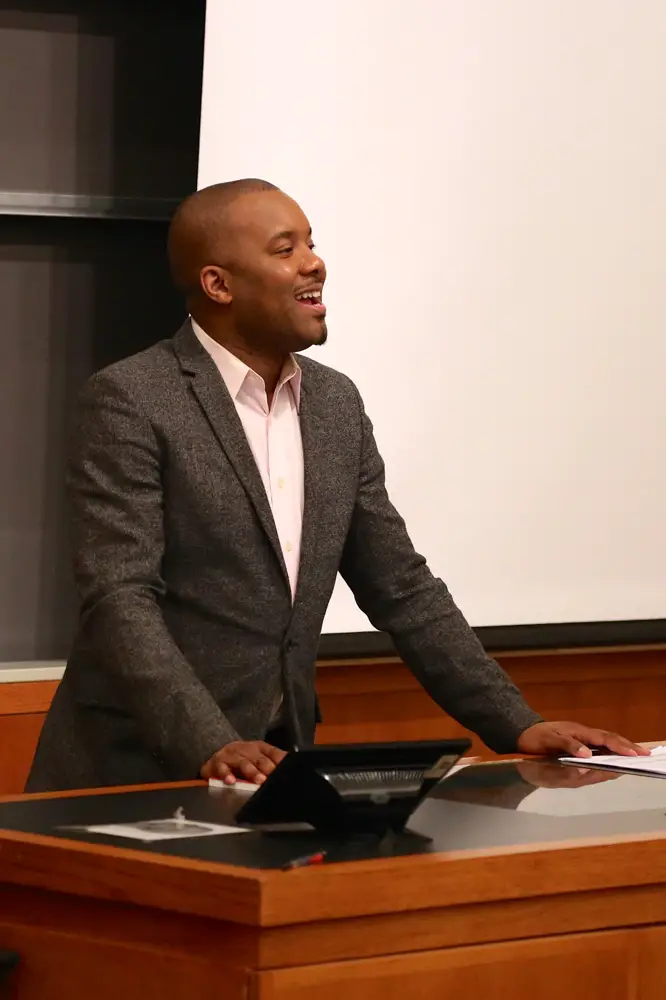 VK: What's been the feedback so far about the class?
JM: Students love it. And I must say that they are really doing the work and reading. I get so many students who wish they could have gotten in; I invite them to the Kanye Lecture Series, which is open to the public.
Some faculty have said they want they could get in the course. I've heard them joke that "to get increasing enrollment, put Kanye in the course." I simply laugh and think, "I would love to see you try to teach this layered complexity; this is not your pick-up-for-popularity type of course."
VK: Can you give me an example of a classroom discussion?
JM: One day I had a listening party to Kanye West's "College Dropout," and we had a conversation about the song "We Don't Care." [McCune sings] "Joke's on you, we still alive, throw your hands up in the sky and say: We don't care what people say."
In that moment, we talked about the ethnographic exploration of Chicago, as well as the economic conditions of black folks searching for ways to express themselves and creatively find ways to make money. It was such a rich conversation, because students learned how black folks were resourceful coming from nothing in an informal economy within an urban context. That positioning is really what makes African Americans creative geniuses.