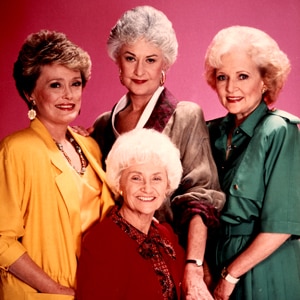 Our favorite old bitches
The Golden Girls are the original 4 all-american women. They were around before there were other "quads" of power women like Sex and The City, Mean Girls, or  Sisterhood of the Traveling Pants. Sofia was making fun of Dorothy's huge feet long before there were things like "frenemies," text messages, and even before women across the nation worshipped Manolo Blahnik. They represented a new generation of women during a time when American women were just making their footing in the real world. When the hit show came out in 1985, the newfound power-woman or "yuppie" was dominating the scene, and it showed not only through the bold-shouldered fashion, but also through more and more television series focusing solely on women. The Golden Girls is one of the first shows that featured 4 women past their 50's. It proved that audiences didn't only care about young stars in their 20's, and that feisty women in their "golden years" are just as entertaining as twenty-somethings.
The Golden Girls also invented the perfect combination of personalities that has been more or less repeated by other hit shows over the years. The perfect recipe for the perfect power-quad, you ask? The ditzy/sweet girl (Rose, Charlotte, Karen), the sassy/slutty girl (Blanche, Samantha, Regina), the extremely opinionated say-what-she's-thinking girl (Sofia, Miranda), and the girl that levels out the other girls, typically the main character (Dorothy, Carrie, Cady). We've seen this recipe work for both Sex and The City and Mean Girls. Where would we be right now without the lessons from Golden Girls??
Let's take a look at our 4 favorite gals from when they were in their prime.
Rue Mcclanahan
Rue may not have been completely like her character Blanche, but she did have 6 husbands throughout her life. She died in 2010 due to a brain hemorrhage at age 76. She survived breast cancer and heart bypass surgery just years earlier. What a lot of people don't know is that she was the youngest of the 4 girls by at least 10 years. "Cruelty is one fashion statement we can all do without."- Rue
Is anyone else completely shocked she used to be brunette??? I was definitely picturing a young blonde Betty. Also, is anyone completely shocked she posed naked????? I AM BESIDE MYSELF. Just kidding. Just a little taken aback. Rose used to be so scandy! As you know, Betty is the only Golden Girl still alive today. Born in 1922 in Illinois, Betty is 90 today and has been in 8 television series. She has had  husbands, but is currently single and living in Beverly Hills. This woman has won an insane amount of awards for her acting over the years, from Emmy's to Golden Globes, Screen Actor's Guild, Grammys, Teen Choice, and more. "Why do people say 'grow some balls'? Balls are weak and sensitive. If you wanna be tough, grow a vagina. Those things can take a pounding.â€-- Betty. Ew, but good point.
Estelle Getty
Sofia really makes The Golden Girls what it is. Estelle was perfect at this role. Estelle died of natural causes in 2008, just 3 days before her birthday. She battled severe Lewy Body Dementia in her later years, as opposed to the widely believed Alzheimer's. Something rare about Estelle that you don't see among celebrities is that she had one husband that she was married to from '46 until his death in 2004 (Arther Gettlemen). Estelle had 2 sons. "If love means never having to say you're sorry, then marriage means always having to say everything twice." --Estelle
Beatrice Arthur
What would the GG have been like without the camera zooming in on Dorothy's face at all the right moments??? Personally, that is my favorite part of the show. Bea was an actress, singer, and all-around comedian whose career spanned 7 decades. Through this time, she married and divorced twice, and adopted 2 sons with her 2nd husband. She died of cancer April 28th, 2009. Like Betty White, she won multiple awards for her acting. "I suddenly realized that comedy, for me, was just being honest, and playing it for real. I've seen so many wonderful actors who turn into creatures from another planet when they're told they are supposed to be playing comedy." --Bea
(Images via: eonline.com,  quietlunch.com, pdxretro.com, blog.stillthelovely.com, estellegetty.com, diaryofamadfashionista.blogspot.com)