Denim is the all American fabric that will never go out of style. A classic dark pair of mid-rise bootcut jeans is a garment that universally looks good on everyone. But there are some denim items that I would never touch--even though they are trending. 
Denim skirts. I don't care if it's long, short, pleated, or pencil, I'll hate hate hate the crap out of a denim skirt. I've seen mini denims creep up on fashion blogs lately, and it really startled me and made me think--maybe the world is ending in 2012? They just remind me way too much of my Hollister phase from 6th-9th grade.  Denim minis and Uggs. Horrific flashbacks still haunt me to this day. In my mind, there is no wrong way to eat a Reeses, but there is no right way to wear a denim skirt.
Denim jackets. Again, I get recurring nightmares of what used to be cool back in the day. When I see a self-respecting girl in her 20's don a denim jacket, it just immediately makes me think of a high school locker. It is just never cold, warm, casual, formal, or ANYTHING enough to wear a denim jacket.
Straight leg denim. Okay, I'm a little more flexible with number three. In fact, I own a pair of straight leg denim. But here's the thing--they will probably be the only pair I buy. I find that I'm more comfortable in super skinny leg jeans, or flare, and not the awkward-limbo-in-between jean. It doesn't bother me when other people wear them; I just don't fancy myself a straight leg jean. I wear riding boots too much--and the straight leg does not tuck into those suckers!
Capris. GAWWWWD, I hate capris. Capris should stay with the children and middle-aged-mommys. They do not need to be seen on teenagers or twenty-somethings. Denim (and, well, all fabics of capris) shorten your leg into a stumpy sausage. I need you to focus on the words "capris" and "sausage" and consider them synonymous. However, do not let "cropped skinny jeans" ever be confused with "capris." Allow me to point out the difference
Cropped skinny jeans via denimology.com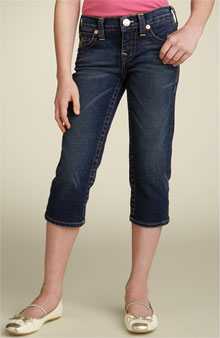 capris via styletips101.com
cropped skinnies via ciaralsims.wordpress.com
I hope I was able to draw the line for you between capris and cropped mini skinnies. Now let me change the pace and leave off on a more positive note: a denim garment I actually really love. That would be the denim top. I'm so glad these have made their comeback in recent years because I think there is a denim top for every occasion.
Ksubi denim top
, $125
Madewell low top
, $78
See by Chloe tie blouse
, $370
Topshop printed top
, $56
Jaeger herringbone pants
, 140
Jay Ahr elastic waist pants
, $2,215
J Crew knee length pencil skirt
, $60
One Teaspoon cotton shorts
, €80
AllSaints shorts
, $55
Victoria's Secret cat shoes
, $128
H&M rubber soled shoes
, 7.99
Leopard wedge heels
, 35
Dsquared shoes
, $765
Alexander mcqueen handbag
, $2,650
Hive Honey circle necklace
, $30
Feather jewelry
, $59
Ted Baker studded waist belt
, 39
Plus, you can DIY the crap out of denim tops and make a funky one for summer, or jewel some interesting stones to the collar for a more sophisticated look. Either way, denim tops are A-OK in my book. Tweet me what you think! @Sassy_Neal
Happy Friday the 13th!!!!!